1.
The Westin Pasadena
191 N Los Robles Avenue, Pasadena, CA 91101
The upscale Westin hotel rises 12 floors above Old Town Pasadena; it has a central location between Kaiser Permanente Medical Center and Pasadena City Hall, along Paso Robles Avenue one block south of I-210. Accommodations comprise 350 rooms and 18 suites; all have fine views either of the city or the mountains to the north. Ventanas Restaurant & Bar serves breakfast, lunch, dinner & drinks, either inside or on the outdoor fireplace patio. 24 hour room service is available. The hotel also has a 24 hour fitness center, with floor-to-ceiling windows, and an outdoor pool. Events of up to 600 people can be staged in the function rooms.
2.
Hotel Dena, Pasadena Los Angeles, a Tribute Portfolio Hotel
303 Cordova Street, Pasadena, CA 91101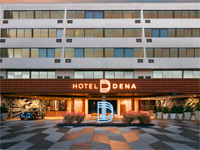 Hotel Dena (formerly Sheraton) is well-placed for business and leisure visitors to Pasadena, adjacent to both the Civic Auditorium and the Convention Center, and within easy walking distance of numerous restaurants, shops, bars and other attractions. A complimentary shuttle takes guests to nearby locations, including California Institute of Technology and the Rose Bowl. Accommodations include several sizes of suite, with one or more of a sofa bed, balcony and kitchenette. The onsite restaurant eatures Californian cuisine, and is open all day, while the bar serves drinks and other meals (lunch & dinner). Leisure facilities are a fitness center and outdoor pool.

3.
Hilton Pasadena
168 South Los Robles Avenue, Pasadena, CA 91101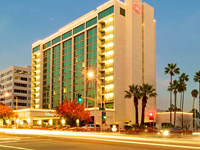 One of the few hotels in the center of Pasadena, the Hilton towers 13 floors above busy Los Robles Avenue, and most of the 296 rooms have fine views across the city to the San Gabriel Mountains. Sites within a few blocks include Paseo Colorado, Central Park, Pasadena Convention Center and California Institute of Technology, all within range of the hotel's complimentary local area shuttle. The well established, full service Hilton provides all the expected amenities for business, meetings, leisure and dining; there are two restaurants on-site, both open all day.

4.
Courtyard Los Angeles Pasadena/Old Town
180 North Fair Oaks Avenue, Pasadena, CA 91103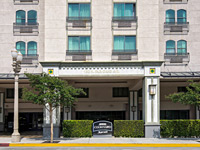 The Courtyard by Marriott is amongst the best places to stay if visiting Pasadena Old Town - the 314 room, well managed, full service hotel has a central location along Fair Oaks Avenue, half a block from the edge of the historic district and 0.6 miles from Paseo Colorado shopping center along Colorado Boulevard. The familiar courtyard garden and outdoor pool are at the rear of the building, well away from the main road; inside, guests have use of a modern fitness center equipped with exercise machines and free weights. Breakfast & dinner are available on site at the Bistro, with numerous other restaurants just a few minutes walk away. For those here to work, the hotel provides free internet access, a business center and 11 meeting rooms.

5.
Residence Inn Los Angeles Pasadena/Old Town
21 W Walnut Street, Pasadena, CA 91103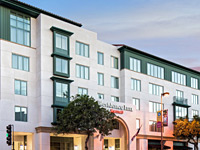 The first dedicated all-suite/extended stay hotel in Pasadena opens summer 2016; the Residence Inn is built along Walnut Street on a formerly vacant lot, close to I-210 and the junction with the Ventura Freeway, just down the road from another Marriott property, the Courtyard. Guests are within a few blocks of many city center attractions, including Pasdena Memorial Park, the Civic Auditorium and Paseo Colorado Mall, as well as numerous restaurants & bars. The hotel has 144 suites in two bedroom, one bedroom and studio floorplans; all have a full kitchen. Hot breakfast, evening receptions, wi-fi and grocery delivery are all complimentary. A fitness center, outdoor pool and meeting space are also provided.

6.
Holiday Inn Express Hotel & Suites Pasadena-Colorado Blvd
3500 E Colorado Blvd, Pasadena, CA 91107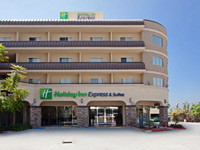 Four miles east of Old Town Pasadena, the Holiday Inn Express earns a fine reputation because of its excellent staff, the clean & comfortable rooms, and the reasonable rates. The hotel has a quiet location, set back a little way from the main road (Colorado Boulevard), but easily accessed, being just one block from I-210, exit 30A. Guests are greeted by an elegant, open plan lobby, and have a wide range of facilities at their disposal, including a fitness center, outdoor pool, hot tub, free hot breakfast, a microwave/refrigerator in each room, and, for those needing extra space & facilities, 46 well equipped suites. There are several restaurants nearby, and many large stores just the other side of I-210 along Foothill Boulevard.

7.
GreenTree Inn Pasadena
400 S Arroyo Parkway, Pasadena, CA 91105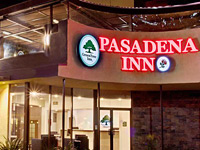 GreenTree Inn Pasadena offers 69 spacious guest rooms, contained in a three floor building with underground parking garage, along Arroyo Parkway (Route 66) a few blocks south of the city center, a short walk from many shops & restaurants, and Central Park, which has sports facilities, picnic areas and outdoor art installations. Also close by is the Metro Gold Line, linking with Los Angeles and cities to the east. The affordable hotel provides free hot breakfast, and has amenities of an outdoor pool, business center and guest laundry, plus onsite restaurant.

8.
Best Western Pasadena Inn
3570 E Colorado Blvd, Pasadena, CA 91107-3846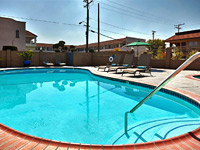 Best Western Pasadena Inn is one of several hotels near the main shopping district in town (Hastings Village/Hastings Plaza) - the 2 floor, 64 room, exterior-corridor hotel sits along Colorado Boulevard 4 miles from the city center (and 6 miles from the Rose Bowl), part of a line of small shops, restaurants and other businesses. The place provides good, basic, affordable lodging with the usual amenities of free continental breakfast, free internet access, guest laundry, an outdoor pool and hot tub. I-210 runs past one block away, putting guests within easy reach of other north Los Angeles locations.

9.
Best Western Pasadena Royale
3600 E Colorado Blvd, Pasadena, CA 91107-3866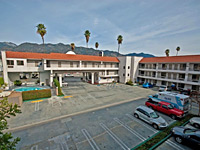 Right next to another Best Western hotel (the Pasadena Inn) stands the well-regarded, Spanish-style Pasadena Royale, which offers slightly larger and better-equipped accommodations than its neighbor. There are 64 rooms, all containing a refrigerator & mini bar, and including various suites with microwave, extra sofabed and separate living/sleeping areas. The usual free continental breakfast is available, while for lunch/dinner, the main road (Colorado Boulevard) offers restaurants of many different nationalities.

10.
Ramada by Wyndham Pasadena
2156 E Colorado Boulevard, Pasadena, CA 91107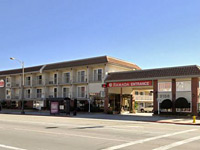 Guests at the three story, exterior corridor Ramada Pasadena have a choice of 78 rooms, within a three floor building with exterior corridors, all containing a refrigerator and work desk. Some have a private balcony, including those right at the front of the hotel, overlooking the main street (Colorado Boulevard, Route 66). The neighborhood in this part of Pasadena is mostly residential, but with many restaurants, small shops and other business along the road. The city center is 2 miles west. The hotel provides free enhanced continental breakfast, plus the usual facilities for leisure, business and meetings. Wi-fi is also complimentary.

11.
Howard Johnson by Wyndham Pasadena
1599 East Colorado Boulevard, Pasadena, CA 91106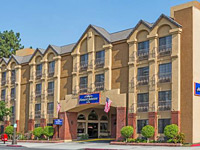 The 60 refrigerator & microwave-equipped guest rooms at Howard Johnson Pasadena are contained within an attractive, four floor, interior corridor building along Colorado Boulevard, looking south towards the adjacent campus of Pasadena City College. The hotel has a secure parking lot at the rear, accessed via a driveway through the center of the building, and its facilities include an outdoor pool, also at the back, in sun only during the middle of the day. The standard two complimentary amenities of wi-fi and breakfast (continental) are provided. There are many restaurants one block west.

12.
Travelodge by Wyndham Pasadena Central
2131 East Colorado Boulevard, Pasadena, CA 91107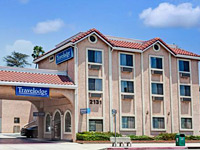 In common with the majority of hotels in Pasadena, the Travelodge is located along Colorado Boulevard, half a mile south of I-210; part of a line of shops, restaurants, bars and many other businesses that stretches for five miles across the city. Most rooms face west, and have views of the parking lot (shared with an adjacent motel), outdoor pool and hot tub. All accommodations feature a microwave, refrigerator and free wi-fi, while a few suites have a hot tub bath and/or sofa bed. The free breakfast is the continental variety; other amenities are a business center and laundry.

13.
Super 8 by Wyndham Pasadena/LA Area
2863 E Colorado Boulevard, Pasadena, CA 91107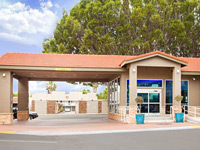 The pet friendly Super 8 Pasadena offers reliable, budget-priced lodging towards the east side of the city, accommodating guests in a three floor, exterior corridor building that is set back from the main road (Colorado Boulevard) behind a small shopping center, and further shielded by several large trees. Palms and other tropical plants line the parking lot and outdoor pool, and the whole place has a peaceful atmosphere. All the usual basic amenities are available: free continental breakfast, free wi-fi, microwaves & refrigerators, laundry and a business center.

14.
Rodeway Inn & Suites Pasadena
2860 E Colorado Blvd, Pasadena, CA 91107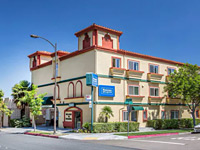 After a recent renovation, the Rodeway Inn & Suites has become one of the better low cost motels in Pasadena, and like most similar places it is located along the main road (Colorado Boulevard) - quite far east of the city center, close to neighboring Arcadia and Sierra Madre. The 33 rooms are clean and pleasant; all contain a refrigerator, microwave and quality furniture, and some have a hot tub bath. The usual free continental breakfast is available, with plenty of fast food restaurants nearby to provide other meals.