1.
Le Méridien Pasadena Arcadia
130 W Huntington Drive, Arcadia, CA 91007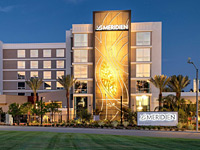 Le Méridien Arcadia opened summer 2021, along Huntington Drive between Santa Anita Golf Course and the Santa Anita Race Track; a large, luxurious, full service property of 233 rooms & suites, surrounded by landscaped grounds and offering a wide range of amenities accompanied by high quality customer service. Highlights include a rooftop pool with adjacent bar, an Asian-fusion style restaurant and a full spa. The stylish, European-influenced interior includes a range of local artworks plus a dramatic glass wall in the lobby, below which is a 24-foot hand-carved bench, fashioned from an ancient California redwood.

2.
Residence Inn Pasadena Arcadia
321 East Huntington Drive, Arcadia, CA 91006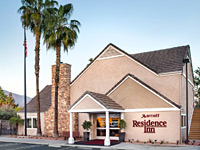 The townhouse-style Residence Inn Pasadena/Arcadia provides high quality, extended stay/all suite accommodation close to I-210; reached by the Huntington Drive exit, the hotel is 7 miles east of Pasadena and 15 miles from downtown Los Angeles. Free hot breakfast is served each day, while for dinner guests can either cook in their room at the full kitchen (complimentary grocery shopping service is available), use the outdoor bbq grills, visit one of the many nearby restaurants, or, for a light snack, take advantage of the hotel's evening social hour. Other in-room amenities include a pull out sofa, a large work desk, free internet access and of course the luxurious Marriott bedding. For relaxation, the hotel offers an outdoor pool, hot tub, fitness center and sports court.

3.
Embassy Suites Arcadia
211 East Huntington Drive, Arcadia, CA 91006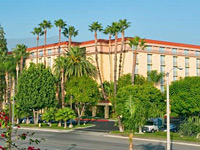 Both free full breakfast and free nightly manager's receptions are provided by Embassy Suites Arcadia, a large, full service, all-suite property near the Huntington Drive exit of I-210, within a few miles of Pasadena, Temple City, Duarte and Azusa. The seven floor building is centered on a floor-to-ceiling atrium lobby, containing tropical plants and plenty of comfortable seating; other facilities include a gift shop, fitness room, pool, sauna, business center and extensive meeting space. All accommodations are two-room suites with sofa bed, separate living area and wet bar. Other meals are available from the Peacock Grille restaurant, on the premises.

4.
Hilton Garden Inn Arcadia/Pasadena Area
199 North Second Avenue, Arcadia, CA 91006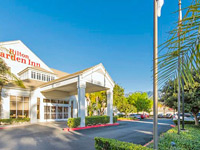 Hilton Garden Inn Arcadia has an elegant frontage, lined by flourishing palm trees. which also shield the outdoor pool from the parking lot. Inside, the upscale, all suite hotel has the expected facilities for business, meetings and leisure, including fitness & business centers both open 24 hours a day. There are two dining outlets on-site: Pavilion Lounge, which serves drinks & snacks all day, and Great American Grill restaurant, open for breakfast & dinner. Pre-packaged meals may be purchased from the Pavilion Pantry convenience store (also open 24 hours); cooked using the microwaves in all guest accommodations.
5.
Hampton Inn Los Angeles/Arcadia
311 E Huntington Drive, Arcadia, CA 91006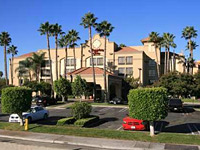 The Hampton Inn is part of a group of three Hilton-managed hotels near the Huntington Drive exit of I-210, within 2 miles of Santa Anita Park, Los Angeles County Arboretum, Arcadia County Park, Santa Anita Golf Course and Westfield Mall. The 129 room property benefits from a quiet location, 300 feet back from the main road behind a couple of restaurants, and the extensive parking lot is well shielded by trees and bushes. Some rooms overlook the equally secluded outdoor pool. Complimentary amenities are wi-fi and daily hot breakfast (take-out version available). The hotel also has a business center and a 276 sq ft meeting room.

6.
SpringHill Suites Pasadena Arcadia
99 N 2nd Avenue, Arcadia, CA 91006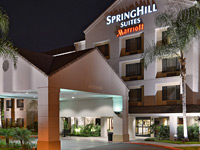 Just across the street from a sister property (the Residence Inn) stands another all suite Marriott hotel, the SpringHill Suites, where facilities are slightly less and hence the rates are lower, but not at the expense of cleanliness and good customer service. The 86 oversized rooms (on four floors) have a microwave, refrigerator, silverware, a well lit desk, a sofa bed, and separate sleeping/living areas. Free hot breakfast buffet, guest laundry, fitness center, outdoor pool, hot tub and two meeting rooms are the other main facilities. Santa Anita Racetrack and Westfield Shoppingtown Mall are both just 1.5 miles west.