1.
DoubleTree by Hilton Hotel Los Angeles/Rosemead
888 Montebello Blvd, Rosemead, CA 91770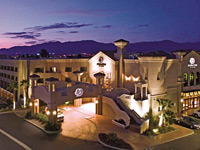 DoubleTree Rosemead sits just across the street from the Shops at Montebello, by the intersection of San Gabriel Boulevard with the Pomona Freeway, but is also close to unspoilt countryside along Rio Hondo, including Whittier Narrows Recreation Area. The location is ten miles east of downtown Los Angeles. A large outdoor pool and hot tub are situated in front of the property on the sunny south side, lined by palm trees, while inside, the many facilities include two dining outlets: Acacia Lounge, serving snacks & evening drinks, and Polo's A-Grille, an upscale restaurant open for dinner, lunch & breakfast. A complimentary shuttle is operated to places within a 5 mile radius. The DoubleTree also offers all the usual facilities for leisure, meetings and business.

2.
Hartford Hotel, BW Signature Collection
8832 Glendon Way, Rosemead, CA 91770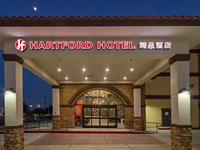 The well reviewed Hartford Hotel became part of the Best Western Premier Collection in 2018, a group of upscale, boutique properties. The hotel has a quiet location along a residential side street, though just a short drive from Interstate 5, the Rosemead Boulevard exit. There are plenty of restaurants and stores nearby, part of Rosemead Place Shopping Center. Complimentary full breakfast is provided, both Asian and American cuisine, while the other main amenity is a business center. All guest rooms are equipped with a refrigerator, microwave and coffee/tea maker.

3.
Fairfield Inn & Suites Los Angeles Rosemead
705 San Gabriel Blvd, Rosemead, CA 91770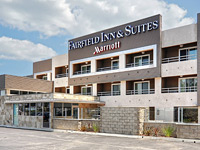 Mid way between Pico Rivera, Montebello and Rosemead, the Fairfield Inn is also within a short drive of many other places around east Los Angeles via the 60 Freeway which right past the hotel. Also just across the street is Montebello Town Center Mall, though much of the surroundings are undeveloped, with a golf course, several lakes, parks and wooded areas nearby, around the Rio Hondo and San Gabriel Rivers. The hotel is one of the older properties of this brand, but the 66 rooms are clean, well maintained, and equipped with a refrigerator & coffee maker. The free breakfast includes several hot items like bacon & eggs; for lunch and dinner there are many restaurants in and around the mall. For leisure guests have use of a pool and hot tub.

4.
Quality Inn Rosemead
9488 Valley Boulevard, Rosemead, CA 91770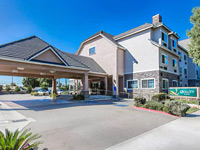 Recently built Quality Inn Rosemead has an excellent reputation for its clean, quiet & spacious accommodations, the reasonable rates, the professional staff and the good quality free continental breakfast. All 68 rooms contain a microwave & refrigerator; some have a sofa bed and mini bar. The hotel sits at the edge of a residential area along Valley Boulevard, a road that parallels I-10 a few blocks south; both routes lead to downtown Los Angeles, 12 miles west. The Quality Inn also offers free internet access and a 50 person meeting room.

5.
Travelodge by Wyndham Rosemead
3327 N Del Mar Avenue, Rosemead, CA 91770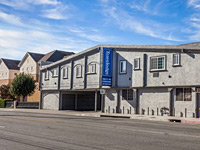 Travelodge Rosemead is a small but welcoming motel of 30 microwave/refrigerator-equipped rooms, contained within an exterior corridor building along a relatively quiet street two blocks south of I-10 exit 25 (Del Mar Avenue), and 9 miles from the center of Los Angeles. Free internet access and free continental breakfast are the only two amenities, but rates are low and the rooms quite clean & spacious. The nearest restaurants are half a mile east, along San Gabriel Boulevard. A few accommodations have a kitchenette.
6.
Motel 6 Los Angeles - Rosemead
1001 S San Gabriel Blvd, Rosemead, CA 91770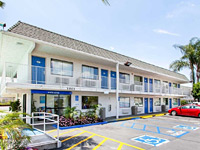 Besides Rosemead to the north, the Motel 6 is also close to Whittier, Monterey Park and Pico Rivera, and adjoins the Pomona Freeway which leads to downtown Los Angeles ten miles west. Large trees help shield the motel from the freeway and the access road (San Gabriel Boulevard), and the exterior corridor property is set back 200 feet, behind a couple of restaurants, so rooms offer a quiet night's sleep. The complex includes plenty of parking space and an outdoor pool, beneath a few palm trees. Other amenities are wi-fi, guest laundry and free morning coffee.