1.
AC Hotel Beverly Hills
6399 Wilshire Blvd, Beverly Hills, CA 90048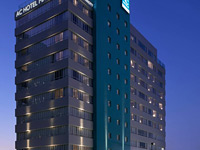 The AC Hotel by Marriott opened late summer 2018 after full renovation of an existing property, along Wilshire Boulevard about 2 miles east of the center of Beverly Hills, near the San Vicente intersection, part of a corridor of shops, restaurants, businesses and several consular buildings. The upscale, boutique hotel has 11 storeys and 176 rooms; highlights are a rooftop wading pool, a top floor restaurant with outdoor deck, a lobby lounge/bar, meeting space and a two storey parking garage. Attractions within half a mile include the La Brea Tar Pits and the Los Angeles County Museum of Art.
2.
Beverly Hills Marriott
1150 S Beverly Drive, Beverly Hills, CA 90035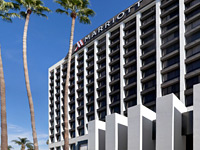 The luxurious accommodations and full service facilities of Beverly Hills Marriott are available at a somewhat lower rate than comparable properties closer to the city center - the hotel is located a mile south of the main shopping area around Rodeo Drive, at the Pico Boulevard/Beverly Drive intersection. There are 258 good sized rooms & suites in the modern, 12 story building, most with fine views over Los Angeles and the Hollywood Hills, and all very comfortable and well appointed. The hotel's restaurant is open all day (room service available) and features local cuisine accompanied by a view of the outdoor pool. Drinks and snacks are also available in the lobby lounge/bar. Meetings and events are catered for by 8 rooms (8,000 sq ft; largest single capacity 300), and a staffed business center. The property opened summer 2015, after conversion from another brand (Crowne Plaza).

3.
The Beverly Hilton
9876 Wilshire Blvd, Beverly Hills, CA 90210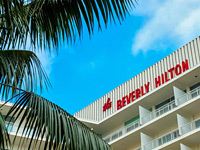 The Beverly Hilton enjoys a prominent and privileged location towards the west side of Beverly Hills at the junction of Santa Monica Boulevard and Wilshire Boulevard, backing on to the golf course of Beverly Hills Country Club and half way (0.5 miles) between Century City and Rodeo Drive. The four star hotel is modern, luxurious, well staffed, and large - offering 569 rooms & suites in an 8-floor, 3-winged building that also contains 3 dining outlets and 60,000 sq ft of meeting/conference space, making this one of the premier event locations in Beverly Hills. Upscale accommodation choices include poolside cabanas and luxury penthouse suites with panoramic views over the city.

4.
Residence Inn Beverly Hills
1177 S Beverly Drive, Beverly Hills, CA 90035
The closest Marriott hotel to the center of Beverly Hills is the all suite, boutique-style Residence Inn at 1177 S Beverly Dr - a substantial, modern, eight floor building of 186 very well equipped suites. All accommodation contains a full kitchen (stove, dishwasher, microwave, refrigerator/icemaker), plus flat screen TVs, a pull-out sofa, a digital safe, and extra comfortable bedding. There are plenty of restaurants nearby along Pico Boulevard, though both free full breakfast and free evening reception are provided by the hotel. A limited-availability complimentary shuttle is operated to places within 3 miles, such as Los Angeles Country Club, Rancho Park Golf Course and downtown Beverly Hills. Other facilities at the Marriott include a whirlpool, fitness center, guest laundry and two meeting rooms.