1.
Hilton Los Angeles Culver City
6161 West Centinela Avenue, Culver City, CA 90230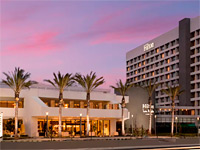 Hilton Los Angeles Culver City is a modern, upscale, full service hotel along Centinela Avenue beside I-405, near the districts of Marina del Rey, Inglewood and Culver City, and 3 miles north of Los Angeles International Airport (complimentary shuttle available). The on site restaurant, Share, is open for breakfast, lunch, dinner & room service, while evening drinks are served at Culver's Club lounge/bar. Meetings and events are catered for with 20,000 sq ft of space, suitable for groups of up to 600. Leisure facilities are the usual pool, hot tub and fitness center. The oversized guest rooms feature luxury bedding and an executive desk; there are also several kinds of suite.

2.
Courtyard Los Angeles Westside
6333 Bristol Parkway, Culver City, CA 90230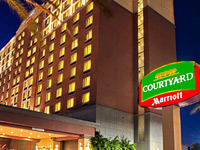 One of the top hotels in Culver City, CA, is the Courtyard by Marriott Los Angeles Westside - an imposing 12 floor property of 260 spacious guest rooms, a full service, all day restaurant (room service available), lounge bar, outdoor pool, 24 hour convenience store, fitness center and 10,000 square feet of indoor/outdoor meetings space. Guests can walk to the many shops and restaurants at nearby Fox Hills Mall, by the junction of I-405/Hwy 90, and are just a short drive away (3.5 miles) from LAX Airport. Internet access is free, though not parking.

3.
Four Points by Sheraton Los Angeles Westside
5990 Green Valley Circle, Culver City, CA 90230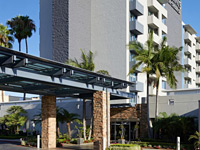 Four Points by Sheraton has an easy-to-reach location beside the 405 freeway just south of the Hwy 90 intersection, in a busy business/commercial neighborhood, across the street from Westfield Mall. Los Angeles International Airport is 3 miles due south. The midrise (8 floor, 196 room) building has a tree-lined outdoor pool on the west side, plus hot tub and fireplace, and spacious parking lot all around; interior facilities include a lobby-level restaurant/bar (open for breakfast & dinner), convenience store, 24 hour fitness center and four meeting rooms.

4.
Ramada by Wyndham Culver City
3930 Sepulveda Boulevard, Culver City, CA 90230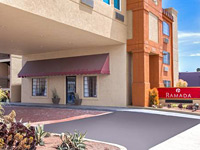 Ramada Culver City occupies an older but well maintained four story building along Sepulveda Boulevard, one block east of I-405, which provides quick travel to such nearby places as Beverly Hills, Venice Beach, Santa Monica, Inglewood and LAX Airport, all within 5 miles. Amenities are average, including free continental breakfast, free wi-fi, a hot tub and fitness center, but rates are reasonable and the location convenient. There are many restaurants 2 blocks south and a small selection of shops within walking distance; the nearest mall (Westfield Culver City) is 2 miles south.

5.
Travelodge by Wyndham Culver City
11180 Washington Place, Culver City, CA 90232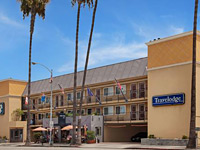 The refrigerator/microwave-equipped guest rooms at Travelodge Culver City are brightly decorated and modern in appearance, contained within a three floor building just off Sepulveda Boulevard, the ground floor being used for parking, extending to a small uncovered lot at the rear. Tall palm trees grow at the front, as is the case with most streets hereabouts, and the surrounding district includes a good selection of restaurants, one adjacent. The major intersection of I-405 and Venice Boulevard is one block north. Free continental breakfast is the main amenity.

6.
Super 8 by Wyndham Los Angeles-Culver City Area
12664 W Washington Boulevard, Los Angeles, CA 90066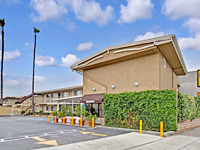 Amongst the many locations within 3 miles of Super 8 Culver City are Venice Beach, Marina del Rey, Loyola Marymount University, Westfield Mall and Santa Monica Airport, while LAX is 6 miles south. Rates are low and amenities limited (free eight-item continental breakfast, outdoor pool, free wi-fi), but the motel enjoys a good reputation, on account of the central location, pleasant staff and the spacious accommodations, all of which contain a microwave & refrigerator. A reasonable number of restaurants are within walking distance, east and west along the main road (Washington Boulevard).

7.
Rodeway Inn Culver City
11933 W Washington Blvd, Culver City, CA 90066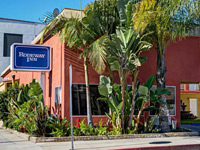 Facilities are basic - just free continental breakfast, free internet access and a refrigerator/microwave in some of the 32 rooms, but rates at the Rodeway Inn in Culver City are low, the staff friendly, and the accommodation clean & spacious; the place is a good, low-cost base from which to explore west Los Angeles, being centrally located (5 miles) between Santa Monica, Century City, Beverly Hills and LAX. The closest beaches (Venice and Marina del Rey) are just 3 miles away. The hotel is part of an uninteresting residential/commercial neighborhood along Washington Boulevard, though there are several restaurants within walking distance.