1.
Marriott Marina del Rey
4100 Admiralty Way, Marina del Rey, CA 90292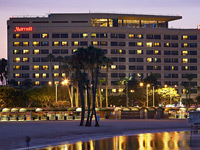 The 370 stylish rooms and suites at Marriott Marina del Rey have fine views either over the calm waters of the marina (400 feet away, across one road) or north towards the
Santa Monica Mountains
. The Pacific Ocean is 4 blocks west, and LAX is reached by an easy 5 mile drive south. Although one of Marriott's older properties, the rooms and public areas are well maintained, and the subtle lighting & decor create a relaxing ambience. There are three dining outlets on site; Glow Lounge open for lunch & dinner, a lobby bar, and the upscale Stones Restaurant serving California-style dishes for breakfast & dinner. The hotel's outdoor pool is on the sunny south side of the property, enclosed by palm trees and other tropical plants. For meetings the Marriott provides 18 rooms, totaling 18,000 sq ft of space.

2.
Jamaica Bay Inn Marina Del Rey, Tapestry Collection by Hilton
4175 Admiralty Way, Marina Del Rey, CA 90232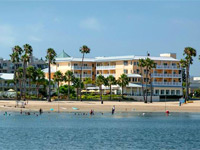 The best aspect of the Jamaica Bay Inn is the scenic location, right next to a sandy beach at the edge of the Marina del Rey harbor - south facing rooms look out over a pleasant garden area, setting for the pool and hot tub, and beyond to a grove of palm trees growing right by the ocean. Select accommodations have private balconies. The hotel is quiet since it sits on a side road, one block from the sometimes busy Washington Street, which leads directly to the Venice Beach boardwalk after 0.4 miles. The on-site cafe is open for breakfast and dinner, while meals are also available from several other nearby restaurants.

3.
Hotel MdR Marina del Rey - a DoubleTree Hotel by Hilton
13480 Maxella Avenue, Marina Del Rey, CA 90292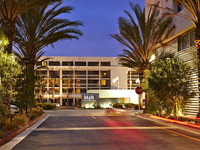 The immediate neighborhood is rather unattractive, around the west end of the 90 Freeway, but Hotel MdR Marina del Rey is just 0.3 miles from the waterfront, and within walking distance of a good selection of shops & restaurants, including those at Marina Marketplace. The hotel occupies quite a spacious, tree-lined site, with half the 277 rooms looking down on the courtyard garden and the large outdoor pool at the center. Inside, the main facilities are a spacious lobby, a restaurant (open for breakfast and dinner), a 24 hour fitness center, guest laundry, business center, and 5,275 sq ft of meeting/event space. Wi-fi is complimentary.

4.
Courtyard Marina del Rey
4360 Via Marina, Marina Del Rey, CA 90292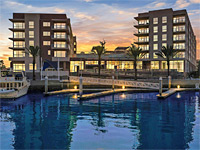 Courtyard by Marriott Marina del Rey occupies the northern half of a 2020 development (shared with the Residence Inn) right on the edge of the marina, in a quiet and peaceful neighborhood also within walking distance of the Pacific Ocean beaches. The six storey property features a spacious lobby, a restaurant/bar (open for breakfast, dinner & evening drinks), meeting space, a fitness center and an elevated outdoor pool, on a terrace between the two buildings.

5.
Residence Inn Marina del Rey
4360 Via Marina, Marina Del Rey, CA 90292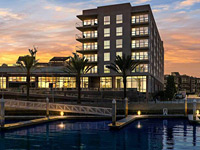 Residence Inn Marina del Rey overlooks Basin B at the marina, and is also less than half a mile from the beach; a secluded, peaceful location in a largely residential neighborhood. The hotel opened late 2020, sharing a site with another Marriott property, the Courtyard, and it caters primarily for extended stay guests, with 113 suites, in studio, one bedroom and two bedroom layouts; all include a full kitchen. Recreation amenities are a 24 hour fitness center and an outdoor pool, with views across the marina. Hot breakfast and weekday evening receptions are complimentary.

6.
Hilton Garden Inn Los Angeles Marina Del Rey
4200 Admiralty Way, Marina Del Rey, CA 90292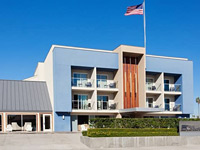 New for summer 2013, Hilton Garden Inn Marina Del Rey has an excellent location along Washington Boulevard beside the harbor and Marina Beach, 2 miles from the more extensive sands of Venice Beach. This elegant, upscale hotel features a restaurant (open for breakfast, dinner & room service), meeting space with 24 hour business center, a fitness center, outdoor pool and sundeck. All guest rooms contain a microwave; cookable snacks may be purchased from the on-site convenience store.