Willcox
is a city in southeast Arizona, small in both area and population, located beside Interstate 10 about half way (75 miles) between Tucson and Lordsburg, New Mexico. The immediate surroundings are flat, and relatively low in elevation (4,160 feet) - part of the vast
Sulphur Springs Valley
which includes the dry lakebed of
Willcox Playa
just to the south, but mountains rise up to the west and east, these latter (the Dos Cabezas and Chiricahua ranges) the location of two NPS units, the popular
Chiricahua National Monument
and the much less visited
Fort Bowie National Historic Site
. Willcox also lies along a scenic section of the north-south route US 191, known as the
Coronado Trail
. Hotels and shops are concentrated around the middle of the town's three I-10 exits, about one mile from the center.
Please refer to the
disclosure notice
for information about the affiliate (commissionable) links on this page.

1.
Holiday Inn Express Hotel & Suites Willcox
1251 N Virginia Avenue, Willcox, AZ 85643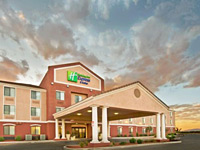 Most rooms at the recently built Holiday Inn Express Hotel & Suites Willcox have long distance views over the undeveloped surroundings, on the west side of interstate 10 by exit 340 - 35 miles from the main natural attraction in the area,
Chiricahua National Monument
. All accommodation and the public areas are very clean & modern, and the hotel has a good range of facilities, principally free breakfast (including a few hot items), free internet access, a fitness center, outdoor pool, newsstand and business center. The nearest restaurants are about half a mile away, along Rex Allen Drive on the far side of the interstate. Besides the regular rooms, several suites are available with a microwave, refrigerator, and divided living/sleeping areas.

2.
SureStay Plus Hotel by Best Western Willcox
1100 W Rex Allen Drive, Willcox, AZ 85643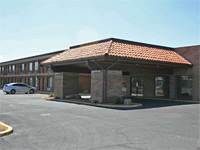 The SureStay Plus by Best Western overlooks the high desert on the north side of Willcox - the hotel is built next to exit 340 of I-10 (Rex Allen Drive), though set back a little from the main road, and so provides generally quiet accommodation. The downtown area is a mile south. This is a 91 room, exterior corridor inn, centered on a courtyard garden with outdoor pool, and it also offers a business center and meetings space. Hot breakfast is provided free of charge. There are plenty of restaurants a short walk away.

3.
Days Inn by Wyndham Willcox
724 N Bisbee Avenue, Willcox, AZ 85643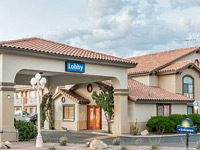 The free breakfast at Days Inn Willcox comes with a few hot items, and there are plenty of restaurants close by to provide other meals; the motel is part of the main shopping/dining area in town, at the east side of I-10 exit 340, including Safeway supermarket. Rooms are on two floors, of an exterior corridor building that is surrounded by plenty of parking, big enough for the largest trucks (to the rear). Other facilities are a small outdoor pool, free wi-fi, free weekday newspaper and basic business services.

4.
Super 8 by Wyndham Willcox
1500 W Fort Grant Road, Willcox, AZ 85643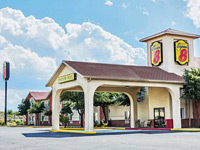 Like all chain lodging in Willcox, the Super 8 sits beside I-10 at exit 340, near a travel center, restaurants and gas stations. The affordable, pet friendly, interior corridor hotel is located immediately west of the highway, partly surrounded by undeveloped land, with the parking lot at the front; it offers an indoor pool, free continental breakfast and free wi-fi. Most facilities in the area are on the opposite side of the interstate, towards the town center.