Benson
is a small, quiet town on interstate 10 in Cochise County, 45 miles east of Tucson and 314 miles from the next major city further east, Las Cruces in New Mexico. The town was founded in 1880 as a stop along the
Southern Pacific Railroad
, and the addition of two branch lines to the nearby copper, silver and gold mining centers of Tombstone and Bisbee meant it soon became a thriving community. Today Benson survives mainly on faming and tourism, as well as being a useful overnight stop for cross-country travelers on I-10, and has a population of around 4,000. It is reached by exits 303, 304 and 306 of I-10, and from the south by state routes 80 and 90.
The town has recently adopted the motto of '
Home of Kartchner Caverns State Park
', in reference to the newly discovered limestone caves a few miles to the south, which became a state park in 1999. The caverns are certainly spectacular but rather expensive to visit, with tours starting at $23. They are found on the east side of the Whetstone Mountains, within the Coronado National Forest, which has another unit southeast of Benson, enclosing the Dragoon Mountains, and another two to the north.
Temperatures in Benson are generally in the 90s in summer, when afternoon thunderstorms are common; July and August are the wettest months. May to September have all recorded highs over 100, and while December to February see below zero nights most of the time, winter highs are still usually in the 60s.
Please refer to the
disclosure notice
for information about the affiliate (commissionable) links on this page.

1.
Comfort Inn Benson
630 S Village Loop, Benson, AZ 85602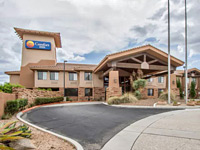 Comfort Inn Benson is located in a mostly rural area a mile west of Benson town center, beside exit 302 of interstate 10 - just off AZ 90 which leads south towards the Kartchner Caverns, Fort Huachuca,
Coronado National Memorial
and the Mexican border. The hotel features 62 very clean rooms & suites, a nice pool with views over the desert, a fitness center, and a dining area for the free breakfast, which includes a few hot items. There are several fast food places nearby but most restaurants, and all other facilities, are in the town center. Pets are welcome, for a fee.

2.
Quality Inn Benson
699 North Ocotillo Road, Benson, AZ 85602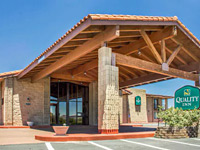 Occupying a quiet site along the mostly undeveloped Ocotillo Avenue, between downtown Benson and interstate 10 (exit 304), the pet friendly Quality Inn was recently renovated and caters for guests in 82 modern, comfortable rooms (equipped with microwave, refrigerator & coffee/tea maker), arranged in three blocks either side of the parking area, courtyard and outdoor pool. Above average free buffet breakfast is served, and an adjacent restaurant is open all day for other meals. The hotel also has a coin-operated laundry facility.