1.
Homewood Suites by Hilton Moab
132 N Main Street, Moab, UT 84532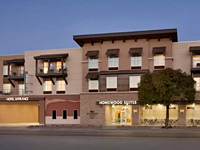 New for 2016, the Homewood Suites is the first dedicated extended stay/all-suite hotel in Moab, and is situated towards the north end of Main Street, bordering a residential area to the rear. All accommodations feature a full kitchen, dining area, living space including a sofa bed and executive desk, and free wi-fi; some have separate bedrooms. Both daily full breakfast and weekday evening receptions are complimentary. Snacks and cookable meals may be purchased from the 24 hour convenience store, while provisions may be ordered via the free grocery delivery service. An indoor salwater pool and a modern fitness center are the two main leisure amenities.

2.
Hampton Inn Moab
488 N Main Street, Moab, UT 84532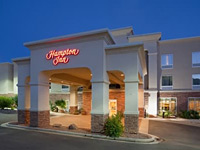 Hilton manage two properties in Moab, one being the 79 room Hampton Inn, which has a scenic setting at the foot of the red cliffs that border the north side of town. All the comfortable, spacious accommodations have good views across town, and they include a selection of studio suites with living area & sofa bed. Free hot buffet breakfast is served and there are many restaurants nearby, mostly to the south. A business center and 30-person meeting room are available for guests here to work. The hotel also has a snack shop and outdoor pool.

3.
SpringHill Suites Moab
1865 N Highway 191, Moab, UT 84532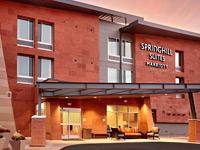 SpringHill Suites Moab is scheduled for a January 2018 opening, built at the lower end of Courthouse Wash where it meets the Colorado River, beside another Marriott hotel, the Fairfield Inn. This scenic location is right on the north edge of the city, just 1.5 miles from the entrance to Arches National Park; in the other direction, most facilities in Moab are between 2 and 4 miles away. The hotel has 89 studio suites, equipped with microwave, refrigerator, sofa bed and executive desk, many with views of the river. Free hot breakfast is served each morning, while snacks, drinks and sundries can be purchased 24 hours a day from the onsite convenience store.

4.
Holiday Inn Express Hotel & Suites Moab
1515 Hwy 191 North, Moab, UT 84532
One of the closest hotels to
Arches National Park
is the 79 room Holiday Inn Express Moab, along US 191, half a mile south of the Colorado River and the park boundary. The hotel was built in 2003, in the countryside 2 miles north of Moab town center; most of the 79 spacious rooms have extensive, uninterrupted views towards the surrounding red sandstone cliffs and the trees bordering the river. The three main amenities are an indoor pool/hot tub, 24 hour fitness center and free hot breakfast buffet. For extra space, the hotel has several suites, each containing a microwave, refrigerator and sofa bed.

5.
Best Western Plus Canyonlands Inn
16 S Main Street, Moab, UT 84532-2503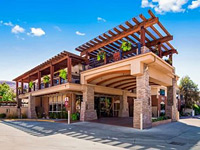 Right at the center of Moab, at the junction of Center and Main streets, sits the 77 room Best Western Canyonlands Inn, a 3 story building that enjoys fine views over the deep red Navajo sandstone cliffs that rise a short distance away to the northeast. The turn off to the
Island-in-the-Sky
district of Canyonlands National Park is 10 miles north, while the entrance to Arches National park is 5 miles away. The hotel has a good range of facilities - free full breakfast, hot tub, exercise room, children's playground, guest laundry, rooms with refrigerators - plus a year-round outdoor heated pool that is covered by a protective dome during the winter months. As well as regular rooms, several kinds of suite are available. The Canyonlands Inn is highly rated by Tripadvisor, receiving the 2013 Certificate of Excellence award.

6.
Best Western Plus Greenwell Inn
105 S Main Street, Moab, UT 84532-2506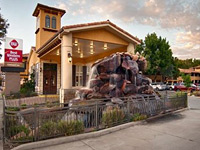 Best Western Greenwell Inn lies one block south of the junction of Center and Main in the middle of Moab, in a mostly residential area. The accommodation block is a long, narrow, old-style building arranged around two sides of the parking area, which also contains a heated outdoor pool and is bordered on the south side by a wooded stream (Mill Creek) along which runs a pleasant footpath, leading to a park towards the east edge of town. Many shops, restaurants, bars, art galleries and museums in downtown Moab are just a short walk away. Free full breakfast is prepared every day.

7.
Fairfield Inn & Suites Moab
1871 North Highway 191, Moab, UT 84532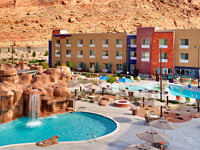 The first Marriott hotel in Moab opened November 2014; the Fairfield Inn is an 87 room property built along the northern approach to town (US 191), in a lightly developed area close to the Colorado River, beside the lower end of Courthouse Wash. Most locations in Moab are between 1 and 4 miles away. Deluxe continental breakfast is complimentary, and there are several restaurants within walking distance to the south. The hotel is now the closest (1.7 miles) to the entrance to
Arches National Park
. Facilities include the usual pool, fitness center and business center.

8.
Comfort Suites Moab
392 North Main Street, Moab, UT 84532
The recently constructed (open summer 2014) Comfort Suites hotel in Moab has a northerly position in town along Main Street, right at the foot of the tall red cliffs that border the town to the east. This location is one block from a city park with pool, playground and picnic area, and within half a mile of a good selection of restaurants. Free hotel breakfast is provided by the hotel, together with free wi-fi, an outdoor pool/hot tub and a business center. The oversized accommodations feature luxury bedding, an executive desk, a microwave, sofa bed and refrigerator.

9.
Quality Suites Moab
800 S Main Street, Moab, UT 84532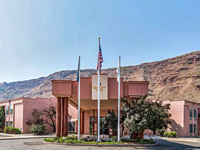 Moab's Quality Suites hotel is situated towards the south end of town, at the corner of Main Street (Hwy 191) and Dogwood Avenue, less then a mile from the downtown area and within walking distance of many restaurants & stores. Untouched desert begins just to the southwest, with the convoluted ridges and fins of the Behind-the-Rocks country just a short walk away. The hotel has a heated indoor pool, hot tub, exercise room, and a dining area where the usual free continental breakfast is provided. There are 75 comfortable rooms - larger then average though not true suites - all of which contain a refrigerator and some have a microwave.

10.
Sleep Inn Moab
1051 S Main Street, Moab, UT 84532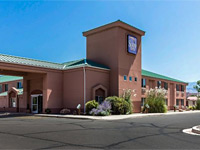 The pastel-colored Sleep Inn has a southerly location in Moab along Main Street, right beside the highway in a rural/residential neighborhood. Moab Golf Club is 4 miles south; the entrance to
Arches National Park
is 6.5 miles north. There are plenty of restaurants along the main road, beginning half a mile towards the town center. Contained within are 2 story building are 61 rooms, generally brighter, larger and newer than the average roadside motel. The Sleep Inn offers free continental breakfast, an indoor hot tub and quite a large outdoor pool (seasonal).

11.
Days Inn Moab
426 North Main Street, Moab, UT 84532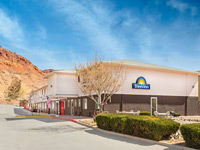 Red cliffs rise up just 200 feet away from Days Inn Moab, a typical, affordable motel half a mile north of the city center and 5 miles from the entrance to Arches National Park. The four usual amenities of a pool (outdoor), hot tub, free wi-fi and free continental breakfast are provided, plus free coffee 24 hours a day in the lobby. All guest rooms are equipped with a refrigerator and microwave. There are several restaurants within one block and many more further south along the main road (US 191).

12.
Motel 6 Moab
1089 N Main Street, Moab, UT 84532
Motel 6 Moab is one of the more modern properties of this popular budget-priced brand; an interior corridor building of three floors, set in partly wooded surroundings 1.5 miles north of the town center and just over a mile from the highway bridge over the Colorado River. The rear of the motel backs on to open fields, with nothing to restrict the fine views of the red Wingate sandstone cliffs to the west, on the far side of the river. Guests can relax in a pleasant outdoor pool, quite near the road but shielded by bushes. There is no free breakfast but all meals can be purchased from a 24 hour Denny's restaurant, 600 feet south.

13.
Super 8 Moab
889 N Main Street, Moab, UT 84532-2134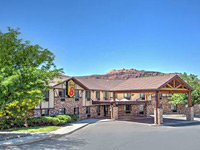 Super 8 Moab presents an elegant frontage, partly clad in stone; a recently renovated, L-shaped property centered on an extra-large parking lot, with a secluded outdoor pool & hot tub at the southeast corner. Rooms are accessed by interior corridors, and all feature a microwave, refrigerator, coffee maker & free wi-fi. Eight-item continental breakfast is also complimentary. The motel has a northerly location in town along the main road, bordering a residential estate, though with one restaurant adjacent (Denny's) and another opposite (Sunset Grill).