1.
Renaissance Austin
9721 Arboretum Boulevard, Austin, TX 78759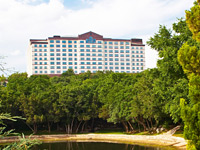 The Renaissance is the largest and most luxurious of nearly 20 Marriott hotels in Austin, offering 492 oversized rooms & suites in a handsome, granite-clad building adjacent to the Arboretum Mall - ten miles north of the city center, near the US 183 - MoPac intersection. South facing rooms look out over the hotel's outdoor pool and gardens to an area of wooded parkland with nature trails and a small artificial lake, reminiscent of the Texas Hill Country, while inside the upscale design and decor contribute to the air of relaxed elegance. Centerpiece of the hotel is a nine story atrium lobby, setting for the bar and deli cybercafe; other amenities include the Texas-style Banderas restaurant, an indoor pool, fitness center, gift shop, full service business center and 64,000 sq ft of meeting/banquet space.

2.
DoubleTree by Hilton Hotel Austin Northwest Arboretum
8901 Business Park Drive, Austin, TX 78759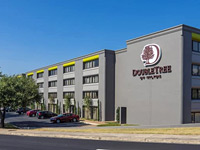 Located just west of the busy US 183 - MoPac Loop 1 junction in the hilly, tree-lined suburbs of northwest Austin, the full service DoubleTree by Hilton Hotel offers many facilities for guests visiting the nearby entertainment, shopping and leisure centers including the Arboretum Shopping Mall just 0.5 miles to the west. The 194 room property features a large atrium lobby, a combined indoor-outdoor pool, a 24 hour fitness center, a restaurant serving breakfast, a sports bar (open for lunch & dinner) and a range of services for business people. For meetings, the Doubletree has eight rooms, totaling 7,200 sq ft of space. A complimentary shuttle serves locations within a few miles.

3.
Courtyard Austin Northwest/Arboretum
9409 Stonelake Boulevard, Austin, TX 78759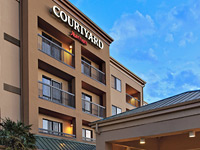 The smallest of several Courtyard properties in Austin is part of a group of shops, businesses and other hotels adjacent to US 183 on the north edge of the city, half a mile from the Arboretum Mall. The 102 spacious rooms all feature free internet access, luxurious bedding, a large work desk and a sofa bed; half look southwards over the hotel's secluded garden, which is shared with a Marriott sister hotel (Residence Inn). The pool is indoors, as is a hot tub, fitness center, 24 hour business center, meeting room and a cafe, open for breakfast only.
4.
Residence Inn Austin Northwest/Arboretum
3713 Tudor Boulevard, Austin, TX 78759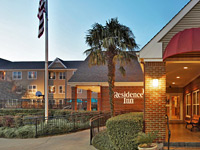 The Residence Inn of northwest Austin (3713 Tudor Boulevard) occupies a leafy site half a mile from the Arboretum Mall, near highways 183 and 1, but far enough away for the 84 suites (studio, one bed or two bed layouts) to offer a quiet night's sleep. South-facing rooms have views over the hotel's outdoor pool/hot tub and sports court, while those on the other side look out to a secluded garden, shared with the Courtyard next door. Free hot breakfast is prepared each morning, plus a free light dinner in the evenings (Mon to Thu); for other meals there are many restaurants nearby, and a supermarket just across the street, useful for those self catering - all suites include a fully equipped kitchen. Other facilities at the Residence Inn are a fitness center, guest laundry, free internet access and a meeting room.

5.
Staybridge Suites Austin Arboretum
10201 Stonelake Blvd, Austin, TX 78759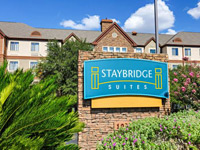 Although just half a mile north of the busy intersection of US 183 and Loop 1 in northwest Austin, the all-suite Staybridge Suites Austin Arboretum has a quiet setting with most of its 121 rooms looking out over woodland. The hotel is located at 10201 Stonelake Boulevard, reached from the Capital of Texas Hwy exit of the two main roads. There are several restaurants within walking distance, and the hotel is just two blocks away from the new, upscale Domain Mall, which has 700,000 feet of luxury shopping space. The Staybridge Suites is many people's choice for the top hotel in all Austin, on account of the very clean rooms (all containing a full kitchen), the well maintained hotel grounds, the excellent staff and the good quality free hot breakfast. Free evening receptions are also provided; other facilities include an outdoor pool, sports court, fitness center, bbq grills and a hot tub.

6.
Embassy Suites Austin-Arboretum
9505 Stonelake Boulevard, Austin, TX 78759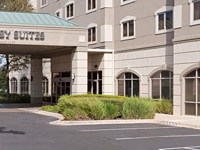 Both hot breakfasts and evening receptions are complimentary at the 150 room Embassy Suites Austin-Arboretum, an upscale, all-suite hotel adjacent to the main shopping/dining complex in the area, by the junctions of highways 1 and 183. Lunch, dinner and all-day drinks are also available on-site from DJ's American Grill, which additionally provides room service until 10 pm. Accommodations are spacious two-room suites equipped with microwave, refrigerator, wet bar and twin TVs. Like most hotels of this brand, the property is centered on a floor-to-ceiling atrium lobby, location of many of the facilities, together with trees, ponds and plenty of comfortable seating. The hotel's event space can cater for gatherings of up to 140 people.

7.
Homewood Suites by Hilton Austin-Arboretum/NW
10925 Stonelake Boulevard, Austin, TX 78759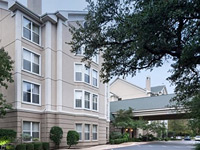 The Homewood Suites adjoins another Hilton property (Hampton Inn) in a quiet, leafy neighborhood near the Hwy 1 - US 183 intersection; the hotel is entirely surrounded by trees and so provides restful, all-suite lodging. Free hot breakfast is served each morning, plus free drinks & snacks in the evenings (Mon-Thu). Guests are accommodated in spacious, modern, one or two room suites, all featuring a full kitchen, free wi-fi and separate living area. Cookable food and other sundries can be purchased from the 24 hour convenience store. The hotel also has a business center, meeting space, fitness center and outdoor pool, situated in the central courtyard garden.

8.
Hilton Garden Inn Austin NW/Arboretum
11617 Research Boulevard, Austin, TX 78759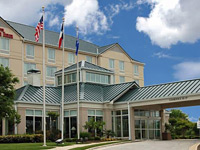 In the Arboretum business district, the Hilton Garden Inn offers comfortable, well equipped accommodations with a relatively quiet and peaceful setting along a tree-lined side street, 500 feet east of US 183. Top of the list of facilities is the Great American Grill restaurant/bar, open for freshly cooked breakfast in the morning and drinks/snacks in the evening. The on-site, 24 hour convenience store also sells snacks, plus cookable meals, heated using the microwaves in each guest room. For leisure the hotel has the usual fitness center, pool (indoor) and whirlpool. 1,250 sq ft of space is available for meetings and events.

9.
Hampton Inn Austin-Arboretum/Northwest
3908 West Braker Lane, Austin, TX 78759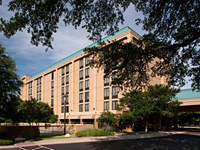 Highlights of Hampton Inn Austin-Arboretum are the tree-lined outdoor pool, the free hot breakfast (take-out version available), the free wi-fi and the cozy lobby, which has a range of quiet spaces for work or relaxing. The hotel is located at the Braker Lane exit of Hwy 1, opposite West Pickle Research Building of the University of Texas at Austin, and half a mile from the main campus. Shopping and dining can be found half a mile south, at the Gateway Center. Downtown Austin is ten miles south.
10.
TownePlace Suites Austin Northwest
10024 North Capital of TX Highway North, Austin, TX 78759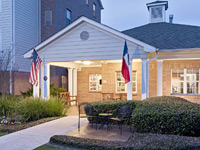 Marriott's mid range extended stay brand is represented by TownePlace Suites Austin Northwest, on the Capitol of TX Highway linking US 183 with the MoPac Freeway. The Arboretum and Domain shopping centers are both less than a mile away, while downtown Austin is 9 miles south. The hotel has a good reputation for service and value, accommodating guests in 127 suites (studio, one bed or two bed), all equipped with a full kitchen, work desk, sofa bed, and free internet access. Rooms are in two blocks, either side of the parking area and outdoor pool; those on the north side look out over a wooded hill, and all are quiet despite the nearby freeway. The hotel also offers a fitness center, business center and guest laundry.

11.
SpringHill Suites Austin Northwest/Arboretum
10936 Stonelake Blvd, Austin, TX 78759
The 99 modern studio suites at SpringHill Suites Austin Northwest provide guests with enhanced amenities of a kitchenette (microwave, sink, refrigerator, coffee maker), sofa bed and extra comfortable bedding - part of a handsome, five floor building on the west side of the MoPac Expressway, across from the Domain shopping center. Complimentary hot breakfast is served each morning, and there are several restaurants a short walk away to the south, with plenty more at the nearby malls. Guests can relax in an indoor pool/hot tub, or use the fitness center; for those here to work, facilities comprise a business center, free internet access and a (small) meeting room.

12.
Holiday Inn Express Hotel & Suites Austin NW - Arboretum Area
10711 N Research Blvd, Austin, TX 78759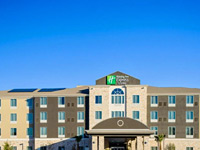 The Holiday Inn Express is a fall 2013 addition to the wide range of hotel choices in northwest Austin, near the Arboretum, built along the eastern US 183 frontage road, in a business neighborhood but close to woodland and an artificial lake to the east. The four floor property offers 108 rooms, all featuring luxury bedding, a microwave & mini refrigerator, and including a selection of suites, some with a full kitchen. Free hot breakfast buffet is prepared each morning, while for lunch/dinner there is one restaurant adjacent and others on the far side of the freeway. Bbq grills, an outdoor pool, fitness/business centers and a 125-person meeting room are some of the other facilities.

13.
Candlewood Suites Austin Arboretum-Northwest
9701 Stonelake Blvd, Austin, TX 78759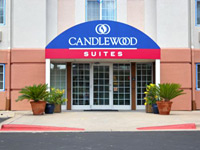 One of many hotels next to the US 183 - MoPac Loop 1 junction on the northwest side of Austin, the Candlewood Suites is a modern, all suite property, each room equipped with a full kitchen, dual phone lines, executive work desk, DVD player and free high speed internet access. Drinks and snacks can be purchased on site from the Candlewood Cupboard convenience store, or from several nearby supermarkets. The hotel has a fitness center and a bbq/garden area but no pool. Downtown Austin is 10 miles south along Loop 1, and the Arboretum Mall is 0.5 miles west.

14.
Fairfield Inn & Suites Austin Northwest
11201 N Mopac Expressway, Austin, TX 78759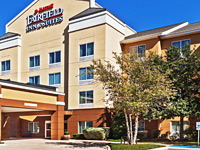 The Fairfield Inn & Suites in northwest Austin sits between the MoPac Expressway and a single track railway line, yet is still generally quiet, as well as being clean, new and well managed. There are 134 rooms available, all equipped with free internet access, a large work desk and extra comfortable bedding; the suites have a sofa bed, microwave and refrigerator. Free breakfast buffet is prepared each morning, and for lunch/dinner the nearest restaurants are a mile west alongside US 183 - near the Arboretum Mall and other large stores. Guests can relax in an outdoor pool, hot tub and exercise room.

15.
Econo Lodge Austin
9102 Burnet Road, Austin, TX 78758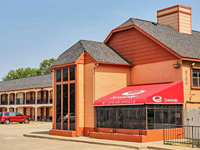 The small, budget-priced Econo Lodge motel in Austin (Burnet Road) has two stories with 39 exterior-corridor, microwave-equipped rooms, and two main amenities of free continental breakfast and free internet access. Rooms look out over a business neighborhood alongside US 183, less than a mile from the MoPac intersection and 3 miles from I-35. There are many restaurants and bars close by.