1.
Hampton Inn Rawlins
406 Airport Road, Rawlins, WY 82301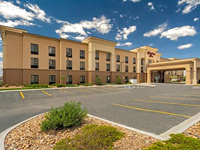 The one Hilton hotel in Rawlins is situated just off Cedar Street (US 30/287), half a mile from I-80 exit 215, and also half a mile from the municipal airport; a quiet location, with open fields and hills visible in most directions. The property is adjacent to a car wash, two gas stations and two fast food restaurants. There are 78 guest rooms available, all containing a microwave/mini refrigerator, and including a selection of suites with living space and a sofa bed. The hotel provides free hot breakfast each morning, and a take-out version Monday to Friday. The Pavilion Lounge is open for drinks & snacks in the evenings. People here to work have use of a business center and 1,500 sq ft meeting room.

2.
Holiday Inn Express Rawlins
201 Airport Road, Rawlins, WY 82301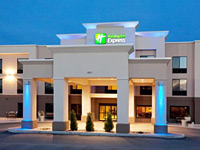 The recently built Holiday Inn Express hotel in Rawlins sits next to US 30/287 in a lightly developed area on the east edge of the city, a few blocks from the municipal airport and half a mile from interstate 80. There is a discount supermarket and a fair choice of restaurants nearby. Most of the 72 rooms & suites have good, long distance views over the surrounding flat lands; all are typically clean, large, and equipped with a coffee maker, microwave & refrigerator. A small meeting room and a business center are available for those here to work, while other amenities are free continental breakfast, an indoor pool, hot tub and fitness center. Pets are welcome.

3.
Best Western Cottontree Inn
2221 W Spruce Street, Rawlins, WY 82301-5149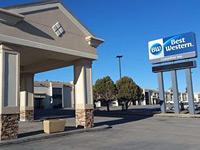 The well established Best Western Cottontree Inn is a large and fully featured hotel on the west side of Rawlins along Spruce Street (US 30), one block from I-80. Free full breakfast is served each morning, and the on site Tavern lounge/bar/restaurant is open for food and drinks in the evening. The 122 rooms are on 2 floors, looking out over a mixed commercial/residential neighborhood; all have a refrigerator and microwave, and are spacious and comfortable, if a little aged. Leisure amenities comprise a large indoor pool, hot tub and sauna; a business center and meetings space are also available.

4.
Fairfield Inn & Suites Rawlins
2370 E Cedar Street, Rawlins, WY 82301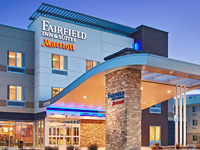 The first Marriott hotel in Rawlins opened summer 2015; the Fairfield Inn & Suites is a typically modern, brightly decorated and well equipped property, located, like most other hotels in the area, on the east side of the city close to I-80 exit 215. In the vicinity are a number of restaurants and small shops, while the municipal airport and the local golf course are both within one mile. The main hotel features are free hot breakfast, free wi-fi, a fitness center, convenience store, a 40 person meeting room and an indoor/outdoor connecting pool.

5.
Comfort Inn & Suites Rawlins
2366 East Cedar Street, Rawlins, WY 82301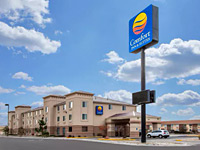 Comfort Inn Rawlins has a reputation as one of the top hotels in town on account of its friendly staff, the clean & modern rooms, and the pleasant location at the edge of the countryside - the inn is mostly surrounded by unused land on the southwest edge of the city, close to I-80 exit 215. All the usual amenities are provided; free continental breakfast and free internet access, a microwave/refrigerator in each room, a pool/hot tub, copy/fax service, laundry and business center. A selection of shops and restaurants can be found a short distance west along the main road (Cedar St).

6.
Quality Inn Rawlins I-80
1617 W Spruce Street, Rawlins, WY 82301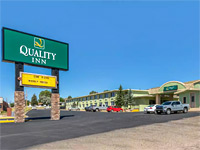 Free hot breakfast, free wi-fi, basic business services and a microwave/refrigerator in some of the guest rooms are the only amenities of Quality Inn Rawlins, a large, interior corridor, pet friendly motel along Spruce Street, the main road into Rawlins from the west. The nearest I-80 exit (211) is 0.8 miles away, while closer locations include Carbon County Museum, Memorial Hospital of Carbon County, a city park and over half a dozen restaurants, two of which are adjacent.

7.
Microtel Inn and Suites by Wyndham Rawlins
812 Locust Street, Rawlins, WY 82301
The Microtel Inn has a rather isolated location on the south edge of Rawlins at the central I-80 exit (Highley Blvd), mostly surrounded by undeveloped land. There are two restaurants within walking distance and plenty more in the downtown area. All accommodations feature a coffee maker, desk, microwave and refrigerator, while the suites have a sofa bed and extra living space. A few pet friendly rooms are available. Hot breakfast and wi-fi are complimentary. The hotel also has a convenience store and coin-operated laundry facility.

8.
Baymont by Wyndham Rawlins
2005 E Daley Street, Rawlins, WY 82301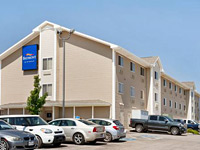 A fitness center, free wi-fi and coin-operated laundry are the amenities of Baymont Inn Rawlins, a three floor, interior corridor, pet friendly property in a business/industrial neighborhood along US 287 on the east side of town, close to shopping and dining - there is one restaurant, a 24 hour diner, right next door. Guest rooms feature a hair dryer, coffee maker, microwave and refrigerator.

9.
Days Inn by Wyndham Rawlins
2222 East Cedar Street, Rawlins, WY 82301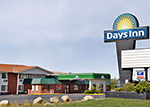 Days Inn Rawlins sits between Cedar Street (US 30/287) and a railway, on the east side of town near exit 215 of I-80; a popular, affordable, interior corridor motel of 118 rooms and an onsite Mexican restaurant & lounge. There are several other restaurants close by, and a few shops including a supermarket. The usual three leisure amenities are provided (indoor pool, whirlpool, fitness center), plus a business center and meeting/banquet space for up to 250 guests. Free continental breakfast is served.

10.
Econo Lodge Rawlins
1801 E Cedar Street, Rawlins, WY 82301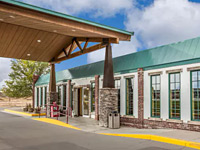 Guests arriving at Econo Lodge Rawlins are greeted by a nicely landscaped floral garden with pond, fountain and waterfall, in front of an old but well maintained two floor building of 131 rooms, arranged around a central courtyard containing the outdoor pool and hot tub. The pet friendly hotel also has its own restaurant/bar, plus a gift shop, business center and laundry. Internet access is free, while guests can purchase breakfast at a discounted rate from an on-site restaurant. The inn faces US 287 (Cedar Street) on the south edge of town, quite far from any other buildings, though there are a supermarket and several restaurants a short distance north.

11.
Super 8 by Wyndham Rawlins
2338 Wagon Circle Road, Rawlins, WY 82301-5129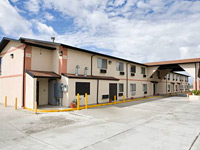 The Super 8 in the westernmost motel in Rawlins, the first to welcome travelers along I-80 from Green River and Rock Springs. It enjoys an elevated setting on a bluff overlooking the interstate, and all rooms have good views, especially to the south. Wi-fi and eight-item continental breakfast are complimentary; also available are laundry, guest-use computer and a microwave/refrigerator in all accommodations. There is one restaurant adjacent.

12.
Rodeway Inn Rawlins
1500 W Spruce Street, Rawlins, WY 82301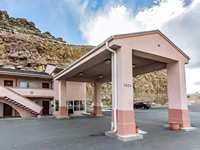 The Rodeway Inn in Rawlins provides some of the cheaper accommodation in town, with basic amenities of free continental breakfast, free internet access, copy/fax service and a refrigerator/microwave in some of the 36 rather old rooms. The two-floor lodge has the typical motel-style layout of two exterior corridor blocks facing the parking lot, and is located quite close to the city center along Spruce Street. The rear of the hotel backs onto a steep-sided butte, shielding it from the railroad tracks just beyond.