1.
Holiday Inn Rock Springs
1675 Sunset Drive, Rock Springs, WY 82901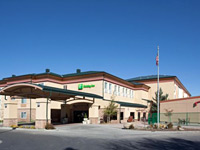 Like most hotels in Rock Springs, the Holiday Inn is located near the busy US 30/I-80 intersection on the west edge of town, part of a sizeable area of restaurants, shops and other traveler facilities, centered on White Mountain Mall. Guests enter the hotel through a particularly elegant lobby complete with water fountain, and benefit from a wide range of full service amenities. The adjacent restaurant (Winger's) is open for breakfast, lunch, dinner and room service, with drinks available in the attached sports bar. For leisure the Holiday Inn has an indoor salt water pool (open 24 hours), a hot tub and a well equipped fitness center. Event facilities are comprehensive, comprising nearly 10,000 sq ft of space, enough for single groups of up to 400 people. The 170 guest rooms (on 4 floors) are very clean and comfortable, and all have a refrigerator & microwave.

2.
Homewood Suites by Hilton Rock Springs
60 Winston Drive, Rock Springs, WY 82901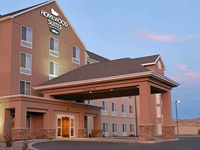 The spacious accommodations at Homewood Suites by Hilton Rock Springs comprise two bedroom, one bedroom and studio suites, all of which include a full kitchen, executive desk and plenty of living space. Food for cooking can be purchased from an onsite, 24 hour convenience store or from a supermarket (Smith's) one mile west near the I-80 exit; a free grocery shopping service is available. Both daily hot breakfast and evening receptions (Mon-Thu) are complimentary. Business facilities include meeting rooms, AV equipment rental, dedicated event staff and a full business center. Leisure amenities are the usual fitness room, hot tub and pool. The hotel is located along Dewar Drive on the south edge of town, near another Hilton property, the Hampton Inn.
3.
Hampton Inn Rock Springs
1901 Dewar Drive, Rock Springs, WY 82901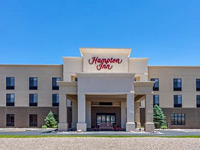 Open countryside borders Hampton Inn Rock Springs to the south, albeit with a railway line close by; the hotel enjoys quiet surroundings along US 30, half a mile from the I-80 exit and one mile from the main shopping area in town, around White Mountain Mall. Other nearby locations include Western Wyoming College, Memorial Hospital of Sweetwater County and Rock Springs Historical Museum. The large and well managed hotel offers 70 guest rooms, an indoor pool, fitness & business centers and meeting space for up to 30 people. Free hot breakfast is provided.

4.
Clarion Hotel Rock Springs
2518 Foothill Boulevard, Rock Springs, WY 82901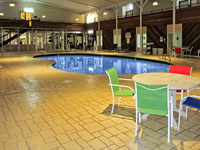 The Clarion in Rock Springs has an onsite Mexican restaurant (Los Cabos) and is within walking distance of several other dining outlets, plus stores including Walmart and the shops at White Mountain Mall. The hotel is situated near the west edge of the city, beside I-80 exit 102, within sight of the steep slopes of White Mountain. Guest rooms are contained within a three floor, interior corridor building, and are equipped with a coffee maker, refrigerator and microwave. The meetings facilities cater for events of up to 100 people. The hotel also has an indoor pool and a fitness center, and it provides free hot breakfast.

5.
Holiday Inn Express Hotel & Suites Rock Springs Green River
1660 Sunset Drive, Rock Springs, WY 82901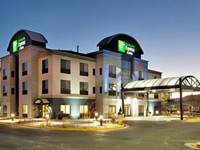 The Holiday Inn Express hotel in Rock Springs was built early 2010, next to I-80 at the US 30 junction (exit 102; Dewar Drive), and directly opposite the Holiday Inn sister property. There are many restaurants and shops within walking distance, including Wal-Mart, though the hotel backs on to undeveloped land bordering a small river (Bitter Creek). Facilities are free hot breakfast buffet, 24 hour indoor pool & fitness center, bbq grills, hot tub, laundry, business center and one meeting room. The 79 rooms & suites all have a DVD player, refrigerator and microwave.

6.
Best Western Outlaw Inn
1630 N Elk Street, Rock Springs, WY 82901-4021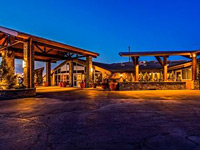 Best Western Outlaw Inn has 101 clean and comfortable rooms, accessed by interior corridors around the edge of an enclosed central courtyard that contains a good sized indoor pool. The building is quite old but has been maintained well, and the hotel has a decent range of facilities including its own restaurant & lounge (with room service). Also available are free internet access, business services, and meeting/banquet space. The hotel is located along Elk Street (US 191) on the north edge of town, just off interstate 80.

7.
Comfort Inn & Suites Rock Springs
2622 Commercial Way, Rock Springs, WY 82901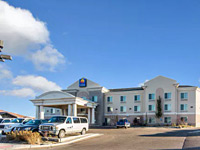 Comfort Inn & Suites Rock Springs provides spacious, mid range accommodation at reasonable rates together with all necessary facilities: free continental breakfast and free internet access, an indoor pool/whirlpool, business center and laundry. The 57 rooms are on three floors of an attractive, compact building on a side road off Foothill Boulevard, which leads to White Mountain Mall two blocks west; there are many other shops and restaurants nearby, either side of interstate 80. The main natural attraction in the area (
Flaming Gorge NRA
) begins 35 miles south along Hwy 530.

8.
Quality Inn Rock Springs
1670 Sunset Drive, Rock Springs, WY 82901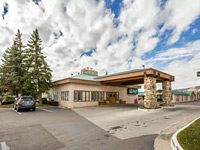 Although the Quality Inn is one of the older hotels in Rock Springs, it has spacious and updated accommodations, charges quite low rates, and has plenty of amenities. Most of the 103 rooms are on the ground floor, arranged around three sides of the central courtyard/parking area, in the middle of which is an outdoor pool, hot tub, garden, sundeck and childrens' playground. Free continental breakfast is provided each morning, and a free manager's reception in the evenings; there is no shortage of restaurants nearby to provide other meals. Interior facilities include a fitness center, gift shop, laundry and newsstand.

9.
Baymont by Wyndham Rock Springs
2717 Dewar Drive, Rock Springs, WY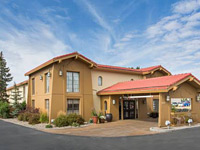 The guest rooms at the pet friendly Baymont Inn hotel in Rock Springs are contained within a long, thin, interior corridor building beside Interstate 80 at the Dewar Drive exit, behind a Kmart store. In the vicinity are many restaurants and other stores, including Walmart and Smiths supermarket. Complimentary amenities are wi-fi and hot breakfast. The hotel has a secluded outdoor pool, shielded by a line of trees from the freeway exit, and other facilities of a fitness center and business center.

10.
Super 8 by Wyndham Rock Springs
88 Westland Way, Rock Springs, WY 82901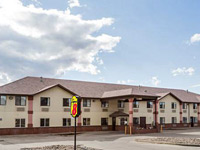 Super 8 Rock Springs is part of a large group of hotels surrounding I-80 exit 102 on the west side of the city, adjacent to a Walmart store and plenty of restaurants, with many more shops half a mile away at White Mountain Mall. The property has two interior corridor floors and 49 rooms, all of which contain a microwave/refrigerator and have views across the large parking lot to the busy commercial neighborhood. Amenities are an indoor pool, spa, free wi-fi and free continental breakfast.
11.
Motel 6 Rock Springs
2615 Commercial Way, Rock Springs, WY 82901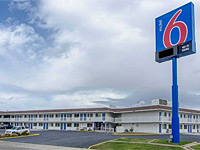 The Motel 6 is part of the main lodging area in Rock Springs, around the westernmost of the town's four I-80 exits, and is close to many restaurants and shops, including the larger stores in and around White Mountain Mall. Like most properties of this brand, the rooms are contained within a two floor, exterior corridor building, surrounded by the parking lot, which has a sheltered outdoor pool at one corner, away from the main road. Accommodations are basic but clean. Wi-fi, coin-operated laundry, free coffee and a microwave/refrigerator in some rooms are the other amenities.