1.
Hampton Inn Evanston
101 Wasatch Road, Evanston, WY 82930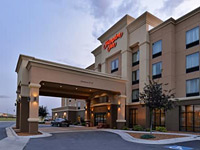 Hampton Inn Evanston (open 2009) faces I-80 at the Harrison Drive exit, its 73 rooms looking out over the lightly developed surroundings to the low hills surrounding the city. This location is 1.5 miles from the center, 3.5 miles from the Utah stateline, and 2.5 miles from the start of scenic route 150 (Mirror Lake Highway), which leads south into the high
Uinta Mountains
. The hotel features free hot breakfast (take-out version available), a 24 hour business center, an indoor pool/whirlpool, a fitness center and a 28 person meeting room. Around half a dozen restaurants are a short walk away. All accommodations have a microwave & refrigerator.

2.
Holiday Inn Express Hotel & Suites Evanston
1965 Harrison Drive, Evanston, WY 82930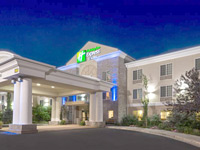 Like most hotels in Evanston, southwest Wyoming, the Holiday Inn Express is located along the main road into town from the west (Harrison Drive), a short distance from I-80 exit 3. The building is quite new, and has a convenient location close to restaurants, shops and the local golf course; it contains 62 very clean, large and comfortable rooms & suites, all equipped with a refrigerator, microwave, tea/coffee maker and DVD player. The free breakfast includes a selection of hot items, plus the trademark cinnamon rolls. An indoor pool, whirlpool, fitness center, business center, laundry and free internet access are the other main amenities.

3.
Best Western Dunmar Inn
1601 Harrison Drive, Evanston, WY 82930-3204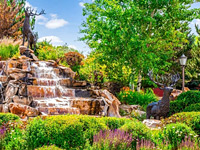 Although Evanston's Best Western hotel has an older design, with its 165 rooms divided into several single story, exterior corridor blocks, the place has a good reputation - guests appreciate the efficient staff, the reasonable rates, the above average on-site amenities (including a restaurant and lounge/bar), and the large, well presented accommodations. All the rooms have a microwave, refrigerator, free internet access and upgraded bedding; the hotel also offers a pool, whirlpool, sauna, fitness center and meeting space. The main natural attraction in town (Bear River State Park) is 3 miles east.

4.
Comfort Inn Evanston I-80
1931 Harrison Drive, Evanston, WY 82930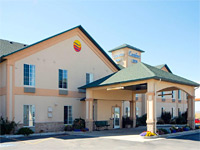 The Comfort Inn is part of a compact group of restaurants and a few other hotels, on the west side of Evanston close to exit 3 of interstate 80 and one mile from the downtown area along Front St. The inn offers standard mid-range accommodation - 56 refrigerator/microwave-equipped rooms including a few hot tub suites, in a two story building that also features a fireplace lobby, indoor pool/hot tub, laundry, 25 person meeting room and a fitness center. The property has received the Choice Hotels gold award for cleanliness and customer service.

5.
Quality Inn Evanston near Wyoming Downs
1936 Harrison Drive, Evanston, WY 82930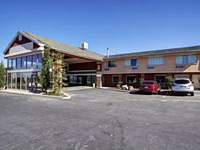 The Quality Inn is a fully refurbished motel along Harrison Drive near the west edge of Evanston, backing on to Purple Sage Golf Course. Accommodation comprises 100 rooms in 2 blocks overlooking the central parking lot, which has a small outdoor pool at one side; interior amenities are a meeting room, business center and fitness center. Free hot breakfast is provided by an adjacent cafe. Rooms are on two exterior corridor floors, contain a microwave, refrigerator & coffee maker, and have views either of the golf course or the I-80 corridor to the south.

6.
Days Inn by Wyndham Evanston
1983 Harrison Drive, Evanston, WY 82930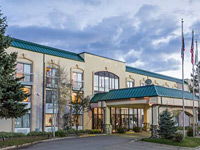 With 94 rooms, Days Inn Evanston is larger than most properties of this popular, affordable brand, and it has an easy-to-find location right next to I-80 at the Harrison Drive exit, adjacent to several restaurants. Leisure facilities are the usual hot tub, pool and fitness center, while guests here to work can take advantage of a business center and meeting room. A few accommodations are available with a whirlpool bath; all rooms are equipped with a refrigerator & microwave. Wi-fi and continental breakfast are complimentary. Pets are welcome.

7.
Travelodge by Wyndham Evanston
230 Bear River Drive, Evanston, WY 82930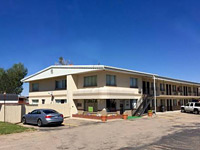 Travelodge Evanston is a small, two storey, exterior corridor motel, with affordable rates and basic amenities - free wi-fi, free continental breakfast and a microwave/refrigerator in all guest rooms. Pets are welcome. There are several restaurants close by, and a travel center, while Bear River State Park is just a short walk away, on the far side of Interstate 80.

8.
Super 8 by Wyndham Evanston
1710 Harrison Drive, Evanston, WY 82930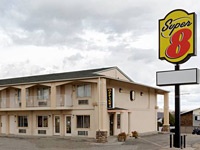 The pet friendly Super 8 Evanston is one of the more central motels in town, situated along Harrison Drive, the main approach from the west, and within walking distance of many shops, bars & restaurants, closest being a sandwich outlet right next door. Guests are accommodated in two exterior corridor blocks either side of the central parking lot, in rooms that all contain a microwave and refrigerator. Free eight-item continental breakfast is provided each morning. The only other amenity is complimentary wi-fi.