1.
Courtyard Ogden
247 24th Street, Ogden, UT 84401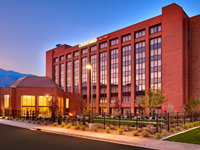 In the center of Ogden, the Courtyard hotel caters for guests in 193 elegant rooms & suites, all featuring free internet access and extra comfortable bedding; some are equipped with a microwave/refrigerator, while those on the concierge level have added amenities. There is a restaurant on-site (open for breakfast & dinner), and many more a short walk away along the main road through town, Washington Boulevard. Also right next door is the new Salomon Center, featuring a wide variety of shopping, dining and entertainment. Other amenities at the Courtyard include a fitness center, indoor pool/whirlpool, and over 14,000 sq ft of meeting space.

2.
Hilton Garden Inn Ogden
2271 S Washington Blvd, Ogden, UT 84401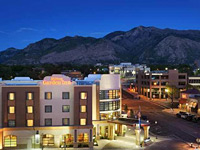 Hilton Garden Inn Ogden is one of several hotel choices in the city center; the four floor building sits along US 89 (Washington Boulevard) just north of 24th Street, a short walk from such sites as the LDS Temple, City Hall, Eccles Convention Center, Lindquist Field and Megaplex Theaters. There are many restaurants nearby, and one (Great American Grill) on the premises, open for breakfast, dinner, evening drinks & room service. The hotel has all the usual facilities for leisure and business, including 2,700 sq ft of meeting space. All rooms contain a microwave and refrigerator, while the suites have a wet bar.
3.
Hampton Inn and Suites Ogden
2401 Washington Boulevard, Ogden, UT 84401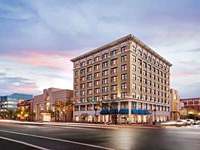 The most central hotel in Ogden rises eight stories above the busy intersection of 24th Street and Washington Boulevard, one block from City Hall and a short walk from many shops, restaurants, museums and other attractions. Hampton Inn and Suites Ogden occupies a substantial, historic building, and most of the 124 rooms enjoy spectacular views across the city. Free hot breakfast is served each morning; other amenities are free wi-fi, a 24 hour convenience store, fitness center and whirlpool, plus the usual facilities for business & meetings.

4.
Home2 Suites by Hilton Ogden
2405 Lincoln Avenue, Ogden, UT 84401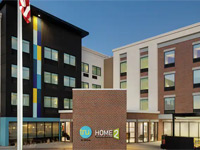 All accommodations at the Home2 Suites by Hilton are suites, with studio and one bedroom layouts, and all feature a full kitchen; the hotel caters primarily for extended stay guests, and has general amenities of free hot breakfast, an indoor pool and fitness center. The location is central, along Lincoln Avenue two blocks west of US 89, near Union Station, and a short walk from many restaurants and shops. The hotel opened early 2021, sharing a building with the Tru by Hilton.

5.
Holiday Inn Express Hotel & Suites Ogden
2245 S 1200 W, Ogden, UT 84401
Ogden's Holiday Inn Express hotel has an easy-to-reach location immediately southeast of exit 343 of interstate 15, in a semi-rural neighborhood but close to a selection of fast food restaurants. The three story property offers 75 well presented rooms and suites, these latter sleeping up to six guests; all accommodations include a microwave, refrigerator, tea/coffee maker and a work desk. Leisure facilities are above average, comprising an indoor pool, hot tub, fitness center, volleyball court and sports court. Good quality free hot breakfast buffet is provided daily. The center of Ogden is one mile east.

6.
Tru by Hilton Ogden
2405 Lincoln Avenue, Ogden, UT 84401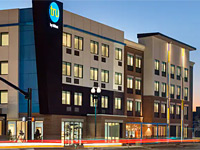 New for 2021, Tru by Hilton Ogden shares a building with the Home2 Suites; at the southwest corner of Lincoln Avenue and 24th Street, 1.5 miles from Interstate 15. Guests are within walking distance of several parks alongside the Weber River, and from many other city center attractions. Free hot breakfast is provided each morning, while snacks and sundries can be purchased from the 24 hour convenience store. Leisure amenities are the usual fitness center and pool (indoor).

7.
Best Western Plus High Country Inn
1335 W 12th Street, Ogden, UT 84404-5417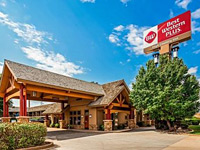 A few miles east of Ogden city center along highway 39 (12th Street), the pet-friendly Best Western High Country Inn contains 109 spacious, well designed rooms on 2 floors, set in farming country but still right next to interstate 15 (exit 344; east side). The hotel has a good range of amenities including the on-site Jeremiah's Restaurant (open all day for breakfast, lunch, dinner & room service), a heated outdoor pool/hot tub, exercise room, 24 hour front desk, and meeting space for up to 200 guests.

8.
Comfort Suites Ogden
2250 S 1200 W, Ogden, UT 84401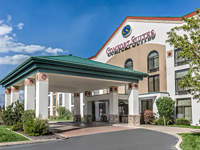 The Comfort Suites hotel in Ogden is a large building facing I-15, adjacent to exit 343 (Wilson Lane), in a semi-rural neighborhood. This location is near the north edge of town close to the Weber River, 2 miles north of Ogden-Hinckley Airport and about the same distance west of the downtown area. The suites have a microwave, refrigerator, coffee maker and cable TV, while hotel amenities include an indoor pool, exercise room, basketball & tennis courts, and a restaurant (Cactus Reds Lounge), which provided room service in addition to all-day dining. The free breakfast comes with a selection of hot items.

9.
Sleep Inn Ogden
1155 S 1700 W, Ogden, UT 84404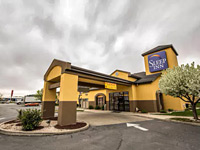 Budget-priced rooms for interstate travelers are provided by Sleep Inn Ogden, a small motel just off I-15 (exit 344) about 4 miles northwest of Ogden town center. The surroundings are rural and quite peaceful, apart from a gas station next door. There is also one restaurant adjacent, and others half a mile away on the far side of the interstate. The inn has 66 oversized rooms, some equipped with refrigerator/microwave; a hot tub and free continental breakfast are the two main services.

10.
Super 8 by Wyndham Ogden
1508 W 2100 S, Ogden, UT 84401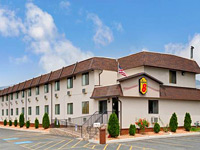 Although located beside I-15 (at the 21st Street exit), Super 8 Ogden has a quiet location, set back a little from both the interstate and the access road, bordered by a field to one side and a canal to the other. The motel has two floors, interior corridors and 58 guest rooms, all equipped with microwave/refrigerator. The usual complimentary amenities of wi-fi and continental breakfast are provided, together with coin-operated laundry and basic business facilities.