1.
Holiday Inn Casper East - McMurry Park
721 Granite Peak Drive, Casper, WY 82604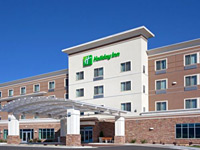 The full service Holiday Inn hotel in Casper is situated close to I-25 exit 182, about 6 miles east of the city center, and 2 miles from Eastridge Mall. The hotel's 120 rooms & suites are large, comfortable and modern, and the property provides all necessary services for business (meeting/conference facilities, free internet access, business center) and leisure (indoor pool, hot tub, fitness center, patio). The on-site restaurant serves breakfast and dinner, plus room service until 10 pm. Many of the rooms have nice views south towards the Laramie Mountains. The hotel operates a complimentary 10 mile local area shuttle, including to Natrona County Airport (NAT) .

2.
Courtyard Casper
4260 Hospitality Lane, Casper, WY 82601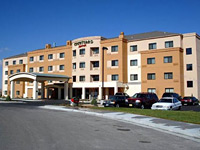 Marriott are represented in Casper by the Courtyard hotel along Hospitality Lane, towards the east edge of town beside I-25 exit 185 - part of a busy area of shops and restaurants extending half a mile south to Eastridge Mall. Also nearby are the Casper Events Center and the Hilltop Shopping Center. The Courtyard is a substantial, modern property of 100 refrigerator/microwave-equipped rooms & suites, and it has a good range of amenities: an indoor pool/spa, fitness center, full service business center, 24 hour convenience store, free internet access, and the Bistro restaurant which serves buffet or cooked-to-order breakfast. There are many other restaurants close by to provide other meals.

3.
Residence Inn Casper
4930 E 2nd Street, Casper, WY 82609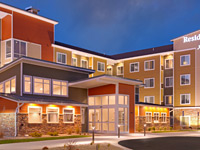 The Residence Inn is the second Marriott hotel to open in Casper, providing high quality, all-suite/extended stay accommodations, with an easily-reached yet relatively quiet location on a side street near Eastridge Mall, accessed from I-25 exit 185. Besides the many outlets at the mall, the hotel is also a short walk from stores such as Walmart and Home Depot, plus various restaurants and a ten-screen movie theater. Guests have a choice of two bedroom, one bedroom and studio suites, all of which feature a full kitchen. Daily hot breakfast, weekend evening receptions, wi-fi and a grocery delivery service are all complimentary.

4.
Hilton Garden Inn Casper
1150 N Poplar Street, Casper, WY 82601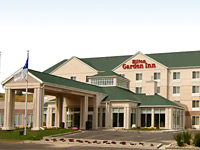 One of a pair of Hilton hotels on the west side of Casper, the Hilton Garden Inn features a restaurant (open for breakfast, dinner & room service), an indoor pool/whirlpool, a convenience store and meeting space for up to 200 people. All guest rooms contain a coffee maker, microwave and refrigerator. The property is easily reached from I-24 exit 188, 0.4 miles south, and lies opposite a riverside park with sports facilities, adventure playground and a trail, which follows the undeveloped north bank of the North Platte River.
5.
Hampton Inn & Suites Casper
1100 N Poplar Street, Casper, WY 82601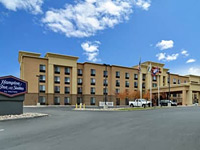 Hampton Inn Casper enjoys a pleasant location along a quiet side street 0.3 miles north of I-25, adjoining a sports park, with the North Platte River just beyond. Two other locations within walking distance are Casper Events Center and the National Historic Trails Interpretive Center, which has exhibits about the pioneer and Native American history of this area. The hotel is typically large, modern and comfortable, offering all the usual facilities for business, meetings and leisure. Free hot breakfast is served each morning; for other meals there are two restaurants adjacent and others to the south, around the interstate exit.

6.
Clarion Inn Casper at Platte River
123 W E Street, Casper, WY 82601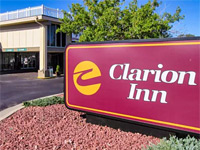 The Clarion hotel occupies a large site backing on to the North Platte River, at the intersection of Center Street and Interstate 25, a few blocks north of downtown Casper. Guest rooms (all equipped with refrigerator/microwave) are in several connected blocks, with a courtyard garden in the middle and plenty of parking space all around. Select accommodations include a sofa bed. Continental breakfast and wi-fi are complimentary. The hotel has a restaurant/bar on the premises, plus meeting space and a fitness center, though no pool.

7.
Holiday Inn Express Casper I-25
4250 Legion Lane, Casper, WY 82601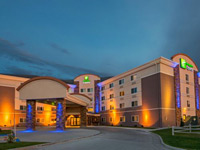 Rooms at the Holiday Inn Express hotel in Casper are clean, modern and nicely decorated, part of a recently constructed 4 floor building at the edge of the main shopping area in town, beside I-25 exit 185. Free hot breakfast is prepared each morning, and there are many restaurants within walking distance plus a good selection of stores including Wal-Mart and the 90-outlet Eastridge Mall. Leisure facilities are the usual pool, hot tub and fitness center, while for those here to work the hotel has a business center and meeting space for up to 40 people. Besides the regular accommodation, there are 12 suites available, featuring a mini bar and a whirlpool bath.

8.
Candlewood Suites Casper
4210 Hospitality Lane, Casper, WY 82609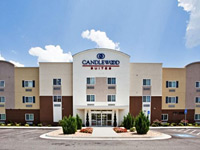 Candlewood Suites Casper opened in 2016, the third hotel to be built at the Wyoming Boulevard exit of Interstate 25, 2 miles east of the downtown area. This is a business/commercial neighborhood, and there are various restaurants close by, and such stores as Kmart, Walmart and Staples, while Eastridge Mall is half a mile south. The oversized acommodations at the all-suite property feature work desks, free wi-fi and full kitchens; meals can be purchased from the on-site convenience store. A selection of games, DVDs and household items are available for lending. The hotel also has a fitness center and 24 hour laundry.

9.
Best Western Plus Casper Inn & Suites
651 Granite Peak Drive, Casper, WY 82609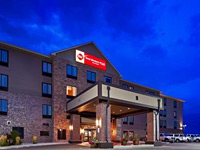 Best Western Plus Casper Inn is the third hotel to be built along a quiet side road opposite Mountain View Hospital, part of the McMurry Business Park on the east edge of the city, a short drive from I-25 exit 182. Free hot breakfast is prepared each morning and there are several restaurants close by to the west, with many more between 1 and 2 miles away. Wi-fi is also complimentary. Other facilities are 24 hour business & fitness centers, an indoor pool and 950 sq ft of meeting/event space. Accommodations include 21 suites with extra living space, a sofa bed and a microwave; all rooms have a refrigerator.

10.
Quality Inn & Suites Casper
821 N Poplar Street, Casper, WY 82601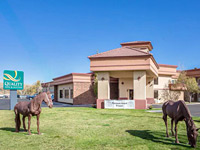 The Quality Inn is a west Casper hotel, easily accessed from I-25 which runs past one end of the building. A selection of restaurants are close by, and the Casper Events Center is just up the street, though undeveloped countryside is just a short drive away further west. Also nearby is a pleasant footpath along the banks of the North Platte River. The hotel is quite large (92 rooms), clean, and has slightly above average facilities; the free continental breakfast includes several hot items, while other amenities comprise a well-equipped fitness center, free internet access, a business center, meeting space, laundry and newsstand. Several two-room suites are available, featuring a hot tub bath, microwave and refrigerator.

11.
MainStay Suites Casper
551 Granite Peak Drive, Casper, WY 82605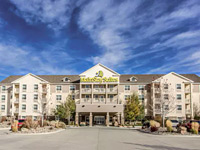 The MainStay Suites is a good choice for affordable extended stay accommodation in Casper, offering a full kitchen (stove, dishwasher, microwave, refrigerator) in each of its 93 spacious rooms, some of which have a balcony. Continental breakfast, internet access, local calls, guest laundry, DVD rentals and managers reception are all provided free of charge, while leisure facilities are the expected pool, hot tub and fitness center. The hotel is quite new, built 2008 in a mostly rural neighborhood right on the east side of town near I-25 exit 182 (Hat 6 Roed) - a couple of miles from the nearest main center for shopping/dining, at Eastridge Mall.

12.
Days Inn by Wyndham Casper
301 East E Street, Casper, WY 82601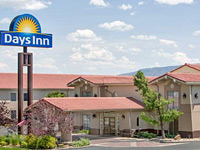 Days Inn Casper has a somewhat exposed setting between I-25 and the railway, but is also one of the closest hotels to the city center, just a few blocks south. Rooms are in two interior corridor blocks separated by the parking lot and outdoor pool, with more parking space all around. There is one restaurant adjacent. Guest rooms are available with refrigerator/microwave or a full kitchenette. Wi-fi, continental breakfast and tea/coffee 24 hours a day are all complimentary.

13.
Travelodge by Wyndham Casper
2325 E Yellowstone Hwy, Casper, WY 82609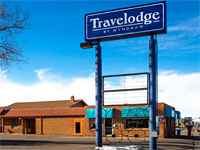 The Travelodge is a small, single storey property with limited amenities, of free wi-fi, free breakfast, a basic business center and one meeting room. Guest rooms are arranged around three sides of the central parking lot, and have views across the main road (US 26) towards Interstate 25; access is from exit 186. There is one restaurant opposite and a better selection a few blocks south along 2nd Street.

14.
Super 8 by Wyndham Casper West by the River
3838 CY Avenue, Casper, WY 82604-4322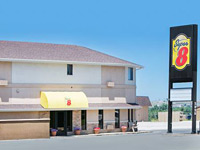 The Super 8 is a southwestern Casper motel, the first to welcome travelers arriving along Hwy 220 from Rawlins and Laramie. The three floor, interior corridor building adjoins a riverside park in a lightly developed, semi-rural area, a short walk from a shopping center with Walmart and a supermarket, plus a selection of restaurants. Complimentary amenities are internet access, local calls, eight-item continental breakfast and all-day coffee/tea. Downtown Casper is 3 miles northeast along the main road. Selected guest rooms contain a refrigerator.
15.
Motel 6 Casper
1150 Wilkins Circle, Casper, WY 82601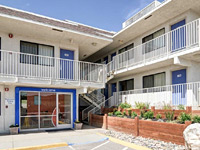 Casper's Motel 6 is a typically basic but clean and low price establishment, located at the edge of the countryside on the west side of town, and occupying a slightly elevated site that allows nice long distance views of the city to the east and the mountains to the south. Interstate 25 runs past to one side and there are a few fast food restaurants within walking distance. Facilities are an outdoor pool, laundry, free coffee, cable TV, wi-fi, and a refrigerator in some of the rooms. Pets are welcome.