1.
Hampton Inn & Suites Buffalo
85 US Highway 16 East, Buffalo, WY 82834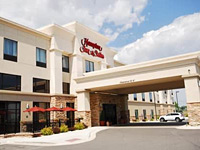 Buffalo's Hampton Inn hotel has a quiet, rural setting along US 16 on the east side of I-25 overlooking the riparian corridor of Clear Creek, one mile from the city center. Most of the 75 rooms & studio suites enjoy mountain views; all contain a refrigerator, while the suites also have a microwave. The hotel provides a good quality free breakfast which includes a selection of hot items and is available in a take-out version for guests departing early. The indoor pool, hot tub and business center are all open 24 hours a day.

2.
Holiday Inn Express Hotel & Suites Buffalo
106 East Highway 16, Buffalo, WY 82834
The newest hotel in Buffalo opened summer 2008 in the countryside along US 16 on the east edge of town; the 69 room/suite Holiday Inn Express enjoys long distance views towards the Bighorn Mountains, and has a quiet location, yet is within two miles of the shops, restaurants, galleries and historic buildings in the downtown area. Guests are treated to free hot breakfast each morning, and can take advantage of a good range of amenities including an indoor pool, hot tub, fitness center, newsstand (offering a free daily paper), business center, laundry and free internet access.

3.
SureStay Plus Hotel by Best Western Buffalo
65 US Highway 16 E, Buffalo, WY 82834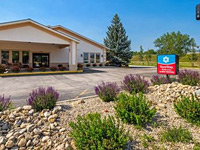 The Best Western in Buffalo is known for its clean rooms, reasonable rates and pleasant location, adjacent to I-25 exit 299 (east side) - the hotel has a generally rural setting, backing on to a small wooded stream (Clear Creek); a trail runs alongside. There are several restaurants a short distance west, on US 16 which leads to the historic center of Buffalo after one mile. The two storey, pet friendly, interior corridor inn features free hot breakfast, free internet access, an exercise room, an indoor pool and a hot tub.

4.
Quality Inn Buffalo
75 North Bypass Road, Buffalo, WY 82834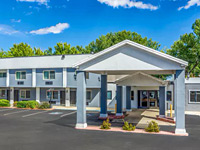 Towards the east side of Buffalo, the 60 room Quality Inn is an older, exterior corridor property that has been recently updated, and offers generally clean and friendly accommodation with amenities of a sheltered outdoor pool at the rear, a hot tub, free internet access, meeting space, free breakfast (with a few hot items) and a business center. A restaurant/bar right next door provides all-day dining and live entertainment in the evenings. The inn is easily accessed from I-25 exit 299 (Hart Street; US 16), and is within a short walk of shopping and dining in Buffalo town center.

5.
Days Inn by Wyndham Buffalo
333 East Hart Street, Buffalo, WY 82834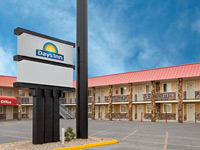 Days Inn Buffalo offers free continental breakfast, a copy/fax service, free internet access, and 43 comfortable rooms that all feature a plasma TV, refrigerator, coffee maker and microwave. The red roofed, exterior corridor, pet friendly motel sits along the main road into town from the east (US 16), close to a selection of restaurants, gas stations and small shops, and a short distance from interstates 25 & 90. Rates are low, and the rooms are generally clean.

6.
Rodeway Inn Buffalo
610 E Hart Street, Buffalo, WY 82834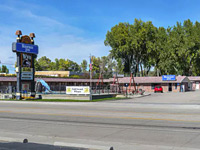 Rodeway Inn Buffalo is a typical, roadside motel, with all rooms on the ground floor, along three sides of the central parking lot, garden, outdoor pool (plus waterslides) and picnic/barbecue area. Adjoining properties include a restaurant to one side and a tree-lined RV site to the rear, while I-25 runs past close by; access is from Hart Street (US 16), which leads to the city center a few blocks west. Wi-fi and coffee are complimentary, and all accommodations contain a refrigerator & microwave. Pets are welcome.

7.
Super 8 by Wyndham Buffalo
655 E Hart Street, Buffalo, WY 82834-0010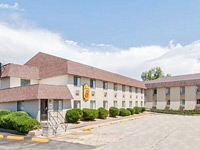 Like all hotels in Buffalo, WY, the pet friendly Super 8 is situated beside the town's I-25 exit in a semi-rural district though close to a few restaurants and small shops. Guest accommodations are divided between two interior corridor blocks, with views over the tree-lined surroundings, relatively quiet since the interstate is 600 feet away, shielded by trees and other buildings. Low rates and the convenient location are the main attractions of the Super 8; the only amenities are the standard free wi-fi and free continental breakfast, plus a mini-golf course.