1.
Hampton Inn Sheridan
980 Sibley Circle, Sheridan, WY 82801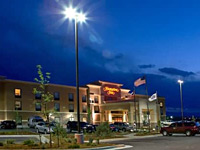 Hilton manage one property in Sheridan, the 65 room Hampton Inn, which sits on the east edge of town beside I-90 exit 23, occupying a slightly elevated site with long distance views west, across he city towards the distant Bighorn Mountains. All guest accommodations are equipped with a coffee maker, microwave & refrigerator, while the studio suites additionally have a sofa bed and a spacious living area. The hotel provides free hot breakfast, plus the usual facilities for leisure, meetings and business. The nearest restaurants are a few blocks west, towards downtown Sheridan.

2.
Ramada Plaza by Wyndham Sheridan Hotel & Convention Center
1809 Sugarland Drive, Sheridan, WY 82801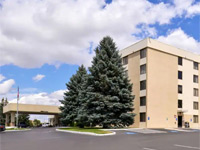 With 212 guest rooms and 12,545 square feet of meeting/convention space, the Ramada Plaza is the largest hotel in Sheridan and has a convenient location, close to I-90 on the south side of town and just across the street from various restaurants and shops such as Wal-Mart and Albertsons. The five story building is fairly old but the hotel is well managed and has a long list of amenities, headed by three dining outlets - a cafe in the atrium lobby, an upscale steakhouse restaurant and a sports bar/grill. A indoor pool, hot tub, 24 hour fitness center and sauna are the main leisure facilities. A free shuttle is operated to Sheridan County Airport, 2 miles west.

3.
Candlewood Suites Sheridan
1709 Sugarland Drive, Sheridan, WY 82801
Candlewood Suites Sheridan opened 2008 on the southeast side of town near exit 25 of I-90, at the edge of a large shopping center and right next to an IHG sister property, the Holiday Inn. The pet friendly hotel specializes in affordable long stay/all suite accommodation, offering 71 rooms that all have a large workdesk, DVD player, luxurious bedding and a fully equipped kitchen complete with stove, microwave, dishwasher and refrigerator/icemaker. A convenience store, fitness center, laundry and gazebo with bbq grills are also available. The historic Main Street of Sheridan is 2 miles north.

4.
Sheridan Inn Best Western Signature Collection
856 Broadway Street, Sheridan, WY 82801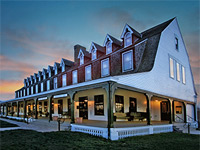 The historic Sheridan Inn (established 1893) became part of the Best Western Signature Collection in 2022, a group of boutique hotels with individual design and decor. Originally managed by 'Buffalo Bill', William Cody, the guest rooms and public areas contain many artefacts and furnishings reminiscent of the pioneer era, but updated for the 21st century. The pet friendly hotel has 22 guest rooms, each with exhibits concerning 21 of the people most influential in Bill's life, plus one about the man himself. The hotel retains its famous extended front porch, wrapping around three sides of the building.

5.
Best Western Sheridan Center
612 N Main Street, Sheridan, WY 82801-3633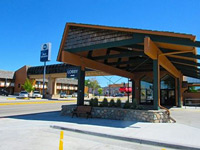 Best Western Sheridan Center is just about the most central hotel in town, located along Main Street (US 87), 2 blocks south of the junction with Highway 336, within walking distance of assorted small shops and other businesses. Half a mile west, Kendrick Park beside Big Goose Creek has sports facilities, picnic areas and footpaths. The 139 rooms & suites at the Best Western are part of a sprawling complex on both sides of the road that also has an indoor pool, two dining outlets, a laundry, business center and meeting space for up to 250 people. Free hot breakfast is provided each morning, and a free shuttle is available to the local airport.

6.
Fairfield Inn & Suites Sheridan
2105 Sugarland Drive, Sheridan, WY 82801
The Fairfield Inn is the first Marriott hotel in Sheridan, open summer 2016 - situated on the east edge of the city beside I-90 exit 25, just down the street from several large stores including Walmart and Albertsons, and close to a good selection of restaurants. Guests are half a mile from a pleasant walking trail that heads north through rural surroundings alongside Goose Creek, through two city parks. Hotel highlights are a bright, welcoming lobby, a convenience store, indoor pool and a fitness center. Good quality free breakfast is prepared each morning, with several hot items.

7.
Comfort Inn & Suites Sheridan
1950 East 5th Street, Sheridan, WY 82801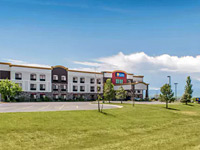 The Comfort Inn enjoys a quiet, peaceful, scenic location beyond the east edge of Sheridan, a little way east of I-90 along a country backroad (Hwy 336), with views of fields and hills in all directions. The only nearby buildings are several official places like Wyoming Fish & Game and the local Chamber of Commerce, plus one restaurant (Subway). The hotel is relatively new (open late 2012, converted to this brand 2014) and it offers all the expected facilities including an indoor pool/hot tub, fitness room, 24 hour business center and meeting space for up to 50 people. The free breakfast comes with a few hot items. Complimentary transportation is available to Sheridan County Airport, 6 miles southwest.

8.
Quality Inn Sheridan
1450 E Brundage Lane, Sheridan, WY 82801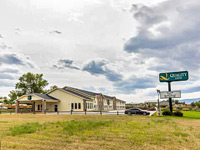 Sheridan's Quality Inn has a semi rural location on the east side of I-90, partially surrounded by fields, though less than a mile from the main shopping area in town on the other side of the interstate. The hotel is quite small, with two interior corridor floors and 61 rooms, half of which enjoy views westwards towards the Bighorn Mountains. Amenities are limited to free full breakfast, a hot tub and basic business services, but rates are low and the inn is a clean and welcoming place to stay.

9.
Baymont by Wyndham Sheridan
911 Sibley Circle, Sheridan, WY 82801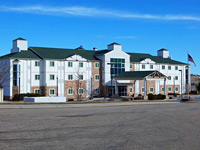 Baymont Inn Sheridan provides the closest accommodation to the town's main I-90 exit (5th Street), adjoining the southbound exit ramp in a lightly developed area; the only nearby buildings are another hotel and the Sheridan County Museum. Shopping and dining can be found a few blocks west. The hotel is a relatively large and modern property, with three floors and interior corridors, plus an indoor pool and fitness center. Breakfast, local calls and wi-fi are complimentary. All accommodations contain a microwave and refrigerator.

10.
Days Inn by Wyndham Sheridan
1104 Brundage Lane, Sheridan, WY 82801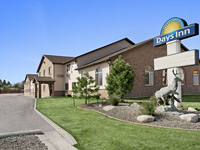 The refrigerator/microwave-equipped rooms at Days Inn Sheridan look out over a typical neighborhood of shops, restaurants and other businesses at the southernmost of the town's three I-90 exits (US 14), with stores including Home Depot and Walmart. Guests are accommodated in a compact, two floor, interior corridor building which has a good sized parking area at the front, and interior facilities of a hot tub, pool, business center, laundry and meeting space. Free continental breakfast is provided.

11.
Super 8 by Wyndham Sheridan
2435 N Main Street, Sheridan, WY 82801-9226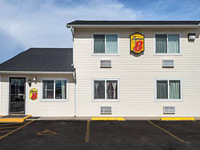 The Super 8 is a north Sheridan motel, at the far end of Main Street near the I-90 intersection, in a suburban setting though close to the wooded corridor of Goose Creek. The place is quite small, with 39 rooms on two interior corridor floors; it charges low rates and has only basic facilities, of free wi-fi and free continental breakfast. There are several restaurants & gas stations nearby, and a Kmart store just up the street.

12.
Rodeway Inn & Suites Sheridan
1704 N Main Street, Sheridan, WY 82801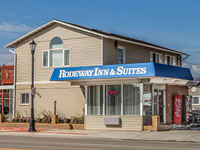 Along Main Street towards the north side of Sheridan, Wyoming, the budget-priced Rodeway Inn caters for guests in 23 exterior corridor rooms, all containing a refrigerator & coffee maker, and some with a microwave and kitchenette. The neighborhood is mostly residential; the nearest restaurants are about two blocks north or south. Despite the low rates, the motel still has a pool & hot tub, and provides free continental breakfast, and free internet access.