1.
Hampton Inn Gillette
211 Decker Court, Gillette, WY 82716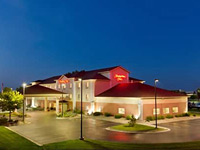 The 57 large, comfortable guest rooms at Hampton Inn Gillette have views across the parking lot and gardens over a flat, lightly developed neighborhood with several restaurants, gas stations and other hotels, one mile west of the city center adjacent to I-90 exit 124. Campbell Country Memorial Hospital is also close by (half a mile). Guests here on business have use of a 210 sq ft boardroom and a fully equipped business center; leisure facilities are the usual fitness room, hot tub and indoor pool. Whirlpools are also present in some of the accommodations. The hotel provides good quality free breakfast, including hot items.

2.
TownePlace Suites Gillette
1715 W 2nd Street, Gillette, WY 82716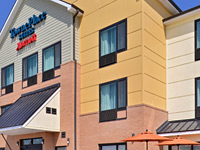 The TownePlace Suites by Marriott is a 2016 addition to the group of hotels on the west side of Gillette around exit 124 of Interstate 90, close to a small selection of restaurants; the main shopping/dining center in the city is 2 miles east. Catering primarily to long stay visitors, the hotel offers suites in two bedroom, one bedroom and studio floorplans, all equipped with a full kitchen, work desk, sofa bed and ironing facilities. Amenities include free hot buffet breakfast, a 24 hour convenience store, an indoor/outdoor connecting pool and an exercise facility.

3.
Wingate by Wyndham Gillette near CAM-PLEX
1801 Cliff Davis Drive, Gillette, WY 82718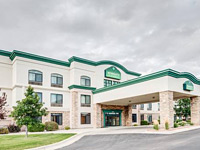 I-90 runs right past Wingate by Wyndham Gillette (access is from the adjacent Douglas Highway exit), and the hotel makes a good place to stop on the long journey between Rapid City (155 miles) and Billings (230 miles). The hotel is close to the main shopping area in town, and is also within half a mile of several dozen restaurants. The Cam-Plex events facility lies 2.5 miles east. Highlight of the hotel is the free full breakfast; other amenities are free wi-fi, a 24 hour business center, meeting space, guest laundry, indoor pool and fitness room.

4.
Holiday Inn Express Hotel & Suites Gillette
1908 Cliff Davis Drive, Gillette, WY 82718
The Holiday Inn Express in Gillette is one of a group of hotels just south of interstate 90, in a busy commercial area of restaurants and shops, half a mile from the Powder Basin Center. Because of the excellent customer service, the above average free continental breakfast and the quiet, clean rooms, the inn is considered by many to be the top hotel in Gillette; it also has a good range of facilities, principally free internet access, a business center, laundry, fitness center, sports court, indoor pool and hot tub. There 83 rooms & suites available, all with a microwave and a full sized refrigerator.

5.
Candlewood Suites Gillette
904 Country Club Road, Gillette, WY 82718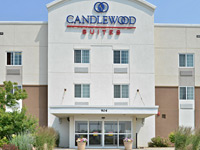 The recently built (2009) Candlewood Suites hotel in Gillette accommodates long stay guests or business travelers in 83 well-equipped rooms that all have a full kitchen, extra comfortable bedding, a large work desk and a DVD player; disks can be borrowed from the free movie library, while food for cooking is available from the on-site convenience store, or from a nearby supermarket. The hotel is situated at the southeast edge of town close to the Powder Basin Shopping Center, one block from interstate 90. Other amenities are somewhat limited; just a fitness center, laundry, sports court, business center and free internet access.

6.
Best Western Tower West Lodge
109 N US Highway 14-16, Gillette, WY 82716-3360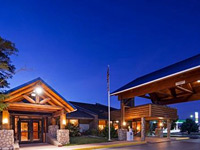 Near the west edge of Gillette (one block from I-90), Best Western Tower West Lodge caters for guests in 189 clean, modern and good sized rooms including several executive suites - in a two floor building that has a small but peaceful courtyard garden. With a pool/hot tub, games room, airport courtesy shuttle, restaurant/lounge and meeting space for up to 320 people, the hotel has an above average range of facilities, and is known for its good customer service. There are several other restaurants close by.

7.
Fairfield Inn & Suites Gillette
2577 South Douglas Highway, Gillette, WY 82716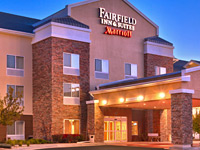 Marriott have one hotel in Gillette, WY; the Fairfield Inn along Douglas Highway, at the edge of a busy shopping area with many restaurants and several large stores. All the rooms and public areas are very clean and modern, decorated in bright, bold colors - part of a recently built three story building that besides the usual amenities (free breakfast bar, fitness center, business center, laundry) also contains a indoor waterpark featuring pools, slides and an artificial river.

8.
Comfort Inn & Suites Gillette
1607 US Hwy 14-16, Gillette, WY 82716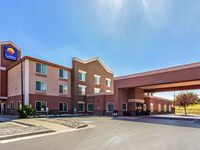 Sixty room Comfort Inn & Suites Gillette occupies an attractive, compact building between 2nd St and I-90 on the west side of town, within walking distance of a selection of restaurants and other businesses. Facilities are as expected - free continental breakfast, a heated pool (indoors), a fitness center, a business center and a 60 person meeting room. Besides the regular accommodations - all large, comfortable and nicely decorated - there are several suites available, featuring a refrigerator, microwave, sofa sleeper and hot tub bath.

9.
Quality Inn Gilette
409 Butler Spaeth Road, Gillette, WY 82716
Quality Inn Gilette provides the only chain lodging on the east side of town - along US 14/16 half a mile from I-90 exit 128, though shielded from the main road (and an adjacent railway) by two other buildings, a gas station and a pizza restaurant. There are several other restaurants nearby, but most of the surroundings are a mixture of residential and industrial premises. The pet friendly, interior corridor motel offers complimentary amenities of hot breakfast, wi-fi and all-day coffee, together with a meeting room and basic business services.

10.
Ramada by Wyndham Gillette Conference Center
2009 S Douglas Hwy, Gillette, WY 82718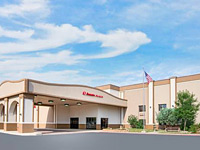 Gillette's Ramada is an old but fully featured and reasonably priced establishment, located within walking distance of the Powder Basin Shopping Center on the south side of the city, near exit 126 of I-90 (Douglas Hwy). The hotel has a large atrium lobby, an oversized indoor pool, a bar/restaurant, fitness center & sauna, meeting/banquet space for up to 300 people, and 159 guest rooms including several two room suites with refrigerator, microwave & sofa bed. Despite the nearby interstate the place is generally quiet; undeveloped countryside begins a short distance west.

11.
Howard Johnson by Wyndham Gillette
1004 E 2nd Street, Gillette, WY 82716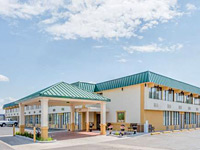 Unlike most Gillette hotels which are found close to I-90, the Howard Johnson Inn has a central location near the Hwy 59/US 25 intersection, close to shopping and dining. Rates are low and amenities limited, to free breakfast, free wi-fi and a complimentary airport shuttle. Guest rooms are on two floors, accessed by exterior corridors, and all contain a microwave, coffee/tea maker and refrigerator.

12.
Baymont by Wyndham Gillette
2105 Rodgers Drive, Gillette, WY 82716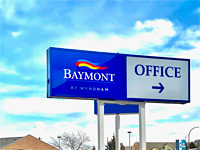 Timber-clad, pet friendly Baymont Gillette has a modern design with interior corridors and oversized rooms, located beside the westernmost of the city's three I-90 exits (124), adjacent to one restaurant. Leisure facilities are a sauna, hot tub and 24 hour fitness center, while also available are wi-fi, coin-operated laundry and a refrigerator/microwave in all accommodations. The main shopping area in town (south of I-90 exit 126) is 2.4 miles away.

13.
Days Inn by Wyndham Gillette
910 East Boxelder Road, Gillette, WY 82718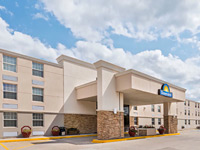 Budget-priced Days Inn Gillette caters for guests in a long, narrow building of three floors, interior corridors and 137 rooms, with views east over a patch of grassy land or west, across the ample parking lot towards a neighboring hotel. Facilities include a business center, fitness room, games room and free wi-fi, Continental breakfast is also complimentary and there are many restaurants within walking distance, together with various large stores including Home Depot, Kmart, Walmart and a supermarket. The motel is situated 0.4 miles from I-90 exit 126, on the south side of Gillette.

14.
Travelodge by Wyndham Gillette
2307 Wyoming Avenue, Gillette, WY 82718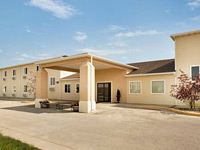 All guest rooms at Travelodge Gillette contain a microwave, coffee maker and refrigerator, and are divided between several two floor, interior corridor blocks at the edge of an extensive shopping area that includes many restaurants - on the east side of Hwy 59, one mile south of the city center. The I-90 intersection is three blocks north. A 400 square foot conference room can accommodate events of up to 60 people. Wi-fi is complimentary, and the hotel also offers a business center.

15.
Super 8 by Wyndham Gillette
208 S Decker Court, Gillette, WY 82716-3320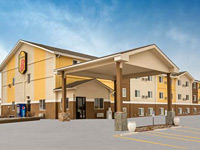 Super 8 Gillette is bordered by I-90 immediately south and US 14/16 to the north, which is separated from the motel by a couple of restaurants and a good sized parking area. A small supermarket is situated one block east. Most guest rooms contain a refrigerator and microwave; some have a sofa bed and work desk. A 24 hour shuttle is available to Gillette-Campbell County Airport, 4 miles north. The only other amenities at the affordable, pet friendly motel are free internet access and free continental breakfast.