1.
Holiday Inn Laramie
204 S 30th Street, Laramie, WY 82070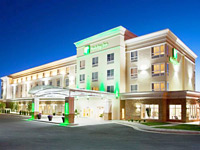 The Holiday Inn is a substantial, modern, four floor property just off Grand Avenue towards the east side of Laramie, a few blocks from University of Wyoming and 2 miles from I-80 (exit 316). The neighborhood is quiet, partly residential, but with several small restaurants and small shops within walking distance. Full service amenities at the Holiday Inn comprise a family restaurant (Perkins - room service available), a lounge/bar that also serves food, a pool/hot tub/fitness center, gift shop, laundry, 24 hour business center and meetings space for up to 250 guests. The 100 rooms & suites have luxurious bedding, a microwave and refrigerator.

2.
Hilton Garden Inn Laramie
2229 Grand Avenue, Laramie, WY 82070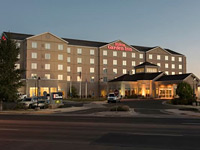 Highlights of Hilton Garden Inn Laramie - a large, modern, well-managed hotel, are the luxurious bedding, the in-room microwaves & refrigerators, the on-site restaurant/bar (open for breakfast, lunch, dinner & room service), the leisure facilities, a 24 hour business center and the attached conference center, with dedicated staff and catering; capable of staging events of up to 960 people. The hotel is built along US 30 on the south edge of the University of Wyoming campus, one mile east of downtown. There are many other restaurants close by. A free shuttle is operated to the regional airport, 7 miles away.
3.
Hampton Inn Laramie
3715 East Grand Avenue, Laramie, WY 82070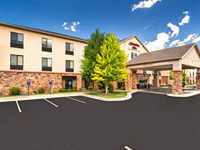 Grassy plains border Hampton Inn Laramie to the north, and all rooms have good views over the open countryside. The 84 room hotel has an easterly location in town, 2 miles from the center along US 30, and 1.5 miles from Interstate 80. All guest accommodations are equipped a microwave & refrigerator, while the studio suites have added living space, and some contain a hot tub bath. Complimentary amenities are wi-fi and hot breakfast (take-out version available). Places in the vicinity include Laramie Recreation Center on the far side of the street, Ivinson Memorial Hospital, Glenn Jacoby Golf Course and the University of Wyoming.

4.
Best Western Laramie Inn & Suites
1767 N Banner Road, Laramie, WY 82072-6794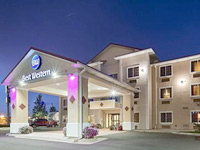 Most rooms at the Best Western hotel in Laramie have views across empty plains towards distant mountains - the hotel has a countryside setting just beyond the north edge of the city, close to I-80 exit 310 (Curtis Street). There are several gas stations and fast food places nearby but a much better selection of restaurants can be found one mile east along US 30 in the center of Laramie. The hotel is a fairly standard establishment, relatively new, with a microwave/refrigerator in each of the 62 rooms, and amenities of free continental breakfast, an indoor pool/hot tub, fitness room, business center and laundry.

5.
Fairfield Inn & Suites Laramie
1673 Centennial Drive, Laramie, WY 82072
Marriott are represented in Wyoming's third city by Fairfield Inn Laramie, built 2008 in a countryside setting beside I-80 right at the north edge of town; not near any shops or restaurants apart from the adjacent Turtle Rock Coffee, open for breakfast lunch & dinner. The hotel's 82 rooms are nicely decorated in bright colors, and all feature a work desk, coffee maker and free internet access; the suites have added amenities of a refrigerator, microwave, entertainment center and separate living area. Leisure facilities are the usual pool (indoor), hot tub and fitness center. Free breakfast buffet is served each morning, including several hot items.

6.
Comfort Inn Laramie
1655 Centennial Drive, Laramie, WY 82070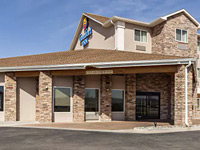 Laramie's Comfort Inn faces open countryside on the west side of interstate 80 next to exit 310, Curtis St, which leads to the city center 3 miles southeast. There isn't much in the neighborhood apart from one restaurant and a truck stop; the nearest shops are about a mile away. There are 72 rooms at the hotel - large and well maintained, and equipped with a work desk, refrigerator, coffee maker and microwave. Some have additional amenities of a balcony, wet bar and hot tub bath. Other facilities are the usual free continental breakfast, a pool, whirlpool, fitness room and sun deck.

7.
Quality Inn & Suites Laramie University
3420 Grand Avenue, Laramie, WY 82070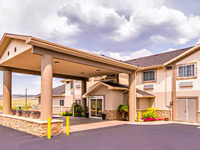 Quality Inn Laramie is situated towards the east side of the city along Grand Avenue, a busy street of shops, restaurants and other businesses, though with undeveloped land just a short distance away to the north and south. The hotel has a good reputation, for the excellent staff, the clean and well equipped rooms (all have a refrigerator & microwave) and the above average free continental breakfast. The place is quite small, just 55 rooms, including several suites with a kitchen and separate living area. A fitness center, indoor pool, hot tub, laundry, newsstand and free internet access are the other amenities.

8.
Days Inn by Wyndham Laramie
1368 McCue Street, Laramie, WY 82072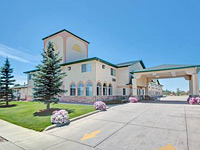 Days Inn Laramie provides reliable, mid range accommodation in a medium sized (50 room) building within sight of the Laramie River on the west side of town, bordering a residential estate and an RV site. Interstate 80 runs past close by. There is one restaurant (Wendy's) in the vicinity, at a truck stop; for more choices the best location is the city center, 2 miles away by road. The motel provides the usual three leisure amenities (pool, hot tub, fitness center), plus a business center. Breakfast (continental) and wi-fi are complimentary. A microwave and refrigerator are installed in each guest room.

9.
Travelodge by Wyndham Laramie
421 Boswell Drive, Laramie, WY 82070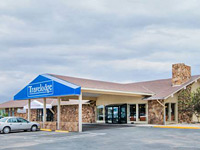 Travelodge Laramie is located at the 3rd Street exit of Interstate 90, 0.8 miles south of the intersection with Grand Avenue in the city center. The affordable, interior corridor, pet friendly motel has the main parking area and an outdoor pool at the front, with space for trucks at the rear, and a restaurant/bar adjacent. Rooms are available with one or more of a microwave, refrigerator and sofa bed. Free continental breakfast is provided.

10.
Econo Lodge Laramie
1370 McCue Street, Laramie, WY 82072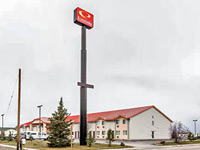 Facilities are quite basic, but rates at Econo Lodge Laramie are low, and the place is generally clean and welcoming. The red roofed, interior corridor inn offers free internet access, a pool, games room, laundry and free continental breakfast; other meals can be purchased from a couple of nearby fast food restaurants. The inn is situated 3 miles northwest of the city center close to to exit 310 of I-80, a few minutes walk from the Laramie River.

11.
Super 8 by Wyndham Laramie
1987 Banner Road, Laramie, WY 82072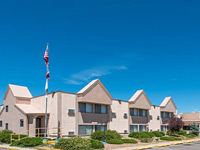 Super 8 Laramie has a very peaceful location along a side road off Curtis Street, near I-80 exit 310. The road becomes unpaved once past the hotel, and flat plains extend in all directions, while the Lamarie River flows past a quarter of a mile east. The only adjacent facility is a gas station; the best choice of restaurants is a few blocks east, in the city center. Wi-fi is complimentary at the pet friendly motel, as is continental breakfast, with eight items.
12.
Motel 6 Laramie
621 Plaza Lane, Laramie, WY 82070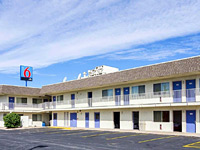 The Motel 6 is one of the few hotels on the south side of Laramie - part of a small group of buildings next to the US 287/I-80 intersection, 1.5 miles from the city center. The small but clean and functional rooms are divided into three adjacent blocks arranged around an outdoor pool and garden; inside, facilities comprise wi-fi, free coffee, cable TV, laundry, and a mini refrigerator in some of the rooms. Meals are provided by a couple of restaurants within walking distance.