One of the best rock art sites in all of Utah is found in an otherwise nondescript canyon a few miles northwest of Vernal in the northeast corner of the state, on private land of the McConkie Ranch, a homestead established early in the 20th century by Virt and Caroline McConkie. The McConkie Ranch Petroglyphs span nearly a mile, at the base of low, southwest-facing cliffs that border the wide, shallow canyon of Dry Fork Creek, a tributary of Ashley Creek, and they include dozens of panels, many with unusually complex designs, created over the course of several centuries, with some of the more detailed figures etched on top of older, simpler designs. The majority are thought to have been made before 1200 AD.

This area lies just within the northern edge of the Colorado Plateau; the yellowish-brown rocks in the cliffs are from the Bell Springs Formation and the Nugget Sandstone, strata replaced by the Navajo Sandstone further south on the plateau.



The majority of the designs are representative of the Classic Vernal Style, one characteristic element being anthromorphic figures based on an inverse triangular shape, wide at the top, at the shoulders, narrowing below, at the waist. The majority were made by people from the Fremont Culture, who inhabited a large region either side of what is now the Utah-Colorado border, adjoining the Sevier peoples to the west and the Anasazi, or Ancestral Puebloans to the south.




Location

The McConkie Ranch trailhead parking is ten miles from Vernal city center, driving west along Hwy 121, north on 3500 W, northeast on Dry Fork Settlement Road and finally north on the (still paved) McConkie Road, which crosses Dry Fork Creek, and also leads to the ranch, in which there is a small museum containing artefacts found in the vicinity.


Map of the McConkie Ranch Petroglyphs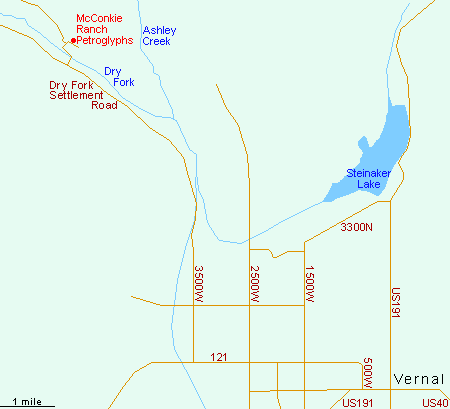 Trails
Most of the petroglyphs are northwest of the parking lot, along a path signed 'Main Trail'. The first panels, a lot of which are somewhat faded, include animals, abstract shapes and simple figures; mainly petroglyphs also a few pictographs, and likely spanning a wide age range. A little further, beyond a short box canyon, are the larger and more dramatic figures, including the headhunter panel and several similar groups of intimidating-looking figures, plus a depiction of a sad face next to a pair of detached feet but no body, perhaps referencing cannibalistic practices. The trail ends after a third of a mile near a large pair of figures known as the twins panel. Back at the parking lot, another path heads southeast for 0.6 miles passing more designs, including perhaps the best of all, the three kings panel, just beyond a side canyon. This actually contains at least seven anthromorphs, and various other designs including spirals, some of which underlie the larger figures so are clearly older.