1.
Marriott Provo Hotel & Conference Center
101 West 100 North, Provo, UT 84601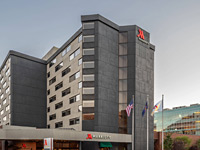 With 330 rooms, Marriott Provo Hotel & Conference Center is the biggest hotel in the city, and the most centrally located, taking up one block right at the center of Provo, by the intersection of Freedom Boulevard and Center Street. The conference center comprises 21 meeting rooms and 28,000 sq ft of space; the largest area (Grand Ballroom) is capable of seating 1,000 guests. Other highlights of the three star hotel are a restaurant (Allie's American Grille), a private dinner club, full service business center, gift shop, fitness center, and indoor & outdoor pools. The building has 9 floors, so many of the upper rooms have fine views across town to the Wasatch Mountains.

2.
Residence Inn Provo South University
1290 S University Avenue, Provo, UT 84601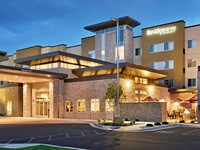 A second Residence Inn hotel in Provo opened spring 2018, situated towards the south edge of the city along University Avenue, close to the I-15 intersection (exit 263), and within walking distance of the many shops and restaurants in and around Provo Towne Centre Mall. The BYU campus is 2 miles north, and East Bay Technology Park is one block south. The hotel contains 100 suites (two bedroom, one bedroom and studio), plus two meeting rooms and a dining area where the free hot breakfast is served. Also complimentary are wi-fi, grocery shopping service and weekday evening receptions.

3.
Residence Inn Provo
252 West 2230 North, Provo, UT 84604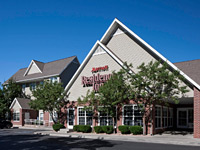 On the north edge of Provo close to neighboring Orem, the Residence Inn by Marriott has a quiet, relaxing location next to the golf course of Riverside Country Club, adjoining the tree-lined Provo River. The inn caters more to the extended stay traveler, offering 114 comfortable, multi-room suites (all with full kitchen and extra sofa bed), divided into several blocks overlooking either the river or the carpark, with more distant views towards the Wasatch Mountains. Other amenities are free hot breakfast, free evening reception, grocery shopping service, fitness center, guest laundry, indoor pool and hot tub. One block west is a shopping/restaurant center, with various stores including Albertsons, while the BYU campus is half a mile south.
4.
Hampton Inn Provo
1511 South 40 East, Provo, UT 84601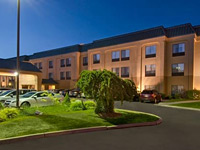 Hampton Inn Provo has quiet surroundings, in a business estate 300 feet from the main road (US 189), but within half a mile of Provo Towne Center Mall and several other large stores, plus many restaurants. I-15 runs past close by, providing easy travel north or south. The 88 guest rooms all feature a coffee maker, hairdryer, microwave & refrigerator, and some contain a sofa bed. The hotel has meeting space (for up to 45 people), a business center, fitness center and indoor pool. Free hot breakfast is served each morning, supplied in a take-out version (Mon-Fri) for people in a hurry.

5.
SpringHill Suites Provo
1580 N Freedom Blvd, Provo, UT 84604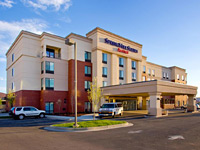 The new SpringHill Suites hotel in Provo is built right next to another Marriott property (the Courtyard), beside the junction of University Pkwy with US 189, and two blocks from the campus of Brigham Young University. The handsome, modern property features 82 studio suites equipped with work desk, sofa bed, free internet access and a kitchenette (sink, microwave, refrigerator) - those facing east have fine views towards the nearby Wasatch Front mountains. Free breakfast buffet is provided each day, while for relaxation guests may use a whirlpool on site, or the exercise facilities at a gym just down the road.

6.
Best Western Plus Provo University Inn
1600 N Freedom Blvd, Provo, UT 84604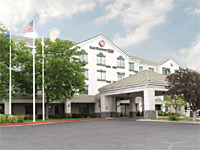 Best Western Provo has a north central location along Freedom Boulevard, 2 blocks from Brigham Young University and within 1.5 miles of such sites as Riverside Country Club, Utah Valley Regional Medical Center, and the University Mall. The 99 guest rooms are comfortable and well appointed, half of them with great views of the mountains to the east, and all offer a quiet night's sleep since the hotel is set back a little from the main road. Free hot breakfast is served each morning. Leisure amenities are a fitness room, whirlpool and indoor swimming pool. The on-site meeting facilities cater for events of up to 140 people.

7.
Fairfield Inn Provo
1515 S University Avenue, Provo, UT 84601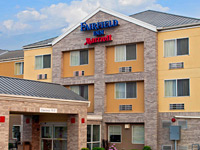 Provo's Fairfield Inn sits in the middle of the main shopping area in town, a short walk away from several restaurants and many large stores including those at Provo Towne Centre Mall, 0.4 miles north - the hotel is located along US 189 (University Avenue), next to exit 263 of interstate 15 and also close to the Reserves at East Bay golf course. Free continental breakfast is served each morning, featuring a hot sandwich and home-made waffles. For relaxation, guests can choose from an indoor pool, a Jacuzzi or a nearby jogging trail.

8.
Sleep Inn Provo
1505 South 40 East, Provo, UT 84606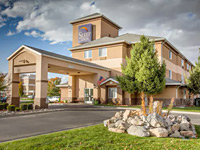 The Sleep Inn hotel in Provo, UT, is located towards the south end of town, 2 blocks from I-15 exit 263 (University Avenue) and half a mile from Provo Towne Center Mall. Other nearby sites include Brigham Young University, Reserves at East Bay Golf Course and the north shoreline of Utah Lake. The hotel is of modern construction, with three interior corridor floors, and it has a secluded setting, partly surrounded by trees. Amenities are free continental breakfast, laundry, fitness center, free wi-fi and a refrigerator/microwave in all guest rooms. Selected accommodations contain a hot tub bath.

9.
Ramada by Wyndham Provo
1460 S University Avenue, Provo, UT 84601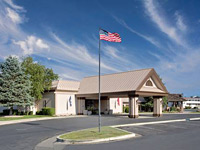 The Ramada is a south Provo hotel, near the I-15/US 89 intersection, beside Towne Center Mall and other large stores including Home Depot and Sam's Club. Also within walking distance are East Bay Technology Park and East Bay Golf Course. The 78 room, pet friendly property occupies a spacious site, with a restaurant (steakhouse, open for lunch & dinner) at the front, a pool and gardens on the north side, and plenty of parking all around. Free breakfast buffet is provided each morning. The hotel also has a fitness center, business center, two meeting rooms and guest laundry facility.

10.
Baymont by Wyndham Provo River
2230 North University Parkway, Provo, UT 84604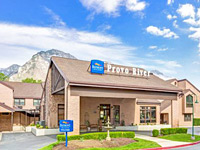 In the center of Provo yet situated in a quiet, secluded, tree lined enclosure, the Baymont Inn along University Parkway has 80 rooms on 2 floors, arranged around three sides of an outdoor pool. The hotel backs on to the wooded banks of the Provo River and is just a few blocks from Brigham Young University, Riverside Country Club and LDS Provo Temple. The hotel has both indoor and outdoor pools, a spa & exercise facilities, and offers free full breakfast; other dining is available from several nearby restaurants. A free shuttle service serves nearby Provo locations.

11.
Days Inn by Wyndham Provo
1675 North 200 West, Provo, UT 84604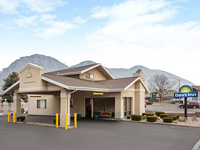 The Days Inn is part of a group of motels in central Provo near Brigham Young University - located in a wooded surroundings between University Parkway and the Provo River, less than 2 miles from the edge of the mountains. Rooms (all containing a microwave & refrigerator) are accessed by exterior corridors, on two floors, and are surrounded by the parking lot, which has an outdoor pool on the south side. There are several restaurants adjacent, including a 24 hour Denny's. Wi-fi and continental breakfast are complimentary.