Hidden Canyon
is one of the many scenic side ravines that join the
Virgin River
- although not a true slot canyon, all is deep and narrow, with several parts that contain boulders, dryfalls and enclosed channels. The one mile trail leading to it combines aspects of the two nearby routes to the
Narrows
and
Angel's Landing
. It starts at
Weeping Rock
, one of the more easily accessible and often visited landmarks in Zion National Park, where water seeps from between two rock strata forming an elongated mini waterfall, with attractive curtains of green vegetation and colorful wildflowers in the spring. From here the route switchbacks 600 feet up the side of Zion Canyon, crosses the cliffs for a way then enters the mouth of the ravine, where the conditions change abruptly, becoming cool, shady and enclosed.
Topographic Map of Hidden Canyon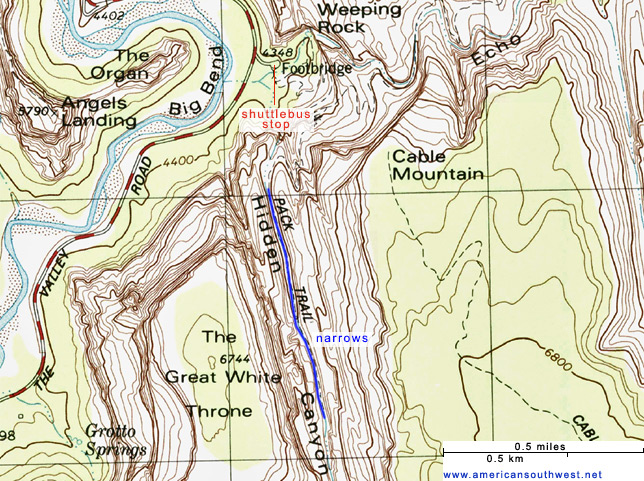 Location
Hidden Canyon is reached via the
East Rim Trail
, beginning at a former parking area 2 miles from the north end of the Zion Canyon Scenic Drive, and reached from stop number 6 of the Zion shuttlebus - the same starting point for a visit to Weeping Rock.
Permit
No special permit is required, just a standard Zion National Park entry fee.
Route Description
The path climbs steeply at first with several switchbacks before becoming more level, crossing the cliff face. At this point, the trail divides; the main branch follows
Echo Canyon
for a while and then climbs to the top of the cliffs, linking with the route to
Observation Point
.
The Hidden Canyon branch of the trail climbs a little more after the Echo Canyon junction, winds around a small side-valley and traverses a steep cliff face. For the last few hundred yards the path is cut into the side of the cliff and has a sheer drop of several hundred feet at one side. As with the latter stages of the route to Angels Landing, chains are provided in places to help the unsure, and on a busy summers day there might be quite a delay here, due to slow-moving people.
The marked trail ends one third of the way up the main cliffs at the mouth of Hidden Canyon, which is dry for most of the year. However, it is possible to walk and climb further up this canyon for about one mile, before the first of several high dryfalls that make the canyon only fully traversable in the downstream direction, starting from the plateau above (accessed via the
Deertrap Mountain Trail
). The route has some similarities to the
Zion Narrows
trail, but without water, and there are several small cliffs and chokestones that require the use of tree branches as improvised ladders. The journey becomes more taxing further upstream, with several steep, narrow sections and larger boulders.
The canyon is cool and sheltered, and makes an ideal hike for hot summer days as the sun rarely reaches the floor. Although rather strenuous, the experience can be very peaceful, as few people come very far along the gorge. This is partly because the first major obstacle - a 7 foot high cliff - occurs quite close to the beginning.