Locations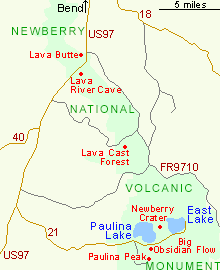 Map of Newberry National Volcanic Monument
Map of the Paulina Lake area
Newberry Caldera and its associated lava flows are protected by the 50,000 acre
Newberry National Volcanic Monument
, created quite recently (1990) and managed by the US Forest Service rather than the National Park Service. The monument is almost entirely surrounded by the Deschutes National Forest, and contains generally forested land, ranging in elevation from 3,800 feet at the Deschutes River to 7,985 feet at the summit of
Paulina Peak
, the highest point along the caldera rim. All is covered by snow for about half the year yet some sites are still accessible, and the place is very popular in summer, especially the area around the two lakes, even if the majority of visitors are here for camping, boating and fishing, rather than hiking or geology. Beside the lakes are half a dozen campgrounds, a resort and a lodge, plus 55 miles of trails. The other easily reached section of the national monument is along US 97 near Bend; here are found the longest lava tube in Oregon (
Lava River Cave
), open to self-guided exploration, and
Lava Butte
, a symmetric cinder cone surrounded by fresh lava fields. This location also has a campsite, and the
Lava Lands Visitor Center
, the main information facility in the monument.
Backcountry
Unpaved roads cross other parts of Newberry National Volcanic Monument, including a 9 mile route to the
Lava Cast Forest
. This is a section of lava flow that 7,000 years ago enveloped a grove of ponderosa pines, forming moulds of the trees; the wood has long since decayed leaving circular holes, some at the center of small mounds formed by lava building up around the base. The cast forest may be toured by a one mile trail, and is little visited compared with the two developed areas. Other backcountry access is provided by
FR 9710
(Paulina Lake Road), which runs all along the east edge of the monument, passing lava deposits and cinder cones.