Lava River Cave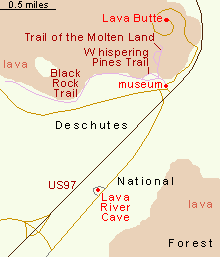 Map of Lava Butte and Lava River Cave
The entrance to Lava River Cave is just 700 feet from US 97, accessed by a parallel road linking exit 151 (Cottonwood Road) with the Lava Lands Visitor Center, a relatively new route completed in 2011. The cave is very popular so has a large parking area, and a kiosk where propane lanterns may be rented. A short collapsed section of the tube provides easy entry. The southeast portion of the cave is rather narrow, contains unstable ceiling rocks, and is closed to the public but the longer northwestern part is unobstructed, and straightforward to follow. The descent is aided by steps and railings, down 150 feet through a slope of fallen boulders to the floor, which remains flat and level all the way, apart from a few small downward steps. Long ridges along the walls mark differing levels of the flowing lava, and the ceiling is lined with solidified droplets (lavacicles), where molten rock once dripped. The cave soon passes under US 97, at which point the roof is 30 feet thick, then continues northwards; progress is indicated by several notices giving distances and background information. Other features include a sand garden, a section of double tube and several pools, though most of the tunnel is dry. The far end becomes smaller, the floor sandier, and the final few hundred feet have been dug out; the cave does continue for an unknown distance, even narrower, and completely blocked by sand.
Lava Butte
Lava Butte rises 600 feet right next to busy highway US 97; a side road forks off reaching
Benham Falls
on the Deschutes River after 4 miles, while another road leads to the various visitor facilities.
Trail of the Molten Land
(0.75 miles), a paved, partial loop over the lava, with a spur to a high viewpoint on the south side of the butte, next to a lateral vent through which most of the lava was produced. Features en route include squeeze ups, lava balls and lava drains, and again the vistas are impressive, over forest and lava towards Mount Bachelor and the Three Sisters. The lava shelters a few wildflowers, bushes and an occasional tree but most is entirely barren of vegetation. The third of a mile
Whispering Pines Trail
loops past a section of lava close to the ponderosa pine forest, while the longer
Black Rock Trail
skirts the edge of the forest for several miles westwards. All the lava is of the jagged aa type; the ropey pahoehoe form may however be found in the vicinity of the Lava Cast Forest, 13 miles (by road) southeast.