Location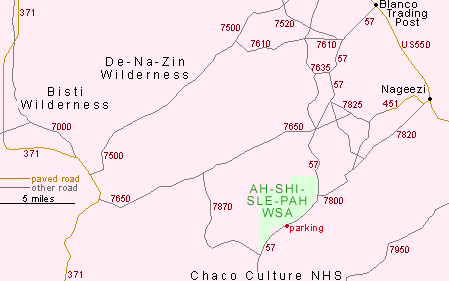 Access
There are three main routes used to reach Ah-Shi-Sle-Pah WSA. One is from
NM 371
in the west - along county road 7650 for 7.7 miles, south on 7870 for 9.5 miles then northeast on 57 for 2.8 miles. The BLM trailhead used to be at the end of an unsignposted half mile track that forks off northwards, the junction being a short distance west of a lone house to the south, but the track has recently been closed to vehicles, which now have to be left along road 57. Like many of the dirt roads in this area, these three routes are used by trucks from the nearby oil fields so are kept in a good state of repair. The other two approaches are from the east, both starting from
US 550
; most direct is via road 57, which forks off the highway at
Blanco Trading Post
and reaches the trailhead track 18.3 miles later, after quite a few junctions (all clearly signposted with the road number). The first few miles used to be paved but now the surface is heavily eroded and quite bumpy - driving is easier on the hard-pressed dirt after this, though the road seems rather less used by oil trucks and more by the Navajo, so is not quite as good as others around. The third route is 451/7800 from
Nageezi
- fully paved for a few miles but wide and well used for all the 12 miles to the junction with road 57, 3 miles from the trailhead.
Landscape
The half mile approach track, now for foot traffic only, climbs to the top of a low, bushy ridge then descends the far side to a fence marking the boundary of the WSA. Ahead, the land slopes down quite abruptly by 80 feet and soon becomes completely unvegetated, consisting mostly of multicolored clayish mounds with hoodoos in scattered locations west and northeast. Beyond these formations lies a wide, flat mud plain either side of Ah-Shi-Sle-Pah Wash, bordered one mile away by a similar strip of badlands on the north side. There is a more extensive area of black and yellowish mounds to the northeast, split by many deep, labyrinthyne gullies largely without any eroded rock formations; the best section stretches from the lower edge of these badlands, a short distance east of the trailhead, for about 1.5 miles westwards (see
topo map
). Most hoodoos hereabouts consist of reddish sandstone caprocks over white/grey mudstone pillars, but more colorful yellow-orange columns are found towards the west, as are the largest pieces of petrified wood.