1.
Hampton Inn & Suites Woodland
2060 Freeway Drive, Woodland, CA 95776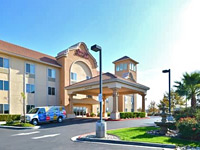 Guest rooms at Hampton Inn Woodland face either west, overlooking the I-5 exit ramp, or east, with views over an adjoining building to farmland beyond; the hotel has a semi-rural setting on the east side of town, though close to several large distribution centers. On the far side of the interstate is a shopping center including Costco, Best Buy and Target. There are at least six restaurants nearby, and free hot breakfast is provided onsite, supplied in a take-out version for people in a hurry or checking out early. All 71 rooms contain a microwave and refrigerator; the hotel also has several studio suites with sofa bed and extra living space. All the expected business, meetings and leisure facilities are available.

2.
Holiday Inn Express Woodland
2070 Freeway Drive, Woodland, CA 95776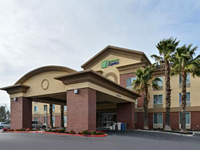 On the east edge of Woodland, the Holiday Inn Express is a relatively new hotel overlooking farmland alongside I-5, just northeast of exit 536 (County Road 102). There is a small industrial area just north, though with two restaurants a short walk away (Applebee's, Jack in the Box), and others towards the center of Woodland, which is 2.5 miles west along Main Street. The hotel is a 3 floor, 69 room property that includes an indoor pool, whirlpool, fitness center, guest laundry and an 800 square foot meeting room. Free hot breakfast is prepared each morning.

3.
Best Western Shadow Inn
584 N East Street, Woodland, CA 95776-6101
The northernmost hotel in Woodland, CA, is the 119 room Best Western Shadow Inn along East Street, right next to exit 538 of I-5. From here, downtown Sacramento is a 20 mile drive away. The inn has a pleasant setting surrounded by trees and gardens, with the accommodation block centered around a heated outdoor pool and two hot tubs. For dining there is one restaurant on the premises (free continental breakfast available), a Denny's just next door and plenty of others towards the town center. Besides the standard accommodations several suites are available, featuring a refrigerator, microwave and wet bar.

4.
Fairfield Inn & Suites Sacramento Airport Woodland
2100 Freeway Drive, Woodland, CA 95776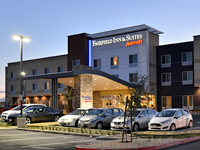 Open spring 2016, the Fairfield Inn is the first Marriott hotel in Woodland, and is located close to several other properties, along a side road on the east edge of the city, at I-5 exit 536. There are various restaurants within walking distance, and a shopping complex on the opposite side of the interstate, where outlets include Target and Costco. The hotel has three storys, 16 suites, 56 guest rooms and 2,386 square feet of meeting/event space. Wi-fi is complimentary, and so is daily buffet breakfast. Guests enter through a colorful lobby with plenty of comfortable seating, and views of the hotel's gardens.

5.
Comfort Suites Woodland - Sacramento Airport
2080 Freeway Drive, Woodland, CA 95776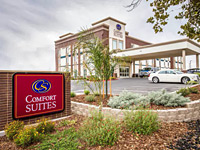 Open summer 2015, the Comfort Suites is the third hotel along a little side street by the easternmost of Woodland's three I-5 exits (Hwy 102), close to the edge of the countryside though also near several huge distribution centers. A selection of restaurants and stores are within walking distance, on the south side of the interstate. The oversized accommodations are equipped with free wi-fi, a coffee maker, work desk, sofa bed, microwave and refrigerator; some have a hot tub bath and a separate bedroom. The free breakfast includes a number of hot items. The usual leisure, meetings and business facilities are available.

6.
Quality Inn & Suites Woodland
1562 E Main Street, Woodland, CA 95776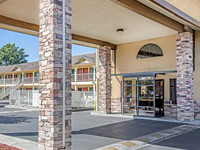 The Quality Inn provides basic, affordable, exterior corridor accommodation on the east side of Woodland, a block west of interstate 5 (exit 537, Main Street). Nearby are several other motels, a convenience store and restaurants including Denny's, McDonald's and Jack in the Box. The center of Woodland is 1.5 miles west. All 50 rooms contain a microwave & refrigerator, while the hotel has an outdoor pool, newsstand and guest laundry.

7.
Days Inn by Wyndham Woodland
1524 E Main Street, Woodland, CA 95776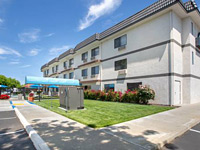 Although close to I-5, Hwy 113 and Main Street, Days Inn Woodland enjoys a secluded setting along a quiet side street, shielded by trees and set back from the highway behind a couple of restaurants. The motel occupies a compact, three floor, interior corridor building of 50 rooms, some overlooking a garden and outdoor pool, at the rear. Other motel features are large vehicle parking spaces, free wi-fi and free continental breakfast.

8.
Econo Lodge Woodland
53 West Main Street, Woodland, CA 95695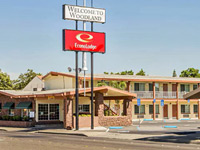 Econo Lodge Woodland is one of the most central hotels in town, at 53 W Main Street - three blocks or less from many shops and restaurants. The two floor, exterior corridor lodge has a good range of amenities for a budget property, including an outdoor pool, hot tub, free continental breakfast, and a microwave/refrigerator in each of the 39 rooms. Interstate 5 is 2 miles east along Main Street.
9.
Motel 6 Woodland - Sacramento Area
1564 E Main Street, Woodland, CA 95776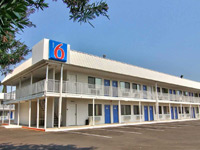 Motel 6 Woodland has the typical layout for this chain, the rooms on two floors, in three intersecting blocks, accessed by exterior corridors and surrounded on all sides by the parking lot, which has an outdoor pool at the northeast corner. Around ten restaurants are a short walk away. The motel is situated at the Main Street exit of I-5, on the east side of Woodland, 18 miles from downtown Sacramento. Coin-operated laundry and wi-fi are the two main amenities.