1.
Aggie Inn, An Ascend Collection Hotel
245 First Street, Davis, CA 95616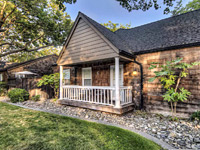 At the intersection of 1st and B streets in the tree-lined center of Davis, the Aggie Inn is a compact, stylish, boutique hotel of 33 elegant, individual rooms equipped with microwave, refrigerator and upscale furnishings. UC Davis campus begins half a block west and there are plenty of restaurants and small shops within walking distance. Amenities are somewhat limited - an exercise room, meeting room, business center, free internet access and free continental breakfast, but service is good and the inn has a relaxing ambience.

2.
Hilton Garden Inn Davis
110 F Street, Davis, CA 95616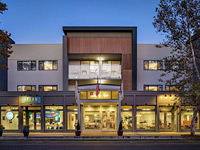 Open summer 2019 after extensive renovation of a previous property, Hilton Garden Inn Davis is a full service hotel offering amenities of 24 hour business & fitness centers, an outdoor patio and pool, a convenience store, meeting space and a restaurant/bar, open for breakfast, dinner, evening drinks and room service. The hotel has a fine central location close to the Richard Blvd exit of Interstate 80, and within walking distance of UC Davis; there are numerous other restaurants close by. Complimentary bicycle rentals are provided, as an aid to exploring the neighborhood.

3.
Hyatt Place UC Davis
173 Old Davis Road Extension, Davis, CA 95616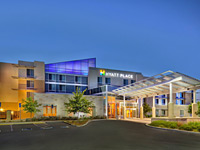 The Hyatt Place sits at the edge of the campus of University of California Davis, facing open farmland to the southeast, and less than one mile from the old town center. The 127 room hotel has an outdoor pool and garden at one end, and the parking lot on the other three sides; interior facilities are a 24 hour fitness center, a 24 hour market, a bar serving coffees, wine & beer, and a dining area for the free hot breakfast buffet. A complimentary shuttle is operated to locations within five miles. Two meeting rooms cater for events of up to 100 guests.

4.
Holiday Inn Express & Suites Davis - University Area
1640 Research Park Drive, Davis, CA 95618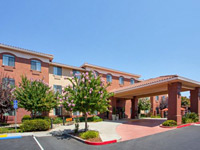 On the east side of I-80 (next to exit 72), Holiday Inn Express Davis has a pleasant location overlooking an area of grassland in a mostly residential neighborhood, just far enough from the interstate to escape the traffic noise. There is a good selection of restaurants a few minute's walk away, while the center of Davis and the university campus are a mile to the west. The 71 rooms are clean and spacious, all with microwave & refrigerator, and some have various additional facilities such as separate living area and whirlpool baths. The hotel serves free hot breakfast buffet, and has an outdoor pool/hot tub, guest laundry, news stand and meeting facilities.

5.
Best Western University Lodge
123 B Street, Davis, CA 95616-4636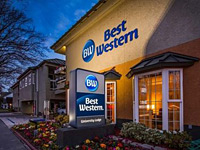 Best Western University Lodge is one of the closest hotels to UC Davis, just one block from the campus, on the east side - along B Street in the leafy town center of Davis, near to many charming restaurants, bars, coffee houses and art galleries. The lodge occupies a medium sized building of two floors and 52 rooms, each containing a microwave, refrigerator and ironing facilities; also available are several apartments with a full kitchen. The inn has a spa & exercise room, and serves free continental breakfast, though like many hotels in downtown Davis there is no swimming pool.

6.
Best Western Plus Palm Court Hotel
234 D Street, Davis, CA 95616-4513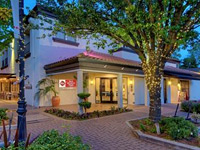 At the corner of 3rd and D streets, the Best Western Palm Court Hotel is just a few minutes walk from all major sites in the center of Davis and is easily reached from interstate 80, being 0.5 miles north of exit 72 (Richards Boulevard). The surroundings are a mixture of houses, shops, galleries & restaurants, with the campus of University of California-Davis three blocks to the west. Rated AAA 3-diamond, the hotel has its own restaurant/bar (Cafe Bernardo's), an atrium lobby, spa, steam room & fitness center. There are only 27 rooms & suites available, but each is spacious and well equipped.

7.
Days Inn by Wyndham Davis near UC Davis
4100 Chiles Road, Davis, CA 95618
The Days Inn is an east-side Davis motel, along the southern I-80 frontage road through set back a little from the highway and so providing a peaceful night's rest, especially for rooms in the southernmost accommodation block. The buildings and parking lot are lined with palm trees and other greenery, and the place enjoys a good reputation, for the low rates, clean rooms, friendly staff and the above average facilities, which include an outdoor pool, basketball court, mini golf course, meeting room and business center. The usual free continental breakfast is served. There are several restaurants half a mile east, around the Lincoln Highway exit of the interstate.
8.
Motel 6 Davis - Sacramento Area
4835 Chiles Road, Davis, CA 95616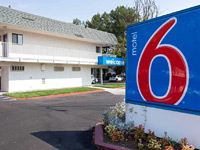 The Motel 6 provides the easternmost lodging in Davis, conveniently situated at the intersection of I-80 with Hwy 104, close to El Macero Country Club and a shopping district with such stores as Target and TK Maxx. Downtown Sacramento is 11 miles east. The motel is well shielded by bushy trees from the nearby roads, and is surrounded by a good sized parking lot. Some of the rooms overlook the outdoor pool and courtyard garden. Accommodations are modern in appearance, brightly decorated and elegantly furnished. Wi-fi, coin-operated laundry and free coffee are the other amenities.