1.
Courtyard Roseville Galleria Mall/Creekside Ridge Drive
301 Creekside Ridge Court, Roseville, CA 95678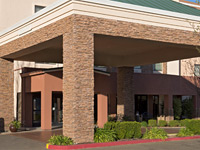 The westernmost of two nearby Courtyard hotels in Roseville, CA, has a semi rural location next to the wooded valley of Antelope Creek, though most of the neighborhood is dominated by the Galleria at Roseville Mall, and other nearby large stores. Its 125 rooms, on 4 floors, are all very clean and comfortable, and quiet despite the adjacent 65 Freeway, which joins I-80 just to the south, at exit 106. Freshly cooked breakfast is available at the on site Courtyard Cafe and there are many restaurants within walking distance, around the mall. The other main services at the hotel are a convenience store, indoor pool, whirlpool, and a fitness center.

2.
Courtyard Roseville
1920 Taylor Road, Roseville, CA 95661
The east side of I-80 exit 106 is the location of a collection of relatively new hotels in Roseville, including three from the Marriott group. Like the others, the Courtyard has the access road (Taylor Road) on one side, a wooded stream on the other, and several restaurants within walking distance. Contained within are 87 rooms and 3 suites, all up to the usual Courtyard standard, plus the expected amenities of a cafe serving breakfast & dinner, an evening louge/bar, a welcoming lobby (recently redesigned), an indoor pool, hot tub and fitness center.

3.
Residence Inn Sacramento Roseville
1850 Freedom Way Drive, Roseville, CA 95678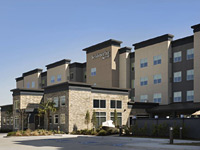 The Residence Inn has a northerly location in Roseville, at the junction of Blue Oaks Boulevard with Hwy 65, along a short side road that leads to the Topgolf driving range - at the edge of an industrial/business district though also close to many restaurants and large stores. The four floor hotel contains 104 suites (studio, one bedroom and two bedroom), all featuring a fully equipped kitchen. Complimentary amenities are wi-fi, hot breakfast, weekday evening socials and grocery delivery service, while the hotel also offers a pool, bbq area, fitness center and a small meeting room.

4.
Residence Inn Roseville
1930 Taylor Rd, Roseville, CA 95661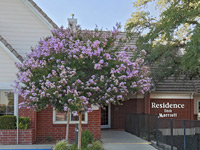 For extended stays in the Roseville area, the main choice is the Residence Inn by Marriott along Taylor Road, by exit 106 of interstate 80 (next to the Courtyard hotel). This all suite, three floor property has 90 rooms - newly renovated and at least 50% larger than average - that include a full kitchen with dishwasher, microwave, stove, toaster, & refrigerator/icemaker. Complimentary items are buffet breakfast, evening reception (Mon-Thu), phone calls and all-day coffee. For relaxation, guests have use of an indoor pool, whirlpool and fitness center.

5.
Homewood Suites by Hilton Sacramento-Roseville
401 Creekside Ridge Court, Roseville, CA 95678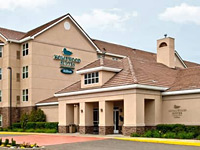 The Homewood Suites is the closest hotel to Westfield Galleria Mall, 0.4 miles from the main entrance, and also just a short walk from many other stores & restaurants. Although Hwy 65 runs right past to the north, the immediate surroundings are quite peaceful; the four floor building is lined by trees & bushes, and adjoins an open area to the west, bordered by riparian landscapes around Antelope Creek. The all-suite hotel offers lodging in one bedroom and two bedroom layouts, all featuring a full kitchen; food can be purchased via the complimentary grocery shopping service. Also free of charge are the daily hot breakfasts and weekday evening receptions. Half the rooms overlook the garden, which includes an outdoor pool, hot tub, patio and basketball court.

6.
Hilton Garden Inn Roseville
1951 Taylor Road, Roseville, CA 95661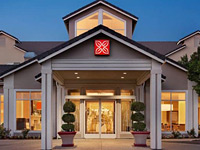 If visiting Roseville Golf Land Sunsplash, the closest hotel is the Hilton Garden Inn, just 0.3 miles north, located in a triangle of land bordered by I-80 and two main roads, though a short distance from natural landscapes to the east, centered on a small creek; a hiking trail runs both ways through the wooded corridor. The on-site Garden Grille restaurant serves breakfast & dinner, while snacks and drinks can be purchased from a 24 hour convenience store, including ready meals cookable using the microwaves in each guest room. There are half a dozen restaurants nearby. Other amenities are a fitness center, 24 hour business center, outdoor pool and meeting space.

7.
TownePlace Suites Sacramento Roseville
10569 Fairway Drive, Roseville, CA 95678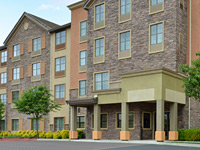 Adjacent to the SpringHill Suites, Marriott's 115 room TownePlace Suites hotel in Roseville offers a good range of facilities for the long stay guest or business traveler; each spacious suite (studio, one bed or two bed) includes a full kitchen, a large work desk, free internet access and luxurious bedding, and are part of a handsome new building that also features a fitness center, indoor pool/whirlpool, 24 hour market and a meeting room. The hotel is a short walk from many shops and restaurants at Blue Oaks Town Center - alongside Hwy 65 about half way between Roseville and Rocklin.

8.
SpringHill Suites Sacramento Roseville
10593 Fairway Drive, Roseville, CA 95678
The SpringHill Suites is the most affordable of a pair of Marriott hotels in Roseville, located next to a small retail development along Fairway Drive, just off Highway 65 and 3 miles north of I-80. Accommodation comprises 124 modern, well furnished studio or king suites, all containing a pantry with microwave, refrigerator & sink, plus a sofa bed and executive desk. Guests are treated to free hot buffet breakfast each morning, and have leisure amenities of a fitness center, hot tub & indoor pool. There are many business and corporate offices nearby, including NEC, Oracle and HP.

9.
Holiday Inn Express Hotel & Suites Roseville - Galleria Area
1398 East Roseville Parkway, Roseville, CA 95661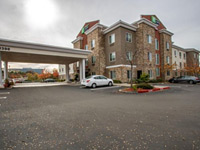 Holiday Inn Roseville is one of the last hotels for travelers leaving the Sacramento area on I-80, since the suburbs end a short distance east, replaced by the foothills of the Sierra Nevada. This is a new property with a quiet, pleasant location amidst woodland at the corner of the junction of N Sunrise Ave with the Roseville Parkway, near exit 105 of the interstate. Attractions within a mile include the Galleria at Roseville mall, Sierra View Country Club, Maidu Regional Park and the Sierra College in Rocklin. The inn is walking distance (0.4 miles) from the popular Golfland Sunsplash waterpark. The 83 room, 3 floor hotel offers the standard Holiday Inn Express amenities of free continental breakfast, an outdoor pool and guest laundry.

10.
Best Western Plus Orchid Hotel & Suites
130 N Sunrise Avenue, Roseville, CA 95661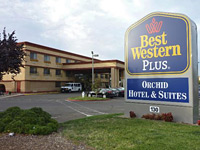 The Best Western Plus adjoins the Douglas Boulevard exit of Interstate 80, near Roseville Automall and several other shopping centers; a generally busy, commercial neighborhood, but the hotel is also close to wooded parkland along a small river (Lincoln Estates Park). The relatively old but recently renovated property contains 183 rooms, most accessed by exterior corridors around two enclosed courtyards, one with outdoor pool and sundeck, the other filled by several large trees. Complimentary amenities are wi-fi, a local area shuttle, hot breakfast and evening receptions. Accommodations include a selection of whirlpool suites. Most rooms contain a sofa bed, in addition to the standard refrigerator & microwave.

11.
Best Western Plus Roseville Inn
220 Harding Blvd, Roseville, CA 95678-2404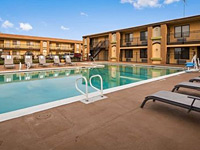 At 220 Harding Boulevard, the Best Western Roseville Inn is a few blocks east of the center of town and right alongside I-80 (half way between exits 103 & 105), in a mixed neighborhood of houses, several large stores and many restaurants, including Denny's right next door. The 126 rooms on 2 floors are split into several blocks, some having views over the outdoor pool and gardens. Free buffet continental breakfast is served.

12.
Fairfield Inn Roseville
1910 Taylor Road, Roseville, CA 95661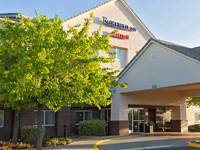 Roseville's Fairfield Inn is located at the corner of Taylor Road and the Roseville Parkway, adjacent to the Courtyard hotel and right opposite the Golfland Sunsplash waterpark. A mile north, on the far side of interstate 80, are the many shops of the Galleria Mall, while not far south is the main business park in town, home to such companies as NEC, Terminix and Hewlett Packard. Lodging at the 82 room Fairfield Inn is clean, comfortable & affordable, and the hotel has amenities of free hot breakfast, a hot tub and a small indoor pool.