1.
Courtyard Sacramento Folsom
2575 Iron Point Road, Folsom, CA 95630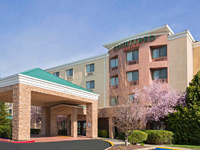 One of two Marriott hotels on the south side of the expanding Folsom/El Dorado Hills district on the east side of Sacramento, the Courtyard is a typically clean, efficient, modern and well managed property of 121 rooms and 4 suites. Services include a cafe (serving breakfast), lounge, indoor pool, hot tub and exercise room. The hotel is located along Iron Point Road, close to the Bidwell Street exit of US 50, and beside a new shopping center that also has a good selection of restaurants. Folsom Lake College is a few blocks north, with the lake and the center of Folsom a few miles further.

2.
Residence Inn Sacramento Folsom
2555 Iron Point Road, Folsom, CA 95630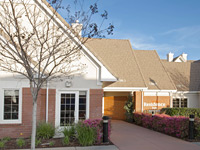 For long stays in the Folsom area, the Residence Inn by Marriott is a good choice - a new hotel alongside US 50 on the south edge of town (opposite the Courtyard), this contains 3 floors and 107 suites, all equipped with a full kitchen and separate areas for work, sleep and relaxation. Leisure amenities are an indoor pool, spa, exercise room and sports court. Free food is available both in the morning, at the hot buffet breakfast, and in the evening reception (Monday to Thursday).

3.
Staybridge Suites Sacramento - Folsom
1745 Cavitt Drive, Folsom, CA 95630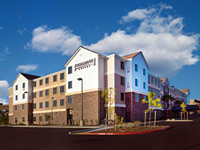 Staybridge Suites Folsom is a new hotel (open 2015) that caters more for the long stay traveler, offering high quality, all-suite lodging in a 106 room building that also contains a fitness center, business center, a 40 person meeting room, and a dining area for the daily free buffet breakfast. Complimentary receptions are staged weekday evenings. All suites have a private balcony, offering fine views over the mixed residential/commercial surroundings, and south towards the open countryside beyond US 50, which runs past a quarter of a mile away. Sites within walking distance include Kaiser Permanente Folsom Medical, a 16 screen cinema, various large stores and a good selection of restaurants.

4.
Hilton Garden Inn Folsom
221 Iron Point Road, Folsom, CA 95630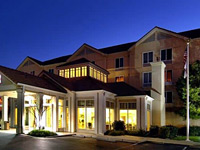 The Great American Grille restaurant at Hilton Garden Inn Folsom is open for breakfast, dinner and evening room service, while the Pavilion Pantry convenience store sells drinks & snacks 24 hours a day, including prepared meals for cooking using the in-room microwaves. The hotel also has a 24 hour business center, a fitness center, a pool/whirlpool and meeting/event space for up to 80 people. Sites within walking distance include a cinema, an outlet mall, a selection of restaurants, Willow Creek Recreation Area (a lake, trails and woodland), and Chinese Diggings Historical Site, which preserves a center of mining operations in the late 19th century.
5.
Hampton Inn & Suites-Folsom
155 Placerville Road, Folsom, CA 95630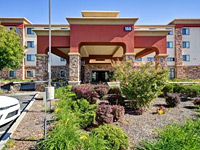 South-facing rooms at Hampton Inn Folsom enjoy expansive views across US 50 to the flat grassland beyond, though the immediate surroundings are more developed, a mix of business premises, shops and restaurants, plus Kaiser Permanente Health Center. The hotel is also within walking distance of a 16 screen cinema. The recently constructed (2010) four floor building sits beside the Bidwell Street exit of the freeway, 23 miles east of Sacramento and ten miles from the edge of the Sierra Nevada. Features include free hot breakfast, free local area shuttle, free manager's reception (Tuesday and Thursday), meeting space and an indoor pool.

6.
Fairfield Inn & Suites Sacramento Folsom
1755 Cavitt Drive, Folsom, CA 95630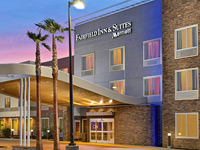 Open fall 2016, the 97 room/suite Fairfield Inn is the third Marriott hotel in Folsom, and, like the other two, is situated at the Bidwell Street exit of US 50, four miles southeast of the city center. There are numerous stores and restaurants close by, including the many outlets at Palladio Mall, though undeveloped countryside is just half a mile away, on the far side of the freeway. Guests arrive through a bright, colorful lobby and can take advantage of all the usual facilities for leisure, meetings and business. Free hot breakfast is prepared each morning.