1.
Crowne Plaza Ventura Beach
450 E Harbor Blvd, Ventura, CA 93001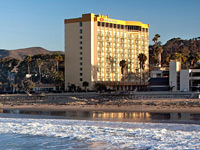 Located right on the coast overlooking Pierpont Bay and the Santa Ynez Mountains, Crowne Plaza Ventura Beach is a large and impressive building, the tallest and most luxurious hotel in town, and provides full service accommodation with many services & amenities. The 12 floors contain 240 rooms & 18 suites, plus a gift shop, health/fitness center, restaurant, beachfront bar, and 12 meeting rooms with nearly 15,000 sq ft of event space. The hotel is just off the 101 Freeway, between the Promenade & San Buenaventura Beach parks, and is just a short walk from the many shops and restaurants in town, around Main Street.
2.
Marriott Ventura Beach
2055 Harbor Boulevard, Ventura, CA 93001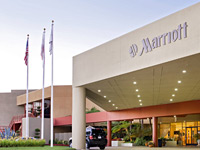 Just 1,000 feet from the Pacific Ocean and right next to San Buenaventura State Beach, the Marriott is well positioned for guests to enjoy the southern California sunshine. The full service, four story hotel has a quiet location just off US 101, and it offers 285 spacious rooms, featuring a microwave, work desk and the latest luxury Marriott bedding. At the center of the property is a sheltered tropical courtyard garden, with a good sized pool, hot tub and plenty of tall palm trees - in view from the on site restaurant/lounge (the California-style Cafe Pacifico), which is open all day for breakfast, lunch & dinner. Also available are a fitness center, laundry, business center and 16,000 square feet of event space.

3.
Amanzi Hotel, Ascend Hotel Collection
298 S Chestnut Street, Ventura, CA 93001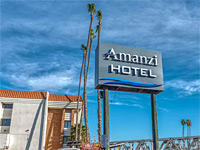 The Amanzi Hotel is located just 500 feet from San Buenaventura Beach and Ventura Pier, albeit separated by the multiple lanes of US 101 - right in the center of town, a short walk from many restaurants, bars, shops and entertainment outlets. The hotel, a well-established property that became part of Choice Hotels Ascend Collection in 2020, has an outdoor pool/hot tub at the rear, and interior facilities of a business center, laundry and meeting space. Free hot breakfast is provided. Accommodations include a selection of two-bedroom and two-bathroom suites, some of which have a fireplace.

4.
Four Points by Sheraton Ventura Harbor Resort
1050 Schooner Drive, Ventura, CA 93001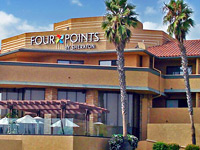 Accommodations at the pet friendly Four Points by Sheraton include a selection of one bedroom suites with large private balcony, looking out across the tree-lined gardens towards Ventura Harbor - the hotel is just 300 feet from the marina, and less than a mile from the sandy Pacific Ocean beaches at Harbor Cove, beside which is a row of restaurants. Onsite dining is available at Alexander's, a steak and seafood restaurant, open for breakfast, lunch & dinner. The hotel has a distinctive appearance, designed by the Frank Lloyd Wright Foundation, and its other facilities include an outdoor pool, patio, fitness center and meeting space.

5.
Holiday Inn Express Hotel & Suites Ventura Harbor
1080 Navigator Drive, Ventura, CA 93001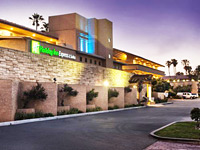 The Holiday Inn Express hotel in Ventura lies 3 miles south of the town center and 1.5 miles from Highway 101, in a countryside setting along Harbor Boulevard - farmland stretches away to the east, while west-facing rooms overlook Ventura Harbor - the hotel is just a few feet from the water's edge. Accommodation comprises 68 rooms & suites, all with a balcony or patio, a refrigerator, coffee maker and ironing facilities. The harbor area has a few shops and restaurants, there are beaches both north & south, and a golf course (Olivas Park) just down the road.

6.
Best Western Plus Inn of Ventura
708 E Thompson Blvd, Ventura, CA 93001-2916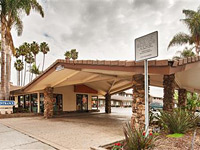 The motel-style Best Western Inn of Ventura has 75 rooms on two floors, most with views inwards over the parking area and heated outdoor pool though some look out towards the ocean and harbor. The hotel is close to the town center at 708 E Thompson Boulevard, just off US 101. The freeway and a single track railway run right past the south end of the buildings though still most rooms offer a quiet night's sleep. The beach, the pier and downtown Ventura are all within walking distance, as are many restaurants - closest (adjacent) is Vagabond Coffee Shop, a 50s diner. The hotel serves free continental breakfast.

7.
Comfort Inn Ventura
2094 East Harbor Blvd, Ventura, CA 93001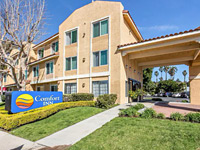 Comfort Inn Ventura is easy to reach, being right next to the Harbor Boulevard exit of US 101, on the southeastern approach to town and just 0.3 miles from the Pacific Ocean at San Buenaventura State Beach Park. The center of Ventura is about 1.5 miles away. The inn has 41 rooms, ageing but spacious and well equipped - all contain a microwave & refrigerator. Adjacent are several restaurants including Denny's, and the nearest major shopping center is Pacific View Mall, 2 miles east.

8.
Rodeway Inn Ventura
1690 E Thompson Blvd, Ventura, CA 93001
Rodeway Inn Ventura is a small, basic motel of 30 rooms, in three exterior corridor blocks; two are ground floor only, while the third, furthest from the road, has two stories. The only amenities are free wi-fi, free coffee and a microwave/refrigerator in each room. The motel sits along Thompson Blvd, one of the two main east-west routes through Ventura, in a mixed neighborhood of restaurants, small shops and private residences. The nearest beach is half a mile away, on the far side of US 101.
9.
Motel 6 Ventura Downtown
350 E Thompson Blvd, Ventura, CA 93001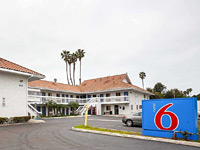 The most central Motel 6 in Ventura adjoins Highway 1 at the Oak Street exit, two blocks from the many bars, restaurants, shops and other attractions along Main Street. The beach and Ventura Promenade are 0.3 miles south. The motel is small, with 35 rooms, contained within a two floor, exterior corridor building, and its facilities are typically limited - wi-fi, free coffee, and a microwave/refrigerator in all guest rooms.
10.
Motel 6 Ventura Beach
2145 E Harbor Blvd, Ventura, CA 93001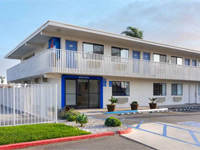 San Buenaventura State Beach is a quick 0.3 mile walk from Motel 6 Ventura, a large (200 room), low-price establishment that occupies a spacious site along Harbor Boulevard, just off Hwy 1. Most of the exterior corridor accommodation blocks are positioned a little way back from the road behind a couple of restaurants, bordering a residential area at the rear, and so they provide quiet lodging. An outdoor pool is the main facility, at the front; also available are wi-fi, guest laundry and free morning coffee. Refrigerators and microwaves are installed in select rooms.
11.
Motel 6 Ventura South
3075 Johnson Drive, Ventura, CA 93003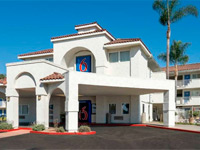 On the southeast side of Ventura, the Motel 6 has a fine, scenic location surrounded by fields, within sight of forested hills to the north, and partly overlooking the Santa Clara River, to the east; the motel is positioned beside US 101 at the Northbank Drive exit, within walking distance of shopping and dining. Rooms are contained within an attractive, three floor building which conceals a pretty outdoor pool/hot tub and courtyard garden at the rear. The only other facilities are wi-fi and coin-operated laundry.