1.
Zachari Dunes on Mandalay Beach, Curio Collection by Hilton
2101 Mandalay Beach Road, Oxnard, CA 93935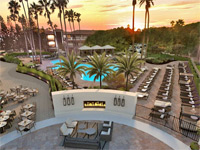 Many oceanfront hotels are separated from the beach by a road, but the palm tree-lined gardens of the Zachari Dunes resort merge directly with the golden sands of Mandalay Beach, otherwise known as Hollywood Beach. The all-suite resort adjoins a residential complex in a quiet neighborhood near Channel islands Boulevard, beside a beachfront park and one mile from Channel Islands Harbor; the center of Oxnard is 5 miles inland. The hotel grounds include sports courts, pools, lagoons, waterfalls, fountains and exotic plants, while inside, the main facilities are a restaurant, bar, fitness center and 23,000 square feet of indoor/outdoor event space.

2.
Courtyard Oxnard Ventura
600 East Esplanade Drive, Oxnard, CA 93036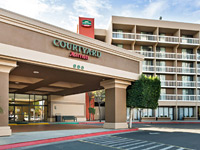 The Courtyard hotel in Oxnard is a large place, with 166 clean & spacious rooms in a 6 floor accommodation block, a conference center containing 7 meeting rooms totaling 8,000 sq ft of event space, and quite extensive gardens in the middle of which is an outdoor pool & hot tub. The hotel has a north central location in Oxnard, beside Highway 101 (the Ventura Freeway), between a residential area and a small business park. Just across the road, the Esplanade Shopping Center has many stores and restaurants, though all day dining is available at the on site Plaza Grill.

3.
Residence Inn Oxnard River Ridge
2101 West Vineyard Ave., Oxnard, CA 93036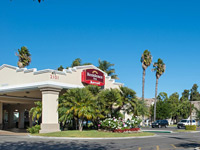 On the northwest edge of Oxnard, CA, Marriott's Residence Inn has 252 modern suites, equipped with a full kitchen and separate areas for living & sleeping. These are divided into over 30 blocks arranged around the main parking area, between which are trees, gardens and shaded walkways - the hotel occupies quite a large site in a quiet, safe residential area, right on the edge of the River Ridge Golf Club near the Santa Clara River; many of the rooms have views out over the fairways. For relaxation there are 5 tennis courts, 2 outdoor pools, 2 hot tubs, and one fitness center. Free buffet breakfast is served each morning, and a free reception in the evenings. The semi-rural location means there are no nearby restaurants - the closest places are 1.5 miles east around the Esplanade Shopping Center, next to US 101.

4.
Homewood Suites by Hilton Oxnard
1950 Solar Drive, Oxnard, CA 93036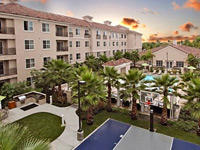 The Homewood Suites has an easterly location on Oxnard right by US 101, next to a Hilton sister property (the Garden Inn) and one mile from a large shopping complex, on the far side of the freeway. The all-suite/extended stay property features accommodations in studio, one bedroom or two bedroom configurations, all of which include a full kitchen; some have a fireplace and hot tub bath. Complimentary amenities are wi-fi, hot breakfast and evening receptions (Mon-Thu). Half the rooms (those on the north side) enjoy views over the tropical garden area, which has a pool, sports court, patio, grill and cabana.

5.
Hilton Garden Inn Oxnard/Camarillo
2000 Solar Drive, Oxnard, CA 93030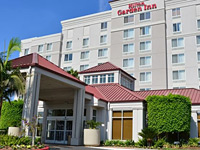 Right on the east side of Oxnard and 4 miles west of Camarillo, the Hilton Garden Inn has a prominent setting by US 101 at the Rice Avenue intersection, overlooking open fields to the east, at the edge of a business district that includes St John's Regional Medical Center. The nearest beach (Santa Clara Estuary) is 6.5 miles due west. Highlights of the large, modern and well managed hotel are a restaurant/lounge (open for breakfast, dinner, evening drinks & room service), a convenience store - selling, amongst other items, light meals which are cookable using the microwaves in each guest room, a 24 hour business center and function space catering for events of up to 250 people. Leisure facilities are a pool and fitness center.
6.
Hampton Inn Channel Islands Harbor
3231 Peninsula Road, Oxnard, CA 93035
Hampton Inn Channel Islands Harbor is regarded by many as the top hotel in Oxnard - guests appreciate the beautiful harborside location, the friendly staff, the above average free breakfast and the reasonable rates. The 95 room hotel has a quiet setting near the south end of Peninsula Road, next to a small park and right by the edge of Oxnard marina, though still within walking distance (0.7 miles) of shopping and dining at Mandalay Village Marketplace. Amenities at the Hampton Inn include a fitness room, tennis court, children's playground, outdoor pool, business center and meeting space.

7.
Best Western Oxnard Inn
1156 S Oxnard Blvd, Oxnard, CA 93030-7418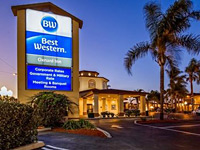 Close to the center of the sprawling town of Oxnard, the AAA 3-diamond rated Best Western Oxnard Inn is itself quite an extensive place, its 106 rooms (on 2 floors) arranged around all 4 sides of a lengthy parking area that also contains a nice outdoor pool ringed by palm trees. More trees line the frontage, along S Oxnard Boulevard (Highway 1), just east of the junction with Route 34, part of a corridor of restaurants, shops and other hotels. Lunch and dinner is available at the hotel's restaurant/bar (Henry's Cafe); other amenities are free continental breakfast, a hot tub, fitness center and guest laundry.