1.
Residence Inn Camarillo
2912 Petit Street, Camarillo, CA 93012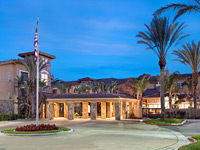 Upscale, long stay accommodation is provided in Camarillo by the Residence Inn, an all-suite property with a good location near the US 101 - Hwy 34 (Lewis Road) intersection, set back a little from the main roads in a quiet, residential district. The hotel has studio, one bed and two bed suites, all containing a full kitchen, part of a modern, three story building centered on a secluded courtyard garden. Free hot breakfast is served daily, while drinks & snacks are available at the complimentary evening weekday receptions. Camarillo Premium Outlets Mall is 2 miles west, and many locations within downtown Camarillo are within walking distance, on the far side of the freeway.
2.
Hampton Inn & Suites Camarillo
50 W Daily Drive, Camarillo, CA 93010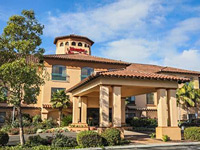 A line of palm trees and bushes help shield Hampton Inn Camarillo from the US 101 entrance ramp which runs past to the south, and the hotel has a peaceful ambience, especially to the rear, where rooms have views across the outdoor pool and gardens towards open farmland. The hotel sits beside the Las Posas Road exit of the freeway, opposite Camarillo Town Center and the Premium Outlets Mall. Free hot breakfast is prepared each morning and there are three restaurants adjacent, plus many more close by. The 115 spacious guest rooms include a selection of studio suites with sofa bed and extra living space. A 700 sq ft meeting room caters for events of up to 150 people.

3.
Holiday Inn Express Camarillo
1405 Del Norte Road, Camarillo, CA 93010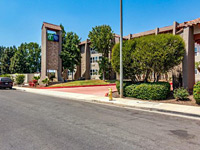 Holiday Inn Express Camarillo is the westernmost hotel in town, bordering open farmland to one side, a small residential estate to the rear and US 101 to the south; there are several restaurants just down the street though most facilities in town are between 2 and 5 miles east, including two malls (Camarillo Town Center and Camarillo Premium Outlets). The hotel provides free, hot breakfast each morning, plus other amenities of an outdoor pool/whirlpool, business center and meeting space. A selection of suites are available besides the regular accommodations. The property opened early in 2018.

4.
Best Western Camarillo Inn
295 E Daily Drive, Camarillo, CA 93010-5813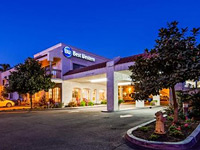 Half way between Santa Barbara and Los Angeles, the Best Western Camarillo Inn is one of quite a few hotels along Highway 101 (the Ventura Freeway) on the west side of town - located near the Las Posas Rd exit, the inn is within a mile of many large stores including those of the Camarillo Premium Outlets Mall, and is adjacent to two restaurants. Rooms have all the necessary qualities, being large, clean, modern and comfortable, equipped with microwave & refrigerator, ironing & coffee making facilities. Leisure amenities comprise an outdoor pool and a spa.

5.
Fairfield Inn & Suites Camarillo
4444 Central Avenue, Camarillo, CA 93010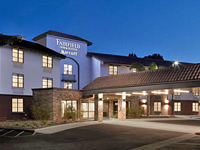 The Fairfield Inn (open spring 2020) is part of a small residential complex that includes several restaurants, next to the Central Avenue exit of Highway 101 and 3 miles west of the center of Camarillo - surrounded by farmland but close to the municipal airport and three golf/country clubs (Las Posas, Sterling Hills and Spanish Hills). Oxnard, El Rio and Ventura are within a few miles. A health/fitness center, outdoor heated pool and a whirlpool are provided for recreation, while other amenities are free hot breakfast, guest laundry and a business center.

6.
Quality Inn Camarillo
984 W Ventura Blvd, Camarillo, CA 93010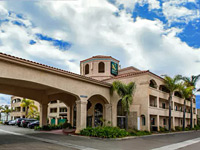 Camarillo's Quality Inn hotel is located 3 miles west of the town center along US 101, near the village of Springerville in a generally rural area between the local airport and the Spanish Hills Country Club. This is a smallish, 2 floor motel of 70 rooms & suites and an outdoor pool, good for one night stays for those traveling north or south along the highway. The nearest restaurant is a Mexican grill, 0.8 miles west at the highway exit (Central Avenue). Other facilities include free continental breakfast, a hot tub, a business center and meeting space.

7.
Days Inn by Wyndham Camarillo - Ventura
165 Daily Drive, Camarillo, CA 93010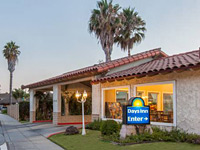 The Days Inn is one mile from the center of Camarillo, 7 miles from Oxnard and 13 miles from Ventura, located at the Las Posas Road exit of US 101. Nearby are a typical collection of shops, restaurants and gas stations, with several larger stores within walking distance on the far side of the freeway at Camarillo Town Center. Guest rooms face north or south, looking across the central parking lot. The motel has a pleasant outdoor pool at one side, lined by a few tall palms. A fitness center is also available. The usual two complimentary amenities of wi-fi and breakfast (continental) are provided.
8.
Motel 6 Camarillo
1641 E Daily Drive, Camarillo, CA 93010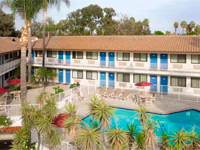 The front of Motel 6 Camarillo has the typical appearance for this chain; two floor, exterior corridor accommodation blocks, here overlooking a small outdoor pool, but the rear is more unusual as the property borders a small (privately-owned) lake; facilities include a picnic table right on the water's edge. The motel also offers vending machines, free morning coffee and wi-fi. Amongst the dozen nearby restaurants is Denny's, right next door.