1.
Hotel Virginia Santa Barbara, Tapestry Collection by Hilton
17 W Haley Street, Santa Barbara, CA 93101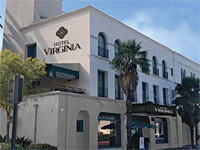 Hotel Virginia Santa Barbara is situated along Haley Street, an easy walk from the shops, restaurants & galleries of the town center, including Paseo Nuevo 2 blocks to the north, and a slightly longer walk (half a mile) to West Beach and the marina. The hotel has 61 rooms on three floors, in a historic building dating from 1917 though regularly updated. Top floor rooms have extensive views over the city, the ocean and the mountains to the north. The city center location and age of the building mean that amenities are somewhat limited - no pool or fitness center, for instance - but the hotel more than makes up for that with its elegant decor, comfortable rooms and good service. Free continental breakfast is served.

2.
Hilton Santa Barbara Beachfront Resort
633 East Cabrillo Boulevard, Santa Barbara, CA 93103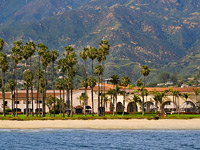 The Hilton Resort has one of the finest settings of any hotel in Santa Barbara, occupying 1,500 feet of the oceanfront close to the town center, separated from the beach only by the four lanes of Cabrillo Boulevard. The oversized guest rooms at the Mission-style property are divided amongst several blocks separated by landscaped gardens and walkways; many have ocean views, and a private patio or balcony. Sports facilities comprise an Olympic-size outdoor pool, three tennis courts, a fitness center and spa. There are three restaurants on-site, plus an oceanview bar. 40,000 sq ft of flexible outdoor/indoor space accommodates meetings and events of all sizes.

3.
Courtyard Santa Barbara Downtown
1601 State Street, Santa Barbara, CA 93101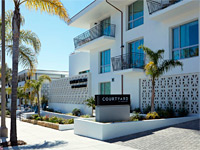 The Courtyard is a 122 room Marriott hotel, centrally located in downtown Santa Barbara along State Street, and newly constructed in 2022; four blocks from US 101, close to numerous bars, pubs, restaurants and shops. Features include a swimming pool, spa, fitness center, meeting space, rooftop sundeck, a large lobby and a restaurant, offering Mediterranean-style cuisine, open for breakfast, lunch, dinner & evening drinks. The hotel has three floors and is liberally adorned with palm trees and other tropical plants.

4.
The Waterman Santa Barbara
12 E Montecito Street, Santa Barbara, CA 93101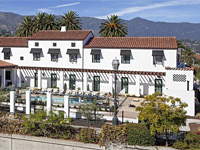 The Waterman is a member of Marriott's Moxy hotel chain, a collection of individual, boutique properties, and it has a beautiful, Spanish-style design with red tile roofs and white-washed walls, lined by palm trees. Many of the guest rooms (between 135 and 175 square feet in size) have views across the outdoor pool and gardens. The hotel is part of the fashionable Funk Zone neighborhood, within walking distance of West Beach and Santa Barbara Pier. US 101 runs past to the rear, providing easy travel to other area attractions. Other facilities are a communal kitchen, meeting space, library and lounge.

5.
Ramada by Wyndham Santa Barbara
4770 Calle Real, Santa Barbara, CA 93110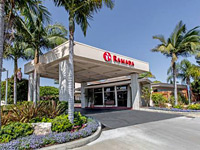 Highlight of Ramada Santa Barbara is the mature tropical garden, which contains a freshwater pond, swimming pool, whirlpool and a great variety of plants. Half the rooms have garden views, while the remainder look north or east across a mostly residential district on the west side of the city, close to neighboring Goleta. Free deluxe continental breakfast is provided; for other meals there is one restaurant opposite (IHOP) and others a little way south along Hollister Avenue. Guests here to work can take advantage of meeting space and a business center.

6.
Best Western Plus Encina Inn & Suites
2220 Bath Street, Santa Barbara, CA 93105-4322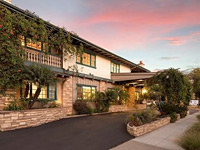 The 121 room Best Western Encina Inn has a north central location in Santa Barbara along Bath Street, in a mixed business/residential neighborhood somewhat removed from the main lodging areas in town, but just half a mile off US 101. Places within a few blocks include Santa Barbara Cottage Hospital, the Museum of Natural History, and Queen of the Missions. The full service hotel has its own steak house restaurant/bar (A Capella), open for breakfast, lunch & dinner, and with meals available al fresco on the patio. For relaxation, guests can choose from an outdoor pool, whirlpool, beauty shop and massage. A free shuttle to Santa Barbara airport is available from 7 am to 10 pm.

7.
Best Western Plus Pepper Tree Inn
3850 State Street, Santa Barbara, CA 93105-3112
One of three Best Western hotels in Santa Barbara, the Pepper Tree Inn is a very well reviewed establishment towards the north side of town along State Street, just 0.3 miles from Highway 101. It is right opposite the shops/restaurants of La Cumbre Plaza and within a few blocks of two golf courses (Santa Barbara Golf Club & La Cumbre Country Club), though rather further (4 miles) from the beaches and downtown. Accommodation totals 150 rooms in two blocks, both enclosing an area of gardens with a heated pool, and the whole site is attractively decorated with flowers, palm trees and other tropical plants. The long list of amenities also includes a restaurant, cocktail lounge, 2 hot tubs, an exercise room, sauna, guest laundry, beauty shop, gift shop and free airport shuttle.

8.
Quality Inn Santa Barbara
3055 De La Vina Street, Santa Barbara, CA 93105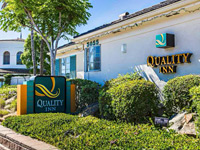 Towards the cheaper end of the market, Quality Inn Santa Barbara is a small, 2 story motel on the corner of State and De La Vina streets at the north side of town, with a relatively quiet location bordering the tree-lined lawns of Mackenzie Park. The inn offers the two main services of outdoor pool & free continental breakfast, and is close enough to a few restaurants though most of the surroundings are residential. All rooms are equipped with a refrigerator and some have a microwave.
9.
Motel 6 Santa Barbara - Beach
443 Corona Del Mar, Santa Barbara, CA 93103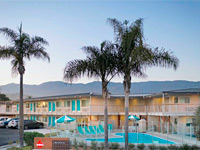 The very first Motel 6 property began operations in 1962 and is still open for business today. Motel 6 Santa Barbara enjoys a quiet setting in a residential neighborhood 400 feet from the nearest beach, also close to a few restaurants and two city parks. Guest rooms are housed in two exterior corridor blocks, with an outdoor pool at the front and the parking lot all around. All have been regularly refurbished, and are decorated in bright colors, equipped with modern fixtures & fittings. Wi-fi is available, and some rooms feature a refrigerator and microwave.
10.
Motel 6 Santa Barbara - State Street
3505 State Street, Santa Barbara, CA 93105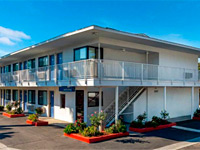 The Motel 6 in west Santa Barbara has a small frontage along the access road (State Street), though extends quite far back, so most rooms are away from the highway, allowing for a quiet night's sleep. Like most properties of this low-price chain the accommodation block is relatively old, with two floors and exterior corridors, though all rooms are modern in appearance, decorated in white and orange. Amenities are an outdoor pool, wi-fi, free coffee, and a microwave/refrigerator in select rooms. At least ten restaurants are within one block.