1.
Courtyard San Luis Obispo
1605 Calle Joaquin, San Luis Obispo, CA 93405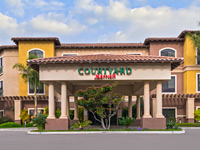 Generally considered the best hotel in San Luis Obispo, CA, the Courtyard by Marriott opened in the summer of 2007 and has gained a reputation for style, comfort, service, and reasonable prices. It enjoys a quiet, countryside location 3 miles south of the town center along a side street (Calle Joaquin) close to US 101, and most of the 139 rooms & suites have wide ranging views over the Irish Hills which separate San Luis Obispo from the Pacific Ocean, just 9 miles south. The Spanish-style hotel also offers a restaurant/bar (Courtyard Cafe) serving breakfast & dinner, a convention center, outdoor pool, gardens, whirlpool and hot tub.

2.
Embassy Suites San Luis Obispo
333 Madonna Road, San Luis Obispo, CA 93405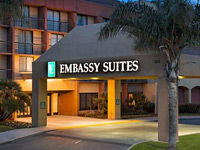 The full service Embassy Suites San Luis Obispo adjoins the main shopping area in town (Madonna Plaza), and is opposite a drive in movie theater, but otherwise the surroundings are peaceful and rural - the hotel sits beside US 101, 2 miles south of the city center and 10 miles from the Pacific Ocean at Avila Beach. Central attraction of the hotel is the beautiful atrium lobby, setting for the free hot breakfast and free evening receptions; also available are an indoor pool, fitness center, business center, conference center, and all day dining at the California-style Greenhouse Grill & Cafe. This is an all suite hotel; rooms have a separate living area, executive desk and kitchenette with microwave, refrigerator & coffee maker.
3.
Hampton Inn & Suites San Luis Obispo
1530 Calle Joaquin, San Luis Obispo, CA 93405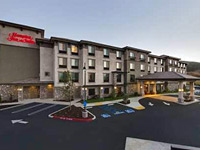 Hilton Hotels are represented in San Luis Obispo by the 84 room/suite Hampton Inn, three miles south of the city center alongside US 101 at the junction with Los Osos Valley Road, which provides a quieter alternative to the highway for visiting the coastal parks of
Morro Bay
and
Montana de Oro
. The hotel is quite new, open 2012, and it has a pleasant, semi-rural location, bordered by grassy hills to the west and within sight of higher peaks in most directions. Good quality free hot breakfast is provided and there are several restaurants (and shops) a short walk northwards. An indoor pool, hot tub, fitness center, business center and 990 sq ft meeting room are the other amenities.

4.
Best Western Plus Royal Oak Motor Hotel
214 Madonna Road, San Luis Obispo, CA 93405-5409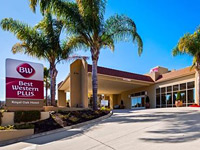 On the southwest approach to San Luis Obispo, the Best Western Royal Oak Motor Hotel has a fine location with the Madonna Plaza Mall on one side and the hills of Laguna Lake Park on the other. The mall has a selection of restaurants and there is one within the hotel (IHOP); other on-site amenities are an outdoor heated pool, spa, guest laundry, plus free continental breakfast. The inn is a 99 room, 2 floor building with most rooms having long distance views over the hills that surround the town. The center of San Luis Obispo lies 2.4 north, along US 101, while the nearest beach is an easy 7 mile drive to the south.

5.
Quality Suites San Luis Obispo
1631 Monterey Street, San Luis Obispo, CA 93401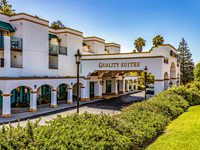 Directly opposite a Choice Hotels sister property (the Comfort Inn), the Quality Suites along Monterey Street offers 138 oversized guest rooms in an extensive 2 floor, all-white building that is surrounded by a line of mature trees and encloses two shady courtyard gardens, one with outdoor heated pool & hot tub. Rooms at the rear back on to the wooded San Luis Obispo Creek, and all the place is quiet, clean, comfortable and friendly. The above average range of facilities includes free evening reception, free hot breakfast, a gift shop, fitness center and complimentary transportation to/from the airport (4 miles south along Route 227).
6.
Motel 6 San Luis Obispo North
1433 Calle Joaquin, San Luis Obispo, CA 93401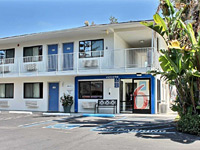 The one main amenity of Motel 6 San Luis Obispo North is an outdoor pool, set beneath a few palm trees though located right at the front of the property beside the access road, and overlooked by US 101 just beyond. The exterior corridor accommodation block is more secluded, enclosed by larger trees, and surrounded by a good-sized parking lot. The only other facilities are wi-fi and free morning coffee. There are four restaurants in the vicinity and several large stores within half a mile, including Home Depot, Target and Costco.
7.
Motel 6 San Luis Obispo South
1625 Calle Joaquin, San Luis Obispo, CA 93401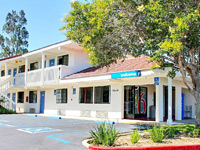 The Motel 6 provides the southernmost lodging in San Luis Obispo, and it has a pleasant, quiet location at the edge of the countryside, within walking distance of trails and woodland in Irish Hills Natural Reserve to the west. US 101 runs past in the other direction, shielded by a 200 foot-wide belt of trees. The pet friendly property is centered on a courtyard garden with outdoor pool, overlooked by some of the guest rooms; others have views over the parking area to the lightly developed neighborhood. Accommodations have modern furnishings and are brightly decorated. One restaurant is adjacent; others are close by to the north.