1.
Vespera on Ocean, Autograph Collection
147 Stimson Avenue, Pismo Beach, CA 93449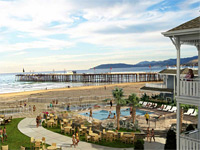 Vespera on Ocean was newly constructed summer 2019, and it has a beautiful location right beside the beach, at the end of a quiet side road (Stimson Avenue), two blocks from Cabrillo Highway. Guests are within a few minute's walk of Pismo Beach pier, the dunes at the mouth of the Pismo River, and from numerous bars, shops, restaurants and other attractions in the city center. The upscale, boutique hotel features individually decorated rooms complete with kitchenette, a restaurant/lounge (Somerset Grill), a fitness center and an outdoor pool, with decking extending to the beach.

2.
Inn at the Pier Pismo Beach, Curio Collection by Hilton
601 Cypress Street, Pismo Beach, CA 93449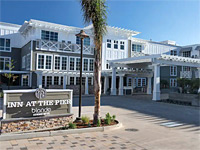 As its name suggests, Inn at the Pier is the closest hotel to the famous Pismo Beach Pier; a full service property overlooking the parking lot at the pier entrance, 300 feet from the edge of the beach, and also just a short walk from many restaurants, bars and small shops. The inn becomes part of Hilton's Curio Collection early in 2023, a group of upscale, independent hotels with full service amenities. Most guest rooms have ocean views, as does the meeting space and the onsite rooftop restaurant. The hotel also has a fitness center and an outdoor pool.

3.
Hilton Garden Inn San Luis Obispo/Pismo Beach
601 James Way, Pismo Beach, CA 93449
Hilton Garden Inn Pismo Beach sits on a hillside just north of US 101, at the edge of a residential area, 1.5 miles from the city center and the Pacific coast - close enough for some of the rooms to have a sea view. An outlet mall and shopping center are just the far side of the highway, and there are more large stores a little way east, including Wal-Mart. Rooms are large and modern, equipped with work desk, refrigerator and microwave; cookable meals may be purchased from the 24 hour Pavilion pantry convenience store. The on-site Great American Grill restaurant is open for breakfast, dinner and evening room service. The hotel also has the expected facilities for leisure, business and meetings.

4.
Quality Inn Pismo Beach
230 Five Cities Drive, Pismo Beach, CA 93449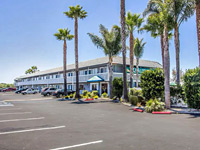 Formerly the Rose Garden Inn, the Quality Inn provides simple, cheap accommodation on the south side of Pismo Beach, right next to the Prime Outlets Mall, a block from US 101 and close to the larger town of Grover Beach. Facilities are more basic than the more luxurious resorts by the ocean, though the coast is just one mile away. The inn has an outdoor heated pool - adjacent to a small tropical garden containing waterfalls - and serves free continental breakfast. All 100 guest rooms contain a microwave and refrigerator.
5.
Motel 6 Pismo Beach - Pacific Ocean
250 Main Street, Pismo Beach, CA 93449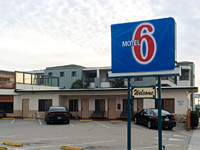 Motel 6 Pismo Beach is just 240 feet from the edge of the sands, and 900 feet from Pismo Beach Pier; some of the guest rooms have ocean views, and this is a pleasant, peaceful place to stay. There are no facilities apart from free coffee and free wi-fi; the location is the main attraction, within a few blocks of numerous restaurants, bars and shops. Hwy 1 runs past just to the east, with US 101 a short distance further. Some rooms are studio suites, with a microwave, refrigerator and extra living space.
6.
Motel 6 Pismo Beach
860 4th Street, Pismo Beach, CA 93449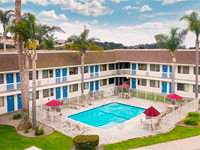 Although located along the busy US 101 corridor, Motel 6 Pismo Beach enjoys a quiet location, 400 feet from the highway and sheltered from it behind a gas station and a Denny's restaurant. The rear of the motel backs onto woodland, part of Pismo Lake Ecological Reserve, and several trails start close by. Guest rooms are on two floors, contained within a two floor, exterior corridor building of several intersecting blocks, with an outdoor pool on the north side and ample parking space all around the perimeter. Wi-fi is available (not free), as are free coffee and a coin-operated laundry facility.