1.
Radisson Hotel Santa Maria
3455 Skyway Drive, Santa Maria, CA 93455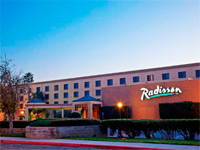 Unlike most Santa Maria hotels, the Radisson is situated on the south side of town, next to to the local airport, also close to Waller Park and Santa Maria Country Club, 1.7 miles west of US 101. The rooms & suites all feature luxurious bedding and adjustable beds, and are equipped with a microwave, coffee maker & iron. There are two restaurants on the premises: Atrium Bistro which serves breakfast, and Vintner's Grill, open for lunch, dinner & room service. Meetings facilities are comprehensive, with 8 rooms totaling 10,000 sq ft of space, largest single event capacity 350 people.

2.
Holiday Inn Hotel & Suites Santa Maria
2100 N Broadway, Santa Maria, CA 93454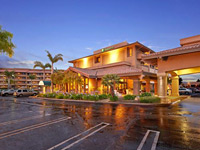 Santa Maria's Holiday Inn is the largest hotel in town, and one of the main places to stay when visiting the central coast of California. The all-suite inn has spacious grounds and an easily-reached location, on the north edge of town next to exit 173 of US 101 (N Broadway), 2 miles from the town center. Some of the 207 rooms (on 4 floors) have fine views over the highway and the Santa Maria River to the wooded slopes of the Sierra Madre Mountains, though the immediate neighborhood does not have much of interest. Full service amenities at the hotel include a restaurant/bar/grill (Portabella), a large outdoor pool, fitness center, newsstand, free evening reception (Mon-Wed) and guest laundry.
3.
Hampton Inn & Suites Santa Maria
2190 Preisker Lane, Santa Maria, CA 93458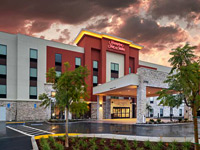 Open late 2019, the Hampton Inn is the first Hilton hotel in Santa Maria, offering spacious, well-appointed guest rooms and a range of facilities including free hot breakfast (takeout version available), a convenience store, an indoor pool, fitness/business centers and function space. All accommodations are equipped with microwave/refrigerator, while the studio suites additionally have a sofa bed and extra living space. The hotel is situated near the north edge of Santa Maria at the Broadway exit of US 101, within walking distance of several restaurants and also of Preisker Park, which has a pond, picnic places and playground.

4.
Candlewood Suites Santa Maria
2079 N Roemer Court, Santa Maria, CA 93458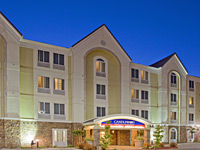 The Candlewood Suites hotel provides high quality, extended stay accommodation to Santa Maria, offering 72 well equipped suites featuring a full kitchen, work desk, sofa bed and pillow top mattresses. Other amenities for the long stay traveler are free laundry, free internet access, a convenience store, fitness center and daily housekeeping. Bbq grills in the garden provide an alternative to in-room cooking, and there are many restaurants nearby, along the main route through town (Broadway Street). The hotel has a quiet location on a side street on the north side of Santa Maria, half a mile from US 101.

5.
Best Western Plus Big America
1725 N Broadway, Santa Maria, CA 93454-1927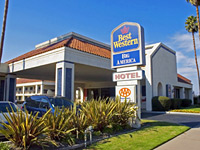 Best Western Big America has a peaceful setting on the edge of a residential district towards the north side of Santa Maria, along the main road through the town center, N Broadway (CA 135). The inn is a clean-looking, motel-style building of 106 rooms on 2 floors, enclosing a large parking area, with an outdoor pool on one side. The staff are friendly & efficient, and the hotel receives many good reviews for its cleanliness, spaciousness and the quality of the free continental breakfast. Lunch & dinner are also available on-site, at the Francisco's Country Kitchen Restaurant.

6.
Fairfield Inn & Suites Santa Maria
2061 North Roemer Court, Santa Maria, CA 93458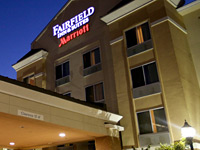 Open summer 2009, the new Fairfield Inn by Marriott hotel in Santa Maria caters for guests in 88 rooms & studio suites, all bright and modern, and looking out over a generally quiet, mixed business/commercial area on the north side of town. The hotel is half a mile from US 101, and 17 miles from the Pacific Ocean at Pismo Beach. Free continental breakfast, free internet access, an exercise room, pool and copy/fax service are the main amenities. Rooms are decorated in bright, bold colors, and feature extra comfortable bedding, an executive desk and large TV.

7.
Days Inn by Wyndham Santa Maria
839 East Main Street, Santa Maria, CA 93454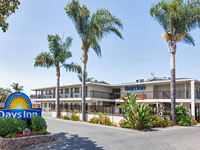 The Days Inn is the closest motel to Santa Maria city center, situated along Main Street, two blocks from the US 101 junction. The exterior corridor, two floor property adjoins a supermarket (Vons) and is close to half a dozen restaurants. At the front is a small but pretty pool, shaded by three tall palm trees, while inside, amenities are limited to free continental breakfast, free wi-fi and a guest-use computer. Santa Maria Town Center Mall is half a mile west.

8.
Travelodge by Wyndham Santa Maria
1514 South Broadway, Santa Maria, CA 93454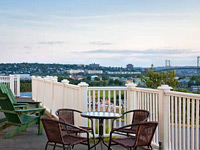 Travelodge Santa Maria lies within the main shopping area in town, a mile south of the center along Hwy 135 (Broadway), also near many restaurants. The two floor building has parking all around the outside and is centered on a good-sized garden, with pool, hot tub, sundeck, bbq area and sports court. All the guest rooms are equipped with a microwave & refrigerator; half enjoy garden views, while the remainder look out over the busy commercial neighborhood. Free continental breakfast is available.
9.
Motel 6 Santa Maria
2040 N Preisker Lane, Santa Maria, CA 93454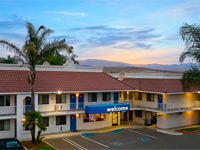 Right at the north edge of Santa Maria, the low-priced Motel 6 caters for guests in 126 rooms, contained within three exterior corridor blocks enclosed on all sides by the spacious parking lot. At the rear is a palm-lined outdoor swimming pool, shielded by other trees from the US 101 entrance ramp just beyond - the motel sits beside the Broadway (Hwy 135) exit of the freeway, close to several attractions including Preisker Park, North Broadway Plaza Shopping Center and Boomers Santa Maria, a family fun center. Wi-fi, coin-operated laundry and free coffee are the main amenities.
10.
Motel 6 Santa Maria - South
1007 East Main Street, Santa Maria, CA 93454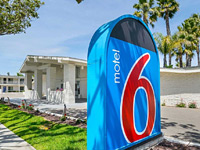 Motel 6 Santa Maria is centered on an enclosed courtyard garden containing an outdoor pool, overlooked by some of the guest rooms; others are in two separate blocks either side of the surrounding parking lot. All accommodations are accessed by exterior corridors, and all feature free wi-fi, a microwave and a refrigerator. The above average leisure facilities also include a tennis court and a basketball court. The pet friendly motel has a central location in town along Main Street, just west of the US 101 intersection, adjacent to three restaurants.