1.
Marriott Oakland City Center
1001 Broadway, Oakland, CA 94607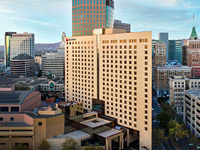 The larger of two nearby Marriott hotels in downtown Oakland (Courtyard being the other) occupies a towering, 21 story building of 484 rooms, most having long distance views over San Francisco Bay, the city center and the inland hills. The hotel takes up half a block on Broadway, half a mile from the I-880/I-980 intersection and 8 miles from Oakland Airport. Travel to other places around the Bay is made easy by the BART system - the nearest stop (12th Street) is just across the road. The many facilities for business and leisure travelers at the Marriott include an American-style restaurant, atrium lobby bar, large outdoor pool, modern fitness center and 89,000 sq ft of meeting/event space.

2.
AC Hotel Oakland Downtown
1431 Jefferson Street, Oakland, CA 94612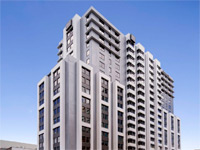 AC Hotel Oakland, a dual-brand Marriott property (sharing a building with the Residence Inn), opened spring 2023, along Jefferson Street in the city center, two blocks from I-980. There are 133 guest rooms available, on 10 floors, plus meeting space and onsite restaurant/bar, the Spanish-style AC Lounge; many other restaurants are within walking distance, plus shops, museums and several city parks. The hotel has a fitness center, though no pool. Guest rooms have fine views in all directions, across the city, west over the Bay and east towards the mountains.

3.
Courtyard Oakland Downtown
988 Broadway, Oakland, CA 94607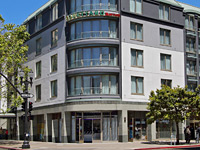 Right in the center of Oakland on the corner of 9th and Broadway, the Courtyard Oakland Downtown is an easy walk away from such places as City Hall, LaFayette Square, Chinatown and the Oakland Convention Center. More distant locations in the San Francisco area are reachable via the BART network, for which the nearest stop is 2 blocks north. The five story hotel features 162 comfortable rooms & suites, a cafe serving breakfast (free with some room packages), meeting space, a fitness center, hot tub and heated outdoor pool. Accommodations include studio suites with living area and a sofa bed.

4.
Residence Inn Oakland Downtown
1431 Jefferson Street, Oakland, CA 94612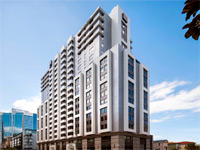 New for spring 2023, the all-suite/extended stay Residence Inn rises 12 storys above downtown Oakland, located along Jefferson Street, near several state offices, and just a few blocks from I-880 and I-980. The hotel shares a building with another Marriott property, the AC Hotel; joint amenities include a fitness center, convenience store and meeting space. Guest rooms at the Residence Inn are available in studio and one bedroom configurations, all with a fully equipped kitchen. Hot breakfast is complimentary. Tapas, snacks, drinks are served at the AC Lounge.

5.
Homewood Suites by Hilton Oakland Waterfront
1103 Embarcadero, Oakland, CA 94606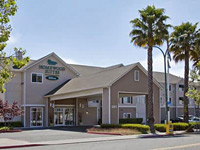 One of a small number of Oakland hotels right on the waterfront, the Homewood Suites provides high quality, extended stay lodging - all accommodations are suites, in two bedroom, one bedroom or studio configurations, and all contain a sofa bed and a full kitchen. Half overlook a marina, the bay and Coast Guard Island, while the others have views northwards over busy highway I-880. Daily hot breakfast is complimentary, and so are the receptions held in the evenings, Monday to Thursday; for more dining choices there is one small restaurant adjacent and others a mile away towards Oakland city center. The nearest BART station (Lake Merritt) is 1.3 miles north. The hotel has an outdoor pool at the rear, also within sight of the water.

6.
Washington Inn, Ascend Hotel Collection
495 10th Street, Oakland, CA 94607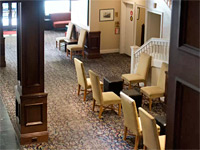 Occupying a historic, four story building, the Washington Inn is a mid-range hotel of 47 guest rooms, along 10th Street just off Broadway. Jack London Square and the waterfront is half a mile away, Oakland Convention Center is just across the street, while the nearest BART station (Lake Merritt) is 0.6 miles southeast. Highlight is the onsite restaurant/bar, while other amenities are meeting space and a business center. Free deluxe continental breakfast is provided.
7.
Hampton Inn Oakland Downtown-City Center
378 11th Street, Oakland, CA 94607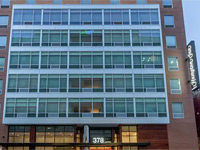 Hampton Inn Oakland has a fine downtown location along 11th Street, one block from the Bart Station, and a short drive from I-880 and I-980. There are many restaurants, bars, businesses and other attractions within easy walking distance. The 121 room hotel opened fall 2019, offering amenities of a fitness center, 24 hour business center, meeting space, sundry shop and guest laundry. Accommodations include a selection of suites with sofa bed.

8.
Moxy Oakland Downtown
2225 Telegraph Avenue, Oakland, CA 94612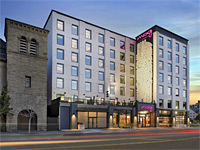 Open early 2021, the Moxy is a modern, boutique, lifestyle hotel of 173 guest rooms, occupying a small site at the corner of Telegraph Avenue and Grand Avenue in the Uptown district of downtown Oakland, a few blocks from Fox Oakland Theater, Paramount Theater, Lake Merritt, and numerous shops, bars & restaurants. Entrance is through a spacious lobby, used to stage regular cultural and entertainment events, and all public areas are decorated with locally-sourced artwork. The hotel has its own bar and restaurant, offering food and drinks 24 hours a day.

9.
Ramada by Wyndham Oakland Downtown City Center
371 13th Street, Oakland, CA 94612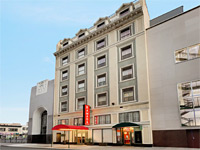 The Ramada hotel in downtown Oakland is contained within a compact six floor building - old but regularly renovated - along 13th Street, just one block from the many shops, restaurants & entertainment venues on Broadway. The nearest BART station (12th Street) is also just round the corner. Guests can choose from 64 bright, modern rooms, a with hot tub and/or kitchenette, and have use of a fair range of amenities including an on-site restaurant, business center, fitness center, meeting space and free wi-fi. Free hot breakfast is provided.

10.
Best Western Plus Bayside Hotel
1717 Embarcadero, Oakland, CA 94606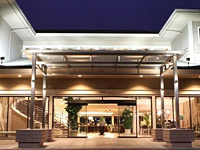 Many of the rooms at Best Western Plus Bayside Hotel have views across Brooklyn Basin, towards Coast Guard Island and Embarcadero Cove Marina - the hotel backs on to the waterfront, with only gardens and a path between it and the estuary. Free full breakfast, free wi-fi, a hot tub, fitness center and meeting space are the main amenities. The hotel is separated from Oakland city center by I-880 and a railway line, but travel to area attractions is facilitated by the complimentary shuttle, operated between 6 am and 10 pm.
11.
Motel 6 Oakland - Embarcadero
1801 Embarcadero, Oakland, CA 94606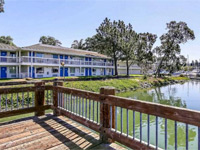 Guests at Motel 6 Oakland appreciate the low rates and the particularly scenic setting right on the edge of San Francisco Bay, overlooking a marina to the south. The exterior corridor property is set back 250 feet from the access street - the western I-880 frontage road, and shielded by a line of trees, so all rooms are nice and quiet. Accommodations are in several blocks, also surrounded by trees, and the complex includes a wooden pier and a trail along the shoreline. Wi-fi, microwaves and refrigerators are available, for a small charge. The motel provides free morning coffee and a guest laundry facility.

Oakland Hotels: Central | Airport


Oakland Airport Hotels

12.
Hilton Oakland Airport
One Hegenberger Road, Oakland, CA 94621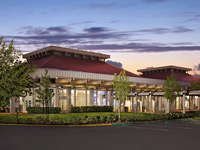 The Hilton is, along with two adjacent properties, the closest hotel to Oakland Airport, just one mile away beside the junction of Airport Drive with Hwy 61. It is also one of the largest East Bay hotels, offering 363 rooms and suites, in several separate blocks surrounded by 12 acres of landscaped grounds including driveways, paths, gardens, parking areas and a large outdoor pool. There are two food and beverage outlets on the premises: the aviation-themed Amelia's Cafe, serving breakfast, lunch & dinner, and the Sports Edition Bar, open for dinner and evening drinks. In-room dining is available until 11 pm. 16,000 square feet of function space caters for events of up to 250 people.

13.
Radisson Hotel Oakland Airport
8400 Edes Avenue, Oakland, CA 94621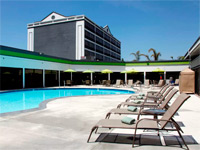 The Radisson is a large (280 room/suite), full service hotel with a prominent position at the intersection of I-880 and Hegenberger Road, 3 miles from Oakland International Airport (free shuttle provided). O.co Coliseum and the Oracle Arena are within walking distance, as are several restaurants, though the neighborhood is mostly business and industrial. The shuttle also serves the local subway station, one mile away. Hotel highlights are an outdoor pool, fitness center, courtyard with fire pits, restaurant and coffee shop.

14.
Holiday Inn Hotel & Suites Oakland-Airport
77 Hegenberger Road, Oakland, CA 94621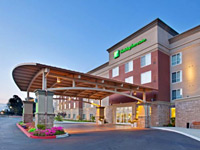 The 145 room/suite Holiday Inn Oakland-Airport is a handsome four floor property along Hegenberger Road, just 1.5 miles from the terminal buildings, offering full service amenities, and the proximity to I-880 makes the hotel convenient for travel anywhere in the East Bay area. Other nearby sites, within 2 miles, include Oracle Arena, the Oakland Coliseum and Metropolitan Golf Course; downtown Oakland is 8 miles north. All day dining at the Holiday Inn is available at the Diamond Bar & Grill, and the other main facilities are a convenience store, fitness center, outdoor pool, and complimentary 5 mile radius shuttle.

15.
Courtyard Oakland Airport
350 Hegenberger Road, Oakland, CA 94621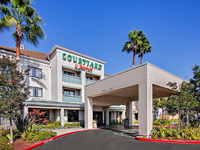 The well reviewed Courtyard by Marriott Oakland Airport hotel sits 2 miles from the terminal buildings along Hegenberger Road, just south of I-880 and so within easy reach of all other sites around east San Francisco Bay, including in the center of Oakland, 7 miles north. The 156 extra large rooms (on three floors) are arranged around quite a large garden area with an outdoor pool, hot tub, trees and footpaths; facilities inside include a cafe serving breakfast & dinner, a bar/lounge, hot tub, business center and 3 meeting rooms. A free shuttle is provided to the airport and the nearest BART station - 1.3 miles north, next to Oakland Coliseum on San Leandro Street.

16.
SpringHill Suites Oakland Airport
195 Hegenberger Road, Oakland, CA 94621
Like most Oakland Airport hotels, the SpringHill Suites (open summer 2019) is located along the main approach route, Hegenberger Road from I-880, at the center of a business/industrial district. The terminal buildings are just over one mile south, served by courtesy shuttle which also links to the nearest BART station (Coliseum). Wi-fi and hot breakfast buffet are also complimentary. Accommodations feature a sofa bed, wet bar, microwave, refrigerator and spa-like bathroom, while the hotel also offers a pool, patio with fire pit, business & fitness centers, convenience store and a full service restaurant/bar.

17.
Holiday Inn Express Hotel & Suites Oakland-Airport
66 Airport Access Road, Oakland, CA 94601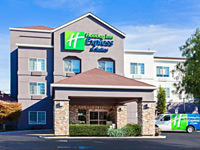 The Holiday Inn Express in Oakland provides the closest lodging to the international airport, just off 99th Avenue a mile north of the terminal buildings - a walkable distance though the hotel does of course operate a complimentary shuttle. This covers the local area for 3 miles, including such places as Oracle Arena & Oakland Coliseum, Oakland Zoo, downtown San Leandro, and the nearest BART (Bay Area Rapid Transit) station. The hotel is typical of newer Holiday Inn Express properties, with nice clean rooms, good customer service and well maintained facilities - services include free hot breakfast buffet, a fitness center, whirlpool and business center, though no swimming pool.

18.
Best Western Plus Airport Inn and Suites
170 Hegenberger Loop, Oakland, CA 94621-1326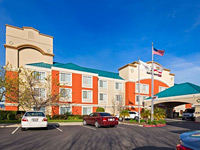 Two miles north of Oakland International Airport, the three floor, blue-roofed Best Western Airport Inn is close to I-880 so within easy reach of all area attractions, though it has a relatively quiet location along a back street at the edge of a residential district. As well as the airport, the hotel's free shuttle reaches the McAfee Stadium (1.3 miles), plus other sites in nearby San Leandro and Oakland. Accommodation comprises 76 large, modern rooms, each with microwave & refrigerator, a coffee/tea maker and ironing facilities. For recreation, guests can use the indoor pool, spa and exercise room.
19.
Motel 6 Oakland Airport
8480 Edes Avenue, Oakland, CA 94621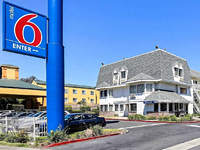 With 286 rooms Motel 6 Oakland Airport is one of the largest properties of the low-price chain, and it occupies a spacious site beside the I-880/Hegenberger Road intersection, 3 miles from the international airport. Oakland Coliseum is less than a mile away. Guest rooms are in five blocks, and some have views of the shetered outdoor pool, well away from the main road. Accommodations are modern in appearance, decor and furnishing. Motel amenities are typically limited - just wi-fi, coin-operated laundry and free coffee.