1.
DoubleTree Hotel & Executive Meeting Center Berkeley Marina
200 Marina Blvd, Berkeley, CA 94710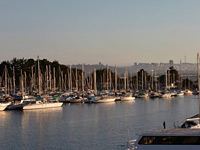 The DoubleTree hotel enjoys a spectacular setting on the banks of Berkeley Marina, separated from I-80 and the city by a state park; west-facing rooms have fantastic views across the Bay towards San Francisco and the Golden Gate Bridge. Other parkland is within walking distance to the south and north, so the hotel provides a particularly relaxing place to stay. Travel to nearby locations is facilitated by the hotel's complimentary 3 mile radius shuttle, including the local BART station and the University of California. The on-site, waterfront restaurant is Bay Grille, serving breakfast, lunch, dinner & room service; the adjacent bar is open until midnight, later at weekends. For meetings and events there are over 20 rooms, largest 5,088 sq ft (maximum capacity 850). Other facilities include an indoor pool, fitness center, whirlpool and sauna.

2.
Residence Inn Berkeley
2121 Center Street, Berkeley, CA 94704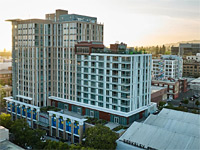 Open late 2021, the Residence Inn is the first Marriott hotel in Berkeley, offering well-equipped, all-suite/extended stay accommodations - 331 suites, in studio, one bedroom and two bedroom floorplans, contained within an imposing, 17 story building along Center Street, half a block from the edge of the UC Berkeley campus. There are many restaurants close by, and one onsite, on the 12th floor, and so benefiting from expansive views cross the city. 13,500 square feet of convention space caters for events of up to 300 guests. Free breakfast buffet is provided; other amenities include a fitness center and marketplace.

3.
Holiday Inn Express Hotel & Suites Berkeley
1175 University Avenue, Berkeley, CA 94702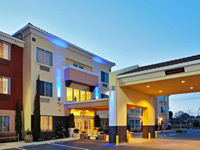 Like most Berkeley hotels, the Holiday Inn Express has a central location along University Avenue, in this case about half way between the bayfront and the campus of University of California-Berkeley. The nearest BART station (North Berkeley) is 0.6 miles north. The hotel's 69 rooms & suites are clean and nicely decorated, equipped with a microwave/refrigerator, coffee maker & ironing facilities; other services are free hot breakfast, a fitness room, whirlpool, business center and guest laundry.

4.
Aiden by Best Western Berkeley
1499 University Avenue, Berkeley, CA 94702
The Aiden, a Best Western property, is a spring 2021 addition to the line of hotels along University Avenue, and is centrally located in town, one mile from the university campus, at the corner of Sacramento Street. The North Berkeley BART station is just two blocks away, and numerous restaurants and bars are within walking distance. Hotel amenities are a rooftop terrace, a small business center, and a dining room where the free hot breakfast is served. There are several bicycles available for guests to borrow.

5.
Quality Inn Berkeley University
1761 University Avenue, Berkeley, CA 94703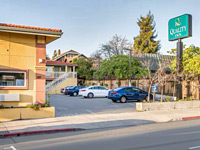 Quality Inn University Berkeley (formerly the Vista Inn) is a typical two floor, exterior corridor motel along University Avenue, just half a mile from the edge of the UCB campus (free shuttle available). Complimentary continental breakfast, wi-fi and basic business services are the only facilities, but rates are low and the 29 rooms are well equipped, containing such accessories as a microwave and refrigerator.

6.
Howard Johnson by Wyndham Berkeley
1512 University Avenue, Berkeley, CA 94703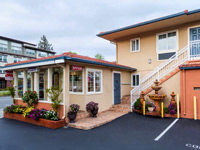 Howard Johnson Berkeley is situated about half way between Interstate 80 and the University of California, and 0.3 miles from the nearest BART station (North Berkeley). The motel is small, with 35 guest rooms, in an exterior corridor building which has a limited-space parking lot at the center. There are several restaurants in the vicinity. Continental breakfast and wi-fi and the two complimentary amenities. For a small fee, a shuttle service is available to Oakland Airport.

7.
Travelodge by Wyndham Berkeley
1820 University Avenue, Berkeley, CA 94703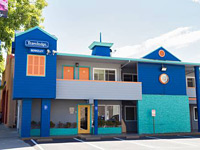 The Travelodge motel provides the closest lodging to the University of California-Berkeley, the edge of which is 0.4 miles east. The place is small, with just 30 rooms, in two exterior corridor blocks along two sides of the rather cramped parking lot. There are dozens of restaurants and bars nearby. Low rates and the convenient location are the main reasons to stay, as the only amenities are free wi-fi and basic free continental breakfast. The property will rebrand as Sather Berkeley SureStay Collection by Best Western, early 2024.

8.
Super 8 by Wyndham Berkeley
1619 University Avenue, Berkeley, CA 94703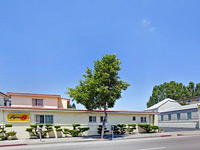 Guests at Super 8 Berkeley are within two blocks of the Ohlone Greenway, an elongated park with sports facilities, trails and children's playground. The immediate surroundings are a busy mix of shops, restaurants and other hotels - along University Avenue, one mile from the University of California and 1.5 miles from I-80. Guest rooms are arranged around two sides of the rather small central parking lot, and amenities are limited to free wi-fi, free continental breakfast (eight items) and a guest-use computer.