1.
Hampton Inn & Suites Lodi
1337 S Beckman Road, Lodi, CA 95240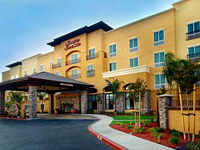 The Hampton Inn enjoys semi-rural surroundings on the east edge of Lodi at the junction of Hwy 99 and Kettleman Lane, beside a gas station and three restaurants - 12 miles north of Stockton and 30 miles south of Sacramento. The four floor property is large and modern, conveniently located both for the town and the many nearby wineries, and it has 101 guest rooms, all containing a microwave/refrigerator, and including a selection of studio suites with a pull-out sofa. Good quality free hot breakfast is prepared each morning, and free beverages are available all day in the lobby. Guests here to work have use of a 24 hour business center and two meeting rooms. An outdoor pool and hot tub are situated at the front, on the sunny south side of the hotel.

2.
Holiday Inn Express Lodi
1337 E Kettleman Lane, Lodi, CA 95240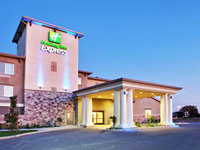 The Holiday Inn Express hotel in Lodi is located at the edge of the countryside at the southeast side of town, at the Kettleman Lane exit of Hwy 99 - close to a few restaurants though most facilities are a mile or two away nearer the center. The three floor hotel features 88 nicely decorated rooms all equipped with a microwave, refrigerator, sofa bed, free internet access and extra-comfortable bedding. Free hot buffet breakfast is served each morning, and the hotel has the usual three leisure facilities of a pool (indoor), whirlpool and exercise room.

3.
Candlewood Suites Lodi
1345 E Kettlemen Lane, Lodi, CA 95240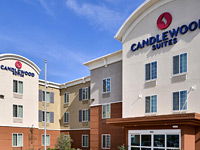 New for 2019, the Candlewood Suites adjoins another IHG hotel (Holiday Inn Express), in a rural setting at the southeast edge of the city, close to the Kettleman Lane exit of Hwy 99. There are several restaurants beside the freeway, a few minute's walk away. The hotel has a fitness center and business center, both open 24 hours, plus a patio with gazebo and bbq grill and fire pit, overlooking a vineyard. Free buffet breakfast is provided each morning.

4.
Best Western Plus I-5 Inn & Suites
6411 W Banner Road, Lodi, CA 95242-9125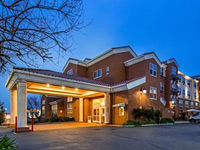 The Best Western Plus is a beautiful, modern, three floor hotel alongside interstate 5 (exit 485; Highway 12), surrounded by countryside 7 miles east of Lodi, and a quarter of the way (7 miles) between Stockton and Sacramento. The inn offers mid range accommodation with the expected amenities of an indoor pool (rather small), hot tub, exercise room, guest laundry and free full breakfast. In the vicinity are several gas stations and fast food restaurants.

5.
Fairfield Inn & Suites Stockton Lodi
262 Rocky Lane, Lodi, CA 95240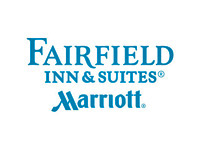 Open summer 2020, The Fairfield Inn is now the southernmost hotel in Lodi, and it has a quiet location in a semi-rural neighborhood along Reynolds Ranch Parkway, opposite a farmers market, also within walking distance of several restaurants. The city center is 2 miles north. The hotel provides above average free breakfast buffet, and has leisure amenities of an outdoor pool/hot tub, and a fitness center with ceiling height windows. The meeting space caters for events of up to 25o people, accompanied by an outdoor patio and dedicated kitchen.

6.
Microtel Inn & Suites by Wyndham Lodi/North Stockton
6428 W Banner Street, Lodi, CA 95242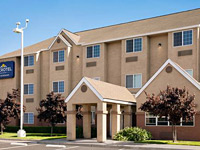 The affordable, oversized accommodations at Microtel Inn Lodi feature a microwave, refrigerator and free wi-fi, while some have a sofa bed, all contained within a three floor, interior corridor building six miles west of Lodi beside Interstate 5. Nearby are two truck stops, a few restaurants and an RV site, but otherwise this is a rural neighborhood, with flat fields stretching out in all directions. Hotel facilities are an outdoor pool, business center, coin-operated laundry and free continental breakfast.

7.
Days Inn & Suites by Wyndham Lodi
710 S Cherokee Lane, Lodi, CA 95240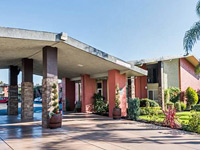 Days Inn Lodi sits alongside Cherokee Lane in the downtown area, close to Hwy 99 and a short walk from plenty of shops & restaurants. The 48 rooms are on two floors of an older, exterior corridor building, but all have been recently renovated and are bright and comfortable, containing a refrigerator, microwave, coffee/tea maker and executive desk. Some have a hot tub bath. The hotel serves free full breakfast, and has other amenities of an outdoor pool, fitness room, bbq grills, business center and meeting space.

8.
Econo Lodge Inn & Suites Lodi
118 N Cherokee Lane, Lodi, CA 95240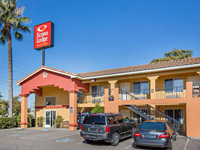 Generally considered one of the best of the small selection of hotels in Lodi, CA, the Econo Lodge has no exceptional amenities, just clean, comfortable rooms, friendly staff and functional facilities, which include an outdoor pool, a hot tub and free deluxe continental breakfast. The location is 2 blocks west of Highway 99 along Cherokee Lane (the main street through town), within walking distance of restaurants and small shops. The 53 rooms all contain a microwave, refrigerator, coffee maker and ironing facilities.
9.
Motel 6 Lodi
1140 S Cherokee Lane, Lodi, CA 95240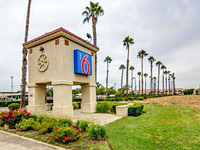 Motel 6 Lodi contains 95 rooms, part of a large, old style, exterior corridor building towards the south side of town along Cherokee Lane - set quite far back from the road though backing on to Highway 99. West-facing rooms are the quietest, and have nice views either over the outdoor pool or the mostly residential suburbs of this part of Lodi. For dining, there is a cluster of restaurants one block south along Kettleman Lane. Other facilities at the hotel are limited to laundry, free coffee and cable TV.