1.
Hilton Garden Inn Sacramento Elk Grove
9241 Laguna Springs Drive, Elk Grove, CA 95758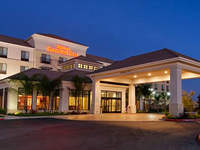 The Hilton Garden Inn occupies a relatively new building at the edge of a business district on the west side of Hwy 99, 13 miles south of downtown Sacramento. In the vicinity are several large stores including Home Depot and Best Buy, plus around a dozen restaurants, with many more shopping and dining choices on the far side of the freeway. Guests can take advantage of a sheltered outdoor pool, hot tub & patio on the south side of the property, while inside, the main amenities are a 24 hour business center, a fitness center, a 24 hour convenience store, 2,000 square feet of flexible meeting/event space, a restaurant serving breakfast and a lounge/bar open for evening drinks & snacks.
2.
Hampton Inn & Suites Sacramento-Elk Grove Laguna I-5
2305 Longport Court, San Diego, CA 95758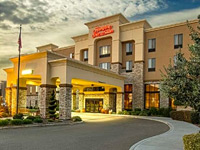 The Hampton Inn is a west Elk Grove hotel, part of a group of business premises at the Laguna Boulevard exit of I-5, 13 miles south of the center of Sacramento. Away from the immediate surroundings, this part of town is quiet and residential, the houses mixed with parkland and artificial lakes. The hotel contains 110 nicely decorated guest rooms, including a selection of king bed studio suites with a spacious living area and a sofa bed; a few feature a whirlpool bath. Free hot breakfast is prepared each morning, while for other meals there are three restaurants nearby. A 650 sq ft meeting room can accommodate events of up to 45 people.

3.
TownePlace Suites Sacramento Elk Grove
9320 E Stockton Blvd, Elk Grove, CA 95624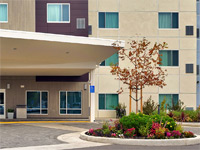 TownePlace Suites, the second Marriott hotel to open in Elk Grove, provides good quality, mid range, all-suite/extended stay accommodations, in one-bedroom, two-bedroom and studio configurations, all including a full kitchen. Daily hot breakfast is complimentary, and all the usual facilities for business and recreation are available. The hotel has a central location at the Bond Road intersection with Hwy 99, at the edge of an extensive commercial area with many shops and restaurants. Downtown Sacramento is 15 miles north along the freeway.

4.
Holiday Inn Express Hotel & Suites Elk Grove
9175 W Stockton Blvd, Elk Grove, CA 95758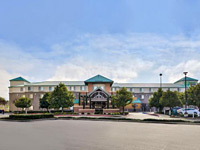 Located between the fast growing communities of Elk Grove and Laguna, south of Sacramento, the Holiday Inn Express Hotel & Suites Elk Grove offers 116 spacious rooms on 3 floors, a sizeable outdoor pool, newsstand and health/fitness center. Free continental breakfast is served and for other meals there is a wide variety of outlets in the surrounding Laguna Gateway Mall. The hotel is just west of the Laguna Boulevard exit of highway 99, surrounded by large areas of parking space.

5.
Holiday Inn Express Elk Grove
2460 Maritime Drive, Elk Grove, CA 95758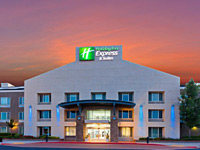 The Holiday Inn Express hotel in Elk Grove is built right on the west side of town beside I-5 exit 506 (Elk Grove Boulevard), 11 miles south of Sacramento. The surroundings are quiet and residential - at the edge of the Lake Point district - though several restaurants are within walking distance. The 3 story, 65 room/suite Holiday Inn Express serves complimentary hot breakfast buffet each morning, and has leisure facilities of an outdoor pool, hot tub and fitness room. Events of up to 40 guests can be accommodated in the on-site meeting space, complemented by free internet access and a business center.

6.
Fairfield Inn & Suites Sacramento Elk Grove
8058 Orchard Loop Lane, Elk Grove, CA 95624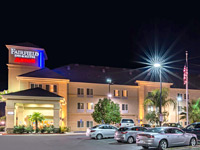 Four miles north of the center of Elk Grove and 12 miles from downtown Sacramento, the Fairfield Inn is a handsome new building, catering for guests in 62 rooms and 14 suites, all large, clean and well designed, with luxurious touches such as granite surfaces in the bathrooms. The hotel is part of a small complex of restaurants and a few shops on the east side of Highway 99 by the Calvine/Cosumnes River exit, in an otherwise residential area. For relaxation the Fairfield Inn offers an indoor heated salt water pool, hot tub and exercise room.