1.
Hilton Stockton
2323 Grand Canal Blvd, Stockton, CA 95207-8233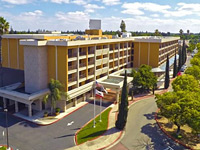 The full service Hilton Stockton welcomes guests to an impressive, five floor atrium lobby, setting for the Orchard Grill restaurant, Starbucks Coffee Bar and plenty of comfortable seating. The 198 rooms are accessed by corridors overlooking the lobby, and all feature luxurious bedding, modern furnishings and good views across the tree-lined neighbrohood - the hotel enjoys a peaceful location in the Grand Canal district, next to upscale residences, shops and two artificial lakes. An outdoor pool, gazebos, concierge lounge, fitness center, 24 hour business center and 13,000 square feet of meeting/event space are some of the many amenities.

2.
Courtyard Stockton
3252 West March Lane, Stockton, CA 95219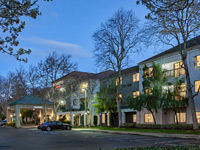 One of several hotels along March Lane, 4 miles northwest of Stockton in the upmarket suburb of Brookside, the Courtyard by Marriott features 82 rooms, 7 suites, a cafe (open for breakfast, lunch, dinner and evening drinks), a modern lobby, an outdoor pool, whirlpool, business center and two meeting rooms (600 sq ft). The surroundings are a pleasant mixture of small lakes, private residences, parkland, shops, a golf course and a few restaurants; the best selection of dining places is half a mile east, at the March Lane exit of Interstate 5.

3.
Residence Inn Stockton
3240 March Lane, Stockton, CA 95219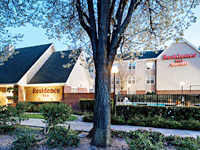 Residence Inn Stockton adjoins another Marriott property (the Courtyard), providing long stay lodging in 104 clean, spacious, comfortable suites, with a quiet location set back a little from the main road overlooking undeveloped land close to Brookside Country Club. The hotel is generally regarded as the best place to stay in Stockton, on account of the high standard of accommodation, excellent staff, pleasant location and wide range of facilities, which include free hot breakfast, free evening reception, outdoor pool, tennis court, hot tub and basketball court.
4.
Hampton Inn Stockton
3651 Arch Road, Stockton, CA 95215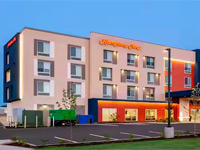 Open spring 2023, Hampton Inn Stockton has a southeasterly location near the edge of the city, within sight of open farmland - along Arch Road, just east of the intersection with Hwy 99. In the vicinity are various business/industrial premises, but also several restaurants. Downtown is 6 miles north. The hotel has an outdoor pool, and a fitness center with Pelaton bike. Hot breakfast is complimentary. Other facilities include a business center, a sundry shop, and several meeting rooms.

5.
Holiday Inn Express Stockton Southeast
5045 S State Route 99, Stockton, CA 95215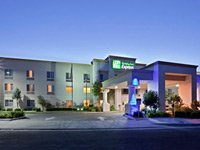 Holiday Inn Express hotel in Stockton serves travelers on Hwy 99, on the east side of the city, providing comfortable accommodations and high quality customer service. The property is built in a mostly rural neighborhood at the Arch Road exit of the highway, next to a few fast food restaurants. Just to the north is a business park that includes a Post Office and the San Joaquin Office of Education. Hotel highlights include free hot breakfast each morning, free evening receptins (Mon-Wed), an indoor pool, & fitness center, meeting space & business center.

6.
Best Western Plus Heritage Inn
111 E March Lane, Stockton, CA 95207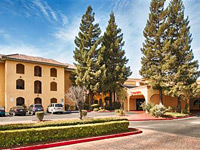 Stockton's Best Western hotel has a north central location in town along March Lane, within walking distance of two universities (San Joaquin Delta College and University of the Pacific), many restaurants and two shopping malls (Sherwood & Weberstown). The inn occupies an older but regularly renovated building made up of three 3-floor blocks totaling 136 small to medium sized rooms (containing microwave/refrigerator), with varied and comprehensive amenities including a restaurant, bar, outdoor pool, whirlpool, fitness center and four meeting rooms.

7.
Studio 6 Suites - Stockton, CA - Waterfront
33 N Center Street, Stockton, CA 95202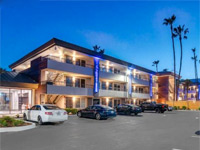 The Studio 6 is one of the more central hotels in Stockton; a three floor, exterior corridor building with a pleasant setting overlooking Weber Point at the east end of McLeod Lake, within walking distance of such places as Weber Technical Institute, Greenhouse Shopping Centre, City Center Stadium Cinema and the Children's Museum of Stockton, plus numerous shops & restaurants. The pet friendly property has a tree-lined outdoor pool at the front and a good sized parking lot on both sides. The other two main amenities are a 50 person meeting room and free continental breakfast. All guest rooms have kitchenette facilities.

8.
Travelodge by Wyndham Stockton
2210 S Manthey Road, Stockton, CA 95206
Pet friendly, budget-priced Travelodge Stockton is an interior corridor property, the guest rooms on three floors, surrounded by the parking lot, and it has an easy-to-reach location right next to Interstate 5 at the 8th Street exit, adjacent to a gas station, a restaurant and a market. The only amenities are free wi-fi and a microwave/refrigerator in all accommodations. The city center is 2 miles north.

9.
Econo Lodge Stockton
1625 French Camp Turnpike, Stockton, CA 95206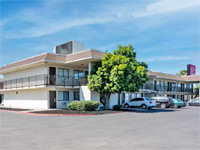 Pet friendly Econo Lodge Stockton is a relatively large motel, the exterior corridor rooms on two floors of three inter-connected blocks, surrounded by a spacious parking lot. Some rooms overlook the outdoor pool, at the rear of the property, in a sheltered, southwest-facing corner. Vending machines, guest laundry and free coffee are the other amenities. The lodge is part of a small group of businesses at the Hwy 4 intersection of interstate 5, about one mile from the city center.

10.
Rodeway Inn Stockton
8009 N Highway 99, Stockton, CA 95212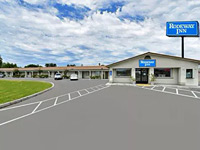 Rodeway Inn Stockton faces Hwy 99 at the Hammer Lane exit (west side), at the edge of a residential neighborhood right at the north edge of the city, close to open farmland. Dining and shopping, including a Walmart Supercenter, can be found one mile west. Most guest rooms are ground floor only, arranged around three sides of the spacious parking lot. The low rates reflect the very limited amenities - only free wi-fi and free coffee.
11.
Motel 6 Stockton
2654 March Lane, Stockton, CA 95207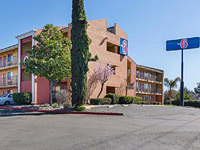 Motel 6 Stockton is situated 4 miles from downtown Stockton facing interstate 5 (exit 476, March Lane) - a busy intersection with many shops and restaurants including a Denny's right next door. At the rear of the three floor motel is an outdoor pool, sundeck, and a pleasant footpath, along the course of the underground Mokelumne Aqueduct. Free morning coffee is provided; other facilities are free internet access and coin-operated laundry. In addition to the regular accommodations there are several suites available, featuring a refrigerator, microwave and sofa bed.
12.
Motel 6 Stockton North
6717 Plymouth Road, Stockton, CA 95207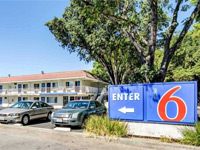 Like most properties of this low price brand, Motel 6 Stockton North has an exterior corridor layout, the 76 rooms contained within a two floor accommodation block that is well shielded by bushy trees from Interstate 5 just to the west. The surroundings are mostly residential, with a golf course to the east, though there is also a shopping center close by, including a good selection of restaurants. The motel provides just the minimum amenities of free morning coffee and wi-fi, plus an outdoor pool.
13.
Motel 6 Stockton - Charter Way West
817 Navy Drive, Stockton, CA 95206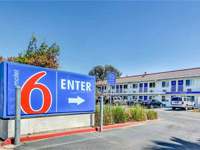 At the Charter Way exit of Interstate 5, the Motel 6 affords travelers a quick, affordable place to stay, with limited amenities of wi-fi, free coffee and an outdoor pool. Some rooms contain a microwave and refrigerator. There is one restaurant adjacent (Jack in the Box), and also a truck stop, where oversize vehicles can be parked. Downtown Stockton is 2 miles north, while the main shopping area in the city (Sherwood Mall and Weberstown Mall) is 3 miles further.
14.
Motel 6 - Stockton East
2533 North Piccoli Road, Stockton, CA 95215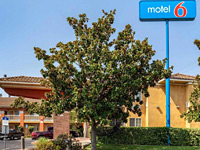 The Motel 6 is a part of a small group of businesses at the Waterloo Road - Hwy 99 intersection, including restaurants, gas stations and other hotels. This location is right on the east edge of Stockton, within sight of open farmland; the city center is 3 miles west. Rooms are entered via exterior corridors, and they have a peaceful setting, looking across the parking lot to the quiet side road beyond. Motel amenities are guest laundry, wi-fi and free coffee. All accommodations contain a refrigerator and microwave.