1.
Hampton Inn & Suites Lathrop
103 E Louise Avenue, Lathrop, CA 95330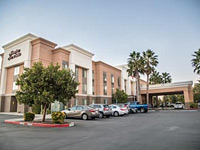 Hilton's representative in Lathrop is the Hampton Inn, located at the Louise Avenue exit of I-5, a quick drive from the nearby cities of Manteca, Tracy and Stockton. There are many restaurants around the interstate junction, and a few stores including Target. All the hotel's 76 good sized, nicely decorated rooms and studio suites contain a refrigerator and microwave; the suites have a wet bar and sofa bed. The free breakfast includes a selection of hot items, and is available in a take-out version for guests departing early in the morning. Other facilities are a patio, basketball court, indoor pool, fitness center and meeting space for up to 45 people.

2.
Holiday Inn Express Hotel & Suites Lathrop - South Stockton
15688 S Harlan Road, Lathrop, CA 95330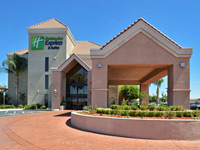 The Holiday Inn Express greets guests with an unusual water fountain by the entrance, and an elegant floor to ceiling lobby inside. Room rates are relatively low yet the 81 rooms are all large, and well equipped (microwave, refrigerator); also available are several whirlpool bath suites. Free hot breakfast buffet is provided, and all the other expected services are available - pool, hot tub, fitness room, guest laundry, convenience store and business center. The hotel is one of several along Harlan Road, the eastern I-5 frontage road - 10 miles south of Stockton and 20 miles north of Modesto.

3.
Tru by Hilton Lathrop
161 E Louise Avenue, Lathrop, CA 95330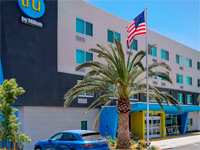 Tru by Hilton is a modern, brightly-decorated hotel at the Louise Avenue exit of Interstate 5, a short walk from half a dozen restaurants. To the south is an extensive business park, where offices include Tesla and Estenson Logistics. The four-story, pet-friendly property offers the usual, mid-range amenities of business & fitness centers, free-wi-fi and free hot breakfast, though no pool.

4.
Fairfield Inn & Suites Stockton Lathrop
17401 S Manthey Road, Lathrop, CA 95330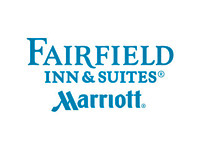 New for spring 2023, Fairfield Inn Lathrop, the first Marriott hotel in town, has a semi-rural setting along the western I-5 frontage road, within walking distance of the San Joaquin River, a short distance north of the Hwy 120 intersection. There is one restaurant adjacent. Accommodations include a selection of studio suites; all are equipped with microwave & refrigerator. Daily hot breakfast is complimentary. The hotel has an outdoor pool and four meeting rooms.

5.
Comfort Inn Lathrop
14730 S Harlen Road, Lathrop, CA 95330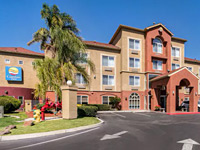 Comfort Inn Lathrop sits along the frontage road east of interstate 5, next to exit 463 (Lathrop Road) - 9 miles south of Stockton and 5 miles from the I-205 junction. The on-site Country Kitchen Restaurant serves breakfast (free), lunch & dinner, and several other diners are located nearby, though a better selection of facilities can be found 5 miles away in the adjacent and larger town of Manteca. Other services at the Comfort Inn include an indoor pool, hot tub, sauna, exercise room, sun deck, and a microwave/refrigerator in each room.

6.
Quality Inn & Suites Lathrop
16855 S Harlan Road, Lathrop, CA 95330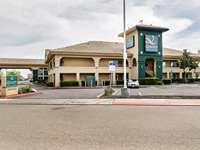 Lathrop's Quality Inn is part of a group of restaurants, hotels and other businesses at I-5 exit 462 (Louise Avenue), bordered by an industrial area to the south and a residential district to the north. The pet friendly inn occupies an older, exterior corridor building of 65 rooms, all equipped with a refrigerator and microwave; a few have upgraded amenities of sofa bed, hot tub bath and kitchenette. Free deluxe continental breakfast is prepared each morning. An outdoor pool, fitness center & sauna are available for leisure, a business center & meeting room for those here to work.

7.
Days Inn by Wyndham Lathrop
14750 S Harlan Road, Lathrop, CA 95330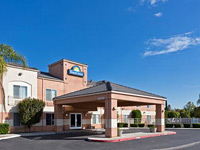 Days Inn Lathrop has a northerly location in town, part of a small group of restaurants, gas stations and other businesses at the Lathrop Road exit of Interstate 5, bordered by open farmland to the west. The place is of modern construction, with interior corridors, and a pleasant outdoor pool at the front, set back a little from the main road. Other facilities are bbq grills, a sauna, one meeting room, free wi-fi, free continental breakfast and a copy/fax service.