1.
Hampton Inn & Suites Modesto-Salida
4921 Sisk Road, Salida, CA 95368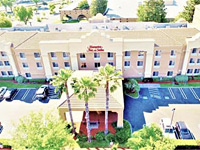 Half a dozen restaurants are within a couple of minutes walk from Hampton Inn Salida, which is situated at the edge of a business park at the Kiernan Avenue exit of Hwy 99, about half way (8 miles) between Modesto and Manteca. Free full breakfast is provided on site, however, available in take-out version for guests departing early (Mon-Fri). The hotel contains 70 good sized rooms & studio suites, all containing a microwave and refrigerator. Also available are all the expected amenities for leisure, business and meetings.

2.
Fairfield Inn & Suites Modesto
4342 Salida Boulevard, Salida, CA 95368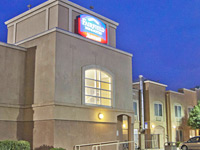 Near the center of Salida and right next to Highway 99, the Fairfield Inn & Suites has an easily-reached location within a short walk of several restaurants including Denny's. For shopping there are several stores on the far side of the freeway, the main center being the Vintage Faire Mall, 1.5 miles away. The hotel is new, clean and brightly decorated, catering to guests in 61 rooms that all contain a microwave & refrigerator, or 8 suites equipped with an extra sofa bed, separate living area and a second TV. Free hot breakfast is served; for relaxation the Fairfield Inn has the three usual amenities of pool, whirlpool and fitness room. Downtown Modesto lies 6 miles southeast.