1.
Clarion Inn Indio
84096 Indio Springs Drive, Indio, CA 92201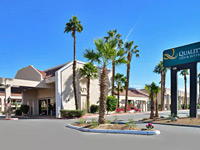 Clarion Inn Indio is located quite close to the north side of Coachella Valley, and some of its 125 rooms look out over the San Bernadino Mountains that mark the edge of
Joshua Tree National Park
; others have views of the central courtyard/parking area with outdoor pool & hot tub. The hotel is reached from exit 144 (Golf Center Parkway) of interstate 10 - on the east side of Indio, close to Rancho Casa Blanca Country Club and next door to the Fantasy Springs Casino & Eagle Falls Golf Course. The Clarion provides meeting facilities, a business center, sun deck, free wi-fi and free continental breakfast, while other dining is available at the casino down the road.

2.
Holiday Inn Express and Suites Indio
84054 Indio Springs Drive, Indio, CA 92203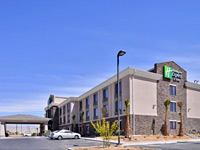 The Holiday Inn Express is a spring 2014 addition to the choice of lodging in Indio, and it has a conveniently-reached location by the Golf Center Parkway exit of Interstate 10, bordering desert lands to the east and within sight of the Little San Bernardino Mountains to the north. There are several golf courses nearby including Eagle Falls, Terra Lago and Rancho Casa Blanca, while Indio city center is 2 miles southwest. The three floor, 89 room/suite hotel provides complimentary hot breakfast buffet each morning, together with the usual facilities for business, meetings and leisure. A small selection of restaurants is within walking distance.

3.
Best Western Date Tree Hotel
81909 Indio Blvd, Indio, CA 92201-2038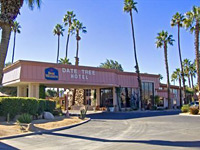 Towards the northwest side of Indio, the Best Western Date Tree Hotel is along Indio Boulevard but set back a little from the road and has a relatively quiet location with houses on one side and a little patch of undeveloped land on the other. I-10 is half a mile north along Monroe Street (exit 142), making the hotel an easy drive from the attractions in this part of California including the south entrance to
Joshua Tree National Park
just 28 miles away. The 118 rooms are divided into 3 blocks, surrounded by landscaped gardens containing many palm and date trees, with a hot tub and Olympic-size pool. Other amenities are free deluxe continental breakfast, DVD players in each room and a fitness center.

4.
Fairfield Inn & Suites Indio
42655 Marmara Street, Indio, CA 92203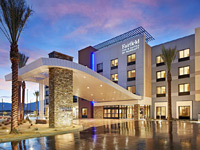 The Fairfield Inn has a north central location in Indio near the Jackson Street exit of Interstate 10, at the edge of a shopping complex that includes a few restaurants. There are several golf courses and casinos within 3 miles. This is a four floor property of 120 guest rooms, open late 2018, offering Coachella Valley visitors the facilities of a business center, a fitness center, an outdoor pool and free hot breakfast.

5.
Days Inn by Wyndham Indio
43505 Monroe Street, Indio, CA 92201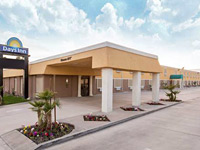 Indio's Days Inn motel along Monroe Street is quite centrally located; two blocks south of I-10 (exit 142), two blocks north of Indio Boulevard and about a mile from downtown. This is a medium-sized property of 63 rooms and an outdoor pool, in a mixed residential/business district with at least four restaurants nearby and countless golf courses a short drive away. The motel serves free continental breakfast. Accommodations are equipped with a refrigerator, microwave and tea/coffee maker. Pets are welcome, for a fee.

6.
Travelodge by Wyndham Indio
80651 Highway 111, Indio, CA 92201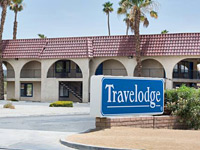 Indio Travelodge has an outdoor pool, hot tub and tennis court at the rear, and interior amenities of free wi-fi, free continental breakfast and a microwave/refrigerator in each guest room. Some accommodations contain a kitchenette. The exterior corridor motel sits along Hwy 111, partly surrounded by undeveloped lots, 3 miles west of the center of Indio, close to several country clubs including Rancho La Quinta, Heritage Palms and Indian Springs. Half a mile west, the road reaches a major shopping complex with dozens of restaurants and large stores.

7.
Super 8 by Wyndham Indio
81753 Highway 111, Indio, CA 92201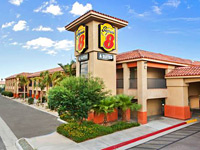 Super 8 Indio enjoys a quiet location, along busy CA 111 though set back from the highway behind a couple of restaurants, adjoining a housing estate to the east and a patch of empty land to the south. At the rear is a sunny, secluded, courtyard garden with fountain, bbq grills, outdoor pool and palm trees. The modern accommodations include several two bed studio suites featuring a sofa bed and kitchenette. Breakfast and internet access are complimentary. Pets are welcome, for a fee.

8.
Rodeway Inn & Suites Indio
82275 Indio Blvd, Indio, CA 92201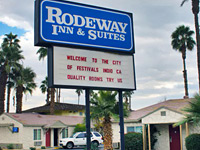 Guest rooms at Rodeway Inn Indio are on the ground floor, accessed directly from the rather small parking lot, which is centered on a palm-lined outdoor pool. A refrigerator and microwave are installed in all accommodations. A few cacti grow at the front, and the place has a clean, pleasant appearance, within sight of mountains to the north and south. The motel adjoins a travel center (with restaurant), along Indio Boulevard near the city center, one mile from the nearest I-10 exit (142; Monroe Street). Continental breakfast and wi-fi are complimentary.
9.
Motel 6 Indio - Palm Springs Area
82195 Indio Blvd, Indio, CA 92201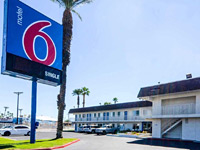 Free coffee, free local calls, guest laundry and a year-round outdoor pool are the only amenities of Motel 6 Indio, a typical two-story, exterior corridor, budget property on the south side of Indio Boulevard, close to a few restaurants and small shops. Most rooms have views over the well maintained central garden area. Pets are welcome, for a small fee. This location is 20 miles from Palm Springs and 10 miles from Palm Desert.