1.
The Ritz-Carlton, Rancho Mirage
68900 Frank Sinatra Drive, Rancho Mirage, CA 92270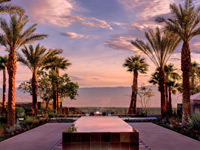 The Ritz-Carlton enjoys a commanding, elevated position atop a ridge in the foothills of the San Jacinto Mountains, along a quiet side road (Frank Sinatra Drive), off Hwy 111 between the centers of Rancho Mirage and Cathedral City. Downtown Palm Springs is 9 miles away. Accommodations have views either of the desert hills, the valley or the palm tree-lined gardens, which include several outdoor pools, and they range in size from regular guest rooms at 455 square feet to the Ritz-Carlton Suite, at 1,700 square feet. The signature restaurant is the glass-walled Edge Steakhouse, which has commanding views over the Coachella Valley; there is also an all-day bar/kitchen, and a poolside lounge. The Ritz-Carlton Spa offers a wide range of treatments, in tranquil surroundings, while 12 meeting rooms, and outdoor space, cater for events of up to 800 guests.

2.
The Westin Mission Hills Golf Resort
71333 Dinah Shore Drive, Rancho Mirage, CA 92270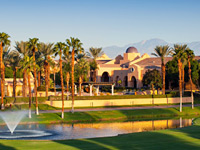 Together with the two 18-hole championship golf courses, the Westin Mission Hills Resort encompasses 360 acres of scenic, desert land on the north side of Rancho Mirage, 9 miles east of downtown Palm Springs. Other attractions in the vicinity include Children's Discovery Museum, Agua Caliente Casino and Wet 'n' Wild Palm Springs. All accommodations have a private balcony or patio, and many overlook the golf course. Other amenities, in select rooms, are a fireplace, whirlpool bath and sofa bed. Food & beverage outlets are Pinzimini, serving Italian cuisine, a bowling-themed pub, an all-day cafe, a snack shop and a fireside lounge. The hotel also has extensive function space, a fitness center, a full service spa and several swimming pools.

3.
The Westin Mission Hills Resort Villas, Palm Springs
71777 Dinah Shore Drive, Rancho Mirage, CA 92270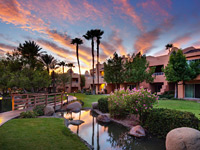 The Mission Hills Villas are part of the Westin Golf Resort, a 360 acre complex along Dinah Shore Drive on the north side of Rancho Mirage, 2 miles from Interstate 10. The villas are available in three sizes - small one bedroom, larger one bedroom, and two bedroom; all have a full kitchen, a sofa bed and a balcony or patio, while the latter two include a hot tub bath. Views are of the Pete Dye Resort Golf Course, or the landscaped gardens. The onsite restaurant, Seasons Grill, is open for breakfast, lunch & dinner, served either at the bar, on the outdoor patio overlooking the pool, or in a traditional dining room. Other restaurants, and many other facilities, are available elsewhere across the resort.

4.
Hilton Garden Inn Palm Springs/Rancho Mirage
71-700 Highway 111, Rancho Mirage, CA 92270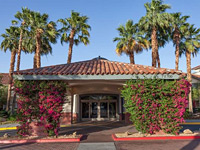 The Hilton Garden Inn has an easily reached location in Rancho Mirage along Hwy 111 (East Palm Canyon Drive), in the middle of the main shopping area in town and within a mile of several golf courses including Rancho Las Palmas and Thunderbird Country Club. The staff have a good reputation for friendliness and efficiency, and the hotel offers all the expected facilities - clean, well equipped accommodations, on-site bar/restaurant, pool, whirlpool & fitness center, business center & meetings space. Guest rooms include a microwave, refrigerator, executive desk, HDTV, and high quality bedding; many have a self adjusting bed for extra comfort.

5.
Holiday Inn Express Hotel & Suites Rancho Mirage North
71730 Highway 111, Rancho Mirage, CA 92270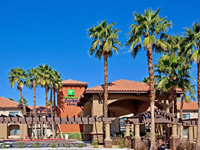 New for 2010, the Holiday Inn Express is a modern, affordable addition to Rancho Mirage hotels, offering all the expected amenities including free hot breakfast, an outdoor pool amp; whirlpool, fitness center, bbq grills, business center and meeting space for up to 45 people. The hotel is located along Hwy 111 just north of Rancho Las Palmas Shopping Center - 6 miles from interstate 10 (exit 130), and 10 miles from Palm Springs. The 109 rooms & suites all contain a refrigerator, microwave and coffee maker.
6.
Motel 6 Palm Springs - Rancho Mirage
69570 SR 111, Rancho Mirage, CA 92270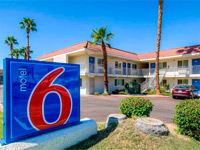 Although situated alongside busy CA 111, Motel 6 Palm Springs - Rancho Mirage has a rural location; south-facing rooms have uninterrupted views towards the Santa Rosa Mountains that rise up just across the street, while those on the north side overlook the (usually dry) Whitewater River. The hotel is an older, exterior corridor property that provides some of the most affordable lodging in the area, but with limited facilities - just wi-fi, cable TV, free coffee, and a small outdoor pool at the rear, away from the highway. Rooms are generally quiet and clean - all were refurbished in 2008.