1.
Triada Palm Springs, Autograph Collection
640 N Indian Canyon Drive, Palm Springs, CA 92262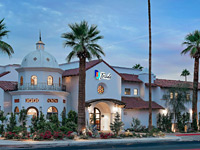 Triada Palm Springs has a refined location in exclusive Movie Colony neighborhood, along Indian Canyon Drive in the city center. The four Diamond-rated, resort-style property has a Spanish hacienda design, the 56 rooms & suites distributed amongst several white-walled blocks separated by tree-lined courtyards and walkways. The complex includes two outdoor pools, a whirlpool, business center and the Iluminara restaurant/lounge, open for lunch & dinner. Many of the accommodations have views of the nearby San Jacinto Mountains; for a closer perspective, guests can hike the Skyline Trail, which begins 0.7 miles south.

2.
Avalon Hotel & Bungalows Palm Springs, a Member of Design Hotels
415 S Belardo Road, Palm Springs, CA 92262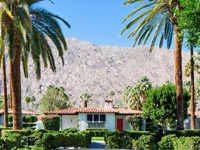 The upscale, boutique Avalon Hotel enjoys a quiet, scenic setting along a residential street one block west of Palm Canyon Drive near the center of Palm Springs, beneath the foothills of the San Jacinto Mountains, a short walk from the North Lykken Trailhead, and from the start of the famous Cactus to Clouds Trail. The hotel has a Spanish-style design, while the guest accommodations are decorated with a Hollywood Regency theme; they comprise regular rooms, studio suites, one bedroom suites, and also bungalows (one or two bedroom), featuring full kitchens and gas-burning fireplaces. Rooms are divided between a number of tree-lined blocks, separated by floral walkways. Facilities include three outdoor pools (plus cabanas), a spa, meeting space and a California-style restaurant.

3.
Renaissance Palm Springs Hotel at the Convention Center
888 East Tahquitz Canyon Way, Palm Springs, CA 92262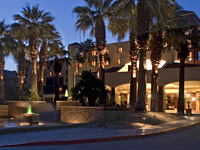 The upscale, full service Renaissance Palm Springs Hotel occupies a large site, a quarter of a block on the north side of Tahquitz Canyon Way, adjacent to the Convention Center and less than half a mile from Palm Canyon Drive, the main street through Palm Springs. At the center of the property, hidden from public view, is a beautiful tropical courtyard garden, complete with several pools, plenty of patio space, firepits, poolside cabanas and an outdoor bar. Meals are available from two on-site restaurants, or from many other dining outlets a short walk away. Meeting space totals an impressive 25,912 square feet, with 15 separate rooms and a largest single capacity of 1,400 (theater style).

4.
Hilton Palm Springs
400 East Tahquitz Canyon Way, Palm Springs, CA 92262-6605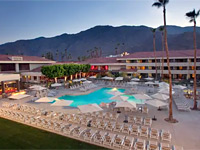 The Hilton resort in Palm Springs provides every conceivable amenity, accompanied by high quality customer service and a central position along Tahquitz Canyon Way, just one block from the numerous shopping & dining outlets along the main road, Hwy 111. The property is centered on a large courtyard garden containing a good sized, temperature adjustable pool, two whirlpools and an extensive sun bathing area, while inside, facilities include 33,000 sq ft of meeting/event space, a restaurant, two bars and the Elements Spa, which offers more than 40 treatments and massages. Rooms have good views over the landscaped gardens or the hotel surroundings from their private balcony or patio. Guests needing extra space may choose to stay in one of the 660 square foot king suites.

5.
Courtyard Palm Springs
1300 Tahquitz Canyon Way, Palm Springs, CA 92262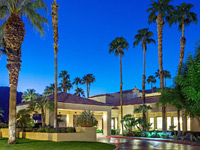 Palm Spring's Courtyard hotel has a typical design for this brand, with the 149 rooms & suites in 2 blocks enclosing a pretty courtyard garden that contains an outdoor pool, hot tub, palm trees and other tropical plants. Rooms are clean and the staff are friendly and efficient. The main amenities are a cafe (open for breakfast only), a 24 hour convenience store, a fitness center and a complimentary shuttle to Palm Springs Airport (1.4 miles east). Surrounding the hotel is a mixture of private residences and as yet undeveloped desert - the main center of Palm Springs is a mile west, along Tahquitz Canyon Way.

6.
Best Western Inn at Palm Springs
1633 S Palm Canyon Drive, Palm Springs, CA 92264-8343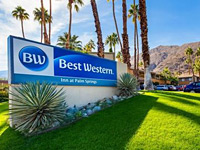 The 72 room Best Western Inn at Palm Springs is located at the junction of South and East Palm Canyon Drive, 0.75 miles from downtown and right at the western edge of the suburbs - the pool and many of the rooms overlook the desert foothills of the San Jacinto Mountains, and the hotel is just far enough from the main road to enjoy peace and quiet, yet still be within a short walk of various restaurants and bars. Free continental breakfast is served by the pool, which is open 24 hours a day. The most popular hiking destination in Palm Springs - the
Indian Canyons
- is a 5 minute drive away along Palm Canyon Drive.

7.
Best Western Plus Las Brisas Hotel
222 S Indian Canyon Drive, Palm Springs, CA 92262-6618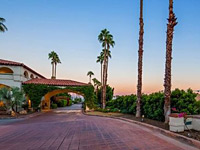 Right at the center of Palm Springs, Best Western Las Brisas offers 90 comfortable rooms in a Mediterranean-style building complete with outdoor pool, tropical gardens, sundeck and poolside bar. The hotel is located at the corner of Indian Canyon Drive (CA 111 northbound) and Arenas Road, within 2 blocks of many restaurants and shops, and 2.5 miles from the international airport. The many amenities include free full American breakfast, 2 cocktail lounges, restaurant (La Terraza Grill), concierge service, coffee shop and guest laundry.

8.
Days Inn by Wyndham Palm Springs
1983 N Palm Canyon Drive, Palm Springs, CA 92262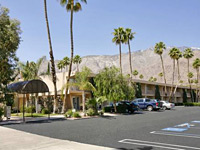 The Days Inn is the northernmost chain hotel in Palm Springs, facing Palm Canyon Drive near the Vista Chino intersection, close to shopping and dining though mostly surrounded by private residences. Like many hotels in the area, the property is centered on an extensive garden, here with oversize pool, hot tubs and plenty of sunbathing space. Half of the refrigerator/microwave-equipped guest rooms have pool views, while the remainder look out across the peaceful neighborhood towards the mountains, which rise up one mile west. Most have a private balcony or patio. The above average facilities include a restaurant, bar, business & fitness centers and meeting space.

9.
Travelodge by Wyndham Palm Springs
1269 E Palm Canyon Drive, Palm Springs, CA 92264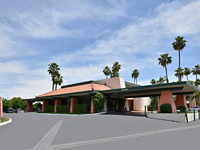 Travelodge Palm Springs is located a short distance southeast of downtown Palm Springs along Hwy 111, the main road through the resort cities, and occupies a sizeable area on the south side of the highway, in a residential area. The accommodation blocks (124 rooms, two floors) are surrounded by palm-lined parking lots, gardens, two restaurants and the outdoor pool/hot tub, and are close to several bars and other dining outlets, though most facilities are in the downtown area. The international airport is 2 miles northeast.