1.
Hampton Inn & Suites Hemet
3700 West Florida Avenue, Hemet, CA 92545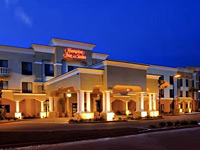 Hilton's representative in Hemet is the Hampton Inn, a modern, 86-room property adjacent to Hemet Valley Shopping Center, along Hwy 79 a little way west of the city center. Other shops are found further east along the main road, including Hemet Valley Mall, and there are plenty of restaurants within walking distance. All accommodations have a microwave, coffee maker and refrigerator. The hotel's free breakfast comes with a selection of hot items, and is available in a take-out version for guests leaving early. A business center, fitness center, outdoor pool and a small convenience store are some of the other facilities.

2.
Best Western Plus Diamond Valley Inn
3510 W Florida Avenue, Hemet, CA 92545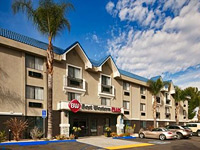 The pet friendly Best Western is part of Hemet Valley Shopping Center, which includes plenty of restaurants and such stores as Home Depot, Target, Staples and a supermarket; alongside Hwy 74, a little way west of the city center. The hotel has 68 rooms, three floors, interior corridors and an outdoor pool/hot tub. In addition to the regular accommodations there are several suites available, with fireplace, refrigerator, microwave and sofa bed. Complimentary amenities are wi-fi and full hot breakfast.

3.
Quality Inn Hemet
1201 West Florida Avenue, Hemet, CA 92543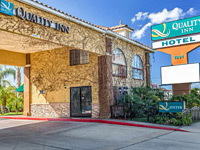 In the middle of Hemet and the San Jacinto Valley, the Quality Inn is a clean, comfortable and well managed hotel offering 48 spacious rooms, free deluxe continental breakfast, free internet access, an outdoor pool and hot tub. All rooms have a microwave & refrigerator, and views either of the central courtyard or the surrounding estates - the inn has a relatively quiet location in a residential district along Florida Ave (Hwy 74), yet is within walking distance of Hemet Valley Mall and Hemet Valley Shopping Center. Fishing, boating and hiking are available in the San Jacinto Mountains, less than 30 miles away.

4.
Days Inn by Wyndham Hemet
800 W Florida Avenue, Hemet, CA 92543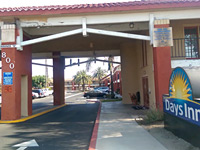 Like most Hemet hotels, the Days Inn is located along the main west-east road through town, Hwy 79 (Florida Avenue) - on the north side, bordering a residential district to the rear. There are several restaurants close by, and a Walmart store directly opposite. The guest rooms, all containing a microwave and a refrigerator, are arranged along two sides of the central parking area, which has a tree-lined outdoor pool at one corner. Free breakfast, coin-operated laundry and two meeting rooms are the other principal amenities.

5.
Travelodge by Wyndham Hemet
2625 West Florida Avenue, Hemet, CA 92545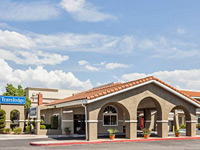 Hemet's Travelodge motel is situated near the west edge of town along Florida Avenue, opposite Hemet Valley Mall and a short walk from several other large stores. The place is fairly old but well maintained, charges quite low rates, and adjoins a Denny's restaurant. Recreation facilities are a sheltered outdoor pool & hot tub, surrounded by a small garden, plus a small bbq area. For other water based activities, Diamond Valley Lake is just 5 miles to the south.
6.
Motel 6 Hemet
3885 West Florida Avenue, Hemet, CA 92545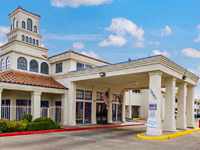 Motel 6 Hemet enjoys a semi-rural setting on the west side of town, backing on to open fields. The interior corridor property is accessed from Hwy 79 though most rooms are set back from the road, behind a Mexican restaurant; some overlook the secluded courtyard garden with outdoor pool & hot tub. Although still a budget-priced establishment, the motel has a resort-style design, with whitewashed walls and red roof tiles, lined by many palm trees. Rooms are available with balconies and kitchenette facilities. Wi-fi and morning coffee are complimentary.