Once a state park, Painted Rock Petroglyph Site is now managed by the BLM, and is surprisingly popular, given its rather remote location in the southern Arizona desert, 11 miles from Interstate 8, on flat land close to the Gila River - popular in cooler times a year at least, but less so in summer when temperatures regularly exceed 110°F.

Centerpiece of the site is a low granite hill strewn with reddish basalt boulders on which are etched over 3000 petroglyphs - some individual boulders have dozens - spanning many centuries, approximately 200 to 1400 AD, plus a few inscriptions from more recent travellers, between the 18th and 20th centuries.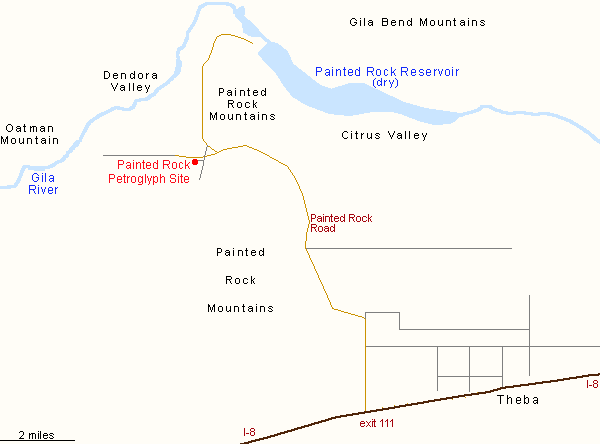 The Site

The petroglyph site is reached by the paved Painted Rock Road, or Citrus Valley Road, and crosses farmland (partly used for solar arrays) and then sandy desert flats for ten miles, starting at I-8 exit 111. The last part of the approach is from the east, on what is now Rocky Point Road, and finally along short track to a parking place beside the hill. The campground to the south has 59 individual sites and two group areas, but no hook-ups or water supply. Day-use facilities are two shaded picnic ramadas and a 0.3 mile loop path around the petroglyph hill, which is fenced off at the base to protect the rock art, hence very few petroglyphs can be seen close-up.


The Petroglyphs

Most of the petroglyphs face south or east, indicating that this was the usual direction of approach. The hill is about 20 feet tall with two distinct high points, and 300 by 130 feet in area. There are several historic trails in the facility, the oldest in use for several thousand years. The ancient petroglyphs are accompanied by inscriptions from pioneer travellers including Juan Bautista de Anza, 1775-1776, and the Mormon Battalion in 1846.