Holbrook
is a relatively large city along I-40, half way (95 miles) between Flagstaff and Gallup, New Mexico, situated on a high desert plain at 5,080 foot elevation. The interstate divides the city in two; the historic downtown area is to the south, adjoining the railway tracks, while a smaller, less developed district lies to the north, including most of the hotels, an RV site and the local airport.
Route 66
passes through the city, now designated Navajo Blvd and Hopi Drive. The Little Colorado River flows past immediately south of the railroad.
Besides acting as an important stopping place for cross-state travelers on the interstate, Holbrook is also popular as the closest city to
Petrified Forest National Park
, one of the top ten attractions in Arizona; the north entrance is 24 miles via I-40, and the south 19 miles along US 180. Another notable site nearby (60 miles west) is the
Meteor Crater
.
Please refer to the
disclosure notice
for information about the affiliate (commissionable) links on this page.
Map of Hotels in Holbrook, AZ

1.
Best Western Arizonian Inn
2508 E Navajo Blvd, Holbrook, AZ 86025-1831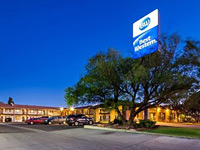 The Best Western hotel in Holbrook, AZ, (Arizonian Inn) is situated at the northeast end of town along Navajo Boulevard, near Holbrook Airport and 2 miles from the downtown area. The 2 story inn has 70 exterior-corridor rooms (with refrigerator/microwave) divided into 2 blocks facing the parking area and outdoor heated pool. Free hot breakfast is provided, and for other meals there is a Denny's restaurant just next door. The hotel is less then a mile from I-40 exit 289. Pets are welcome, for a small fee.

2.
Quality Inn Holbrook
2602 E Navajo Blvd, Holbrook, AZ 86025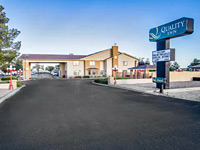 The Quality Inn is amongst the first hotels in Holbrook for travelers approaching from the east along I-40 - the two story, exterior-corridor inn is located along Navajo Boulevard, less than half a mile from exit 289 of the interstate, and right next to Holbrook Airport. The pet friendly hotel is adjacent to one restaurant (Jerry's, open for breakfast, lunch & dinner), and is within walking distance of several more; other amenities include an outdoor pool at the front, free hot breakfast, guest laundry, and microwaves & refrigerators in all guest rooms.

3.
Howard Johnson by Wyndham Holbrook
2608 E Navajo Blvd, Holbrook, AZ 86025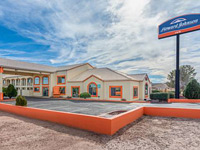 Howard Johnson, the northernmost hotel in Holbrook, has uninterrupted views in most directions over the flat, grassy surroundings, and is part of a small group of buildings near I-40 exit 289, in between the interstate and Navajo Boulevard (Route 66), which leads to the city center 2 miles south. The local municipal airport is just a few blocks away, as are several restaurants. The relatively old hotel has two floors and interior corridors, an indoor pool and hot tub. Rooms are equipped with refrigerator and microwave. Free buffet breakfast is served, with a selection of hot items.

4.
Days Inn by Wyndham Holbrook
2601 Navajo Blvd, Holbrook, AZ 86025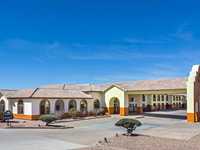 Days Inn Holbrook is bordered by empty desert on three sides; rooms have uninterrupted views north towards the local airport or south across the interstate. The motel has a Spanish-style design, with whitewashed walls and arches along the exterior corridors. Facilities are somewhat limited, comprising an indoor pool/hot tub, guest laundry, free wi-fi and a whirlpool bath in selected accommodations. There are several restaurants close by to the south.

5.
Travelodge by Wyndham Holbrook
2418 East Navajo Blvd, Holbrook, AZ 86025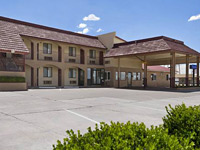 The Travelodge motel in Holbrook enjoys an excellent reputation for its affordable rates, clean rooms, caring staff and the decent range of amenities, which include a good quality free breakfast (with several hot items), complimentary wi-fi and an indoor pool/whirlpool. All accommodations are equipped with a microwave, refrigerator, hair dryer and coffee maker. The inn adjoins Navajo Boulevard, the main road through town, though most rooms are shielded from the highway, overlooking the central parking lot or the pool.

6.
Econo Lodge Holbrook
2211 Navajo Boulevard, Holbrook, AZ 86025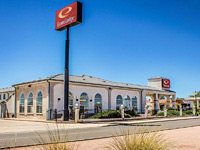 The Econo Lodge has a central location in Holbrook along old Route 66, somewhat separated from adjacent buildings though near several shops and restaurants. Guest rooms are on two exterior corridor floors, around three sides of the central parking area. The closest Interstate 40 exit (286) is one mile north. Continental breakfast and wi-fi are complimentary; the only other amenity is a coin-operated laundry facility.

7.
Super 8 by Wyndham Holbrook
1989 Navajo Blvd, Holbrook, AZ 86025-2102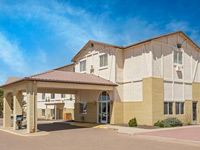 Holbrook's Super 8 is a modern, budget-priced establishment of three interior corridor floors and 76 refrigerator/microwave-equipped rooms, overlooking mostly undeveloped land on the north side of I-40; access is from exit 286 along Navajo Boulevard (Route 66), which leads to the town center one mile southwest. Continental breakfast and wi-fi are complimentary. The motel has an outdoor pool/hot tub at the front, and interior amenities of a lobby computer and guest laundry.
8.
Motel 6 Holbrook
2514 Navajo Blvd, Holbrook, AZ 86025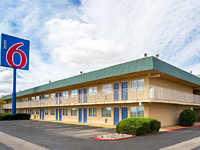 The standard two story, exterior corridor frontage of Motel 6 Holbrook conceals a secluded courtyard garden with patio, bbq grills and outdoor pool; highlight of an affordable, 110 room property along Navajo Boulevard towards the north side of town. All-day dining is available from Denny's, adjacent, and there are other restaurants a few blocks south. Other amenities are free wi-fi, guest laundry and a business center. All accommodations contain a refrigerator and microwave.