The residential community of
Gold Canyon
sits at the foot of the
Superstition Mountains
along US 60, 7 miles east of Apache Junction and 40 miles from downtown Phoenix. The developed area is 3 miles square, mostly on the north side of the highway, built on gently sloping, desert land where many native cacti grow amongst the streets and houses. There are two main routes through town,
Superstition Mountain Drive
and
Kings Ranch Road
; the few shops and restaurants in the area are located at the south end of each, near US 60. Gold Canyon has three golf courses: Mountain Brook, Superstition Mountain and Gold Canyon, and it adjoins one of the most popular trailheads for hikes into the Superstition Mountains, the main destination being
Hieroglyphic Canyon
.
Please refer to the
disclosure notice
for information about the affiliate (commissionable) links on this page.

1.
Best Western Gold Canyon Inn & Suites
8333 E Sunrise Sky Drive, Gold Canyon, AZ 85218-2992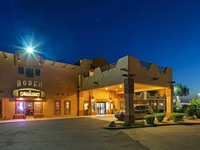 Gold Canyon is a small community at the foot of the Superstition Mountains, 7 miles from Apache Junction, east of Phoenix. Best Western Gold Canyon Inn & Suites, just off Kings Ranch Road, is just off the main highway (US 60), and very close to the Gold Canyon Golf Resort; it features an outdoor pool, the Rodeo Lounge bar, a spa, exercise facilities and a game room. The hotel is built in an adobe style, and most rooms offer fine views over the mountains to the north or the desert at the south. There are plenty of shops, restaurants and other amenities in Gold Canyon within 2 miles of the inn.